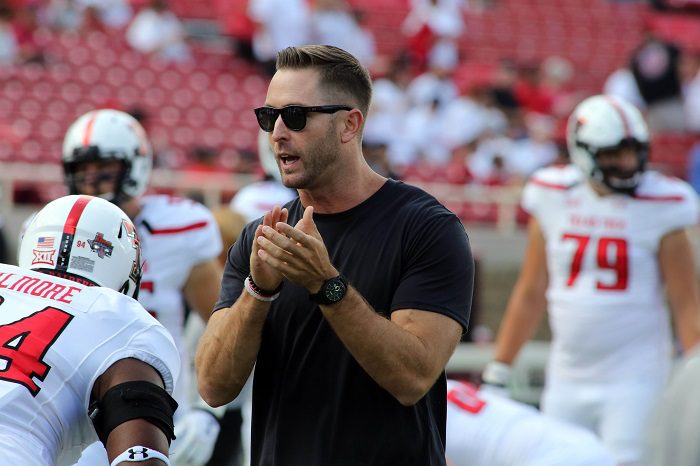 Kliff Kingsbury didn't "Charlie Strong" himself. A loss on Saturday to the one-win Baylor Bears may have been the unofficial end to the Kliff Kingsbury era in Lubbock. But that wasn't the case. Kingsbury and the Red Raiders rolled to a 38-24 win over the Bears at AT&T Stadium in Arlington.
A big reason for the victory was the turnovers, in which the Red Raiders forced four of them. After the game, Kingsbury said, "Some of those guys are growing up. We hadn't created that many turnovers in a while. I think the last four games, we had only one a game. So we're a team that feeds off that, and they take a lot of pride in getting those. We had to keep that going because when we're turning people over like that, we're a much better football team."
Tech came flying out of the gates, leading the conference in turnover margin and takeaways as they got off to a 4-1 start to the season and ranked in the Top 25. Since then, four-straight losses, the possibility of missing a bowl game, and a head coach that went from safe to, once again, on the hot seat.
The Red Raiders were actually outgained in total yards, 523-337, but as defensive back Vaughnte Dorsey, who had an interception on the day, pointed out, "We just going from the mentality of bend but don't break. I mean, yards, it was great. I mean, at the end of the day, it's about how many points you put on the board. You just want to make sure we limit the amount of points they get. We go by the bend but don't break mentality."
The problem recently had been too much bending and breaking for a Red Raiders defense. Over the four-game losing streak, which included, West Virginia, Iowa State, Oklahoma and Kansas State, Texas Tech had zero fumble recoveries. Compare that to their opening five games where they went 4-1, the Red Raiders had seven. On Saturday, they had three more against BU.
In fact, look at this disparity. In wins, Texas Tech has ten fumble recoveries in five games. In five losses, they have zero.
Tech also saw improvement on special teams, which had been sorely missing in recent weeks. Keke Coutee got it all started with a kickoff return for a touchdown to get the game going on the right foot. Clayton Hatfield hit the first field goal for the Red Raiders since October 7th against Kansas. Tech had gone 0 for 5 on field goal attempts since that game.
Is any of this enough to save Kingsbury's job? I'm not sure. One more win and Texas Tech will be bowl eligible, which most fans would have likely signed up for before the season kicked off. However, splitting the next two games would mean the Red Raiders finish 2-5 in their final seven games of the season. Enthusiasm wouldn't be high, and with a conference that is seeing the majority of its teams trending in the right direction and optimistic about the future, except for Kansas, Tech finds itself somewhere in the middle.
Also note: Tennessee is the last big-name job to open up. Add the Vols to a list that includes Florida and Ole Miss and might soon include Texas A&M. There will be much competition in the marketplace.
However, with the defense that looks like it's finally starting to put itself together in some respect, Tech only loses four seniors from its defensive two-deep next season. Defensive coordinator David Gibbs has been preaching forcing turnovers since he stepped on campus a couple of years ago. The Red Raiders have done a better job this season than in prior seasons, but it's still been fairly inconsistent.
Regardless, winning one of these next two games, becoming bowl eligible, and getting the extra month of practice is imperative.
When asked about the path ahead to bowl eligibility, Kingsbury added, "Yeah, I think we're at a place where we found a way to win a game and we got to learn from that. We know we have to play better and continue to get better. Both those teams are very good. We like our team. We think we had moments where we can play with anybody, and we have to be more consistent."
The Red Raiders will get their chance to prove as much, with TCU this weekend and Texas to end the season the day after Thanksgiving. Texas plays at West Virginia this weekend, and like Tech, is sitting at 5-5. The meeting on Friday November 24th could end up as the fight for bowl eligibility… and maybe Kingsbury's job.