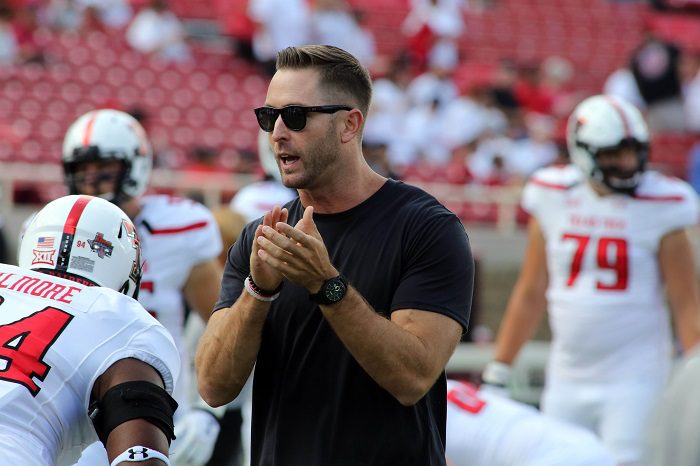 As the football season is slowly winding down, Christmas is just right around the corner. I am sure everyone in your family is constantly asking you what you want for Christmas. So, you start jotting down ideas or things that you would like but this isn't that type of list. This list for the hardcore college football fans who know their team better than they know some people in their own family. Yeah, this is that list.
What does every hardcore fan want for their team? Recruits baby!
They want that five-star guy who can elevate their program or the three-star gem who becomes an All-American. Every program will have guys leave due to graduation or transfers which leave holes on the depth chart. This is a list of five positional needs in order of importance. So, Texas Tech fans, this is what your team needs heading into 2018. Now before I begin, I am not breaking down film of these guys. Until they sign on the dotted line, there is no need to assume they are automatically going to sign with their current team that they are committed to. We will do a full class breakdown of each team on the final signing day in February.
1. Quarterback
Current Situation: After this season, Texas Tech will have a whopping total of 3 quarterbacks on the roster. Unless they have the next Cam Newton on their current roster (I checked, they don't), they will need to take in at least 1 to 2 signal callers to add some depth and competition.
Currently Committed (247)
3 Star Pro-style QB Alan Bowman (Grapevine, TX) (6'3-203) (#34 Pro-style QB)
Current Targets with Interest (247)
None
My take: It appears that all the chips are on the table for 3 star QB Alan Bowman. If this commitment sticks, then the Red Raiders will have 4 quarterbacks for the 2018 roster. I am sure they will have a walk on or two but I can't really criticize this staff because they do a great job scouting quarterbacks. After all, Kliff Kingsbury is the quarterback whisperer.
2. Running Back
Current situation: While they do have a few more numbers at running back, this positon is much like the quarterback group. Texas Tech will have 5 backs returning next season and 3 of them will be seniors. I know Texas Tech doesn't run the football a ton but you still need some capable guys who can run the football and catch passes in this air raid offense. Taking 2 to 3 backs here would be ideal unless they plan on hitting the jackpot in the 2019 class at running back.
Currently Committed (247)
3 Star RB Devin Brumfield (Covington, LA) (5'10-219) (#33 RB)
Current Targets with Interest (247)
None
My take: Tech fans, you better start playing the lottery for the 2019 crop of running backs because the Red Raiders will desperately need all the help they can get for the 2019 cycle. Losing 3 star RB Garland LaFrance hurt this position outlook but I think Tech may look for a late JUCO add here. If not, this staff will be putting some pressure on themselves trying to land a few more backs for the next cycle.
3. Defensive End
Current situation: While the number of bodies will be fine next season, Texas Tech (By my count) will have 4 seniors at defensive end. That is currently half of the entire position total that they have. It would be wise to grab at least 2 or more for 2018 unless they plan on banking entirely on the 2019 class. I will say, the roster for Texas Tech is listed as "DL" instead of assigning a specific position so I had to kind of figure this out for myself.
Currently Committed (247)
3 Star SDE John Scott (Hitchcock, TX) (6'3-255) (#86 SDE)
Current Targets with Interest (247)
3 Star SDE Cameron Valentine (Richmond, TX) (6'3-245) (#73 SDE)
My take: 3 star SDE Cameron Valentine was actually once a Texas Tech commit before deciding to reopen his recruitment back in late September. He still is considering Texas Tech but it is rare for a guy to commit to the same school twice especially when that person decommits this late in the process. Then again, recruiting is absolutely insane and you never know what goes through these kids minds. Still, Cameron Valentine is a big target that the Red Raiders should be hoping to get. If not, the numbers will be thin heading into 2019.
4. Defensive Back
Current situation: Again, Texas Tech lists this entire secondary as "defensive back" instead of labeling them by specific position. So Tech will have a total of 16 defensive backs going into the 2018 season. That sounds great but 6 of them will be seniors next season. That would leave a total of 10 for corner and safety for 2019 if they don't get some bodies for the back end of the defense. In a perfect world the staff would take around 3 or more here to split up the work load.
Currently Committed (247)
3 Star Safety Mekhi Garner (Mesquite, TX) (6'1-188) (#126 S)
Current Targets with Interest (247)
None
My take: This one was tough because Texas Tech actually lost 2 commitments in the secondary for this 2018 class. Now, I will say that skill players are far easier to come by numbers wise than the guys in the trenches. The Red Raiders only taking 1 defensive back isn't wise because in this league, you need bodies in the secondary. Even if you're an SEC school (The conference that throws the ball 4 times a game), it still wouldn't be ideal to take only one defensive back in a class. Again, the 2019 class will be crucial for this position for Tech.
5. Offensive Line
Current situation: Texas Tech has really started to improve here in the last two classes up front. Last cycle, they were able to land OG Jack Anderson who was basically a starter from day one for this football team. Of course, you're not going to find a ton of guys like Jack but you can never have enough reliable guys up front protecting your quarterback. Next season they will return 15 bodies with 3 of those being seniors. I will say, the wide receiver positon could have been in this spot but I think it is harder to find quality offensive lineman. Besides, Texas Tech always has plenty of receivers and they currently have 6 committed.
Currently Committed (247)
3 Star OG Demarcus Marshall (Grand Prairie, TX) (6'3-333) (#35 OG)
3 Star OG Hakeem White (Waco, TX) (6'3-281) (#52 OG)
3 Star OT Weston Wright (New Braunfels, TX) (6'6-290) (#129 OT)
3 Star OG Clayton Franks (Mansfield, TX) (6'4-290) (#81 OG)
3 Star OT Troy Bradshaw (Mineral Wells, TX) (6'5.5-272) (#165 OT)
Current Targets with Interest (247)
None
My take: I have a line that has become a staple of this recruiting wish list series for the holidays. They not only took the presents under the Christmas tree, they took the whole damn tree too. Perfect statement for what the Red Raiders have done on the offensive line here. They got plenty of bodies that will not only provide depth for the future, they also got some good quality out of this cycle as well. Bravo, Texas Tech, Bravo!