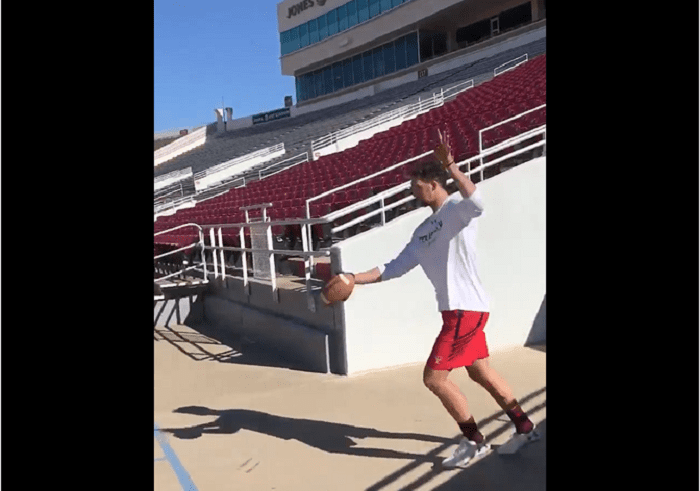 The offseason is the time for players to fool around, maybe place a friendly wager and see who can pull off the most incredible trick pass, catch, kick of punt. And there's no doubt as of late January, the leader in the clubhouse is Texas Tech punter Dom Panazzolo.
Check out this ridiculous punt from Panazzolo, who was standing in the stands at Jones AT&T Stadium and punted it into a garbage can on the field. Needless to say, the West Texas winds must have been very light. Regardless, this is freakin' awesome.
When @TTUKingsbury tells you to perform.. YOU PERFORM! 👆🏽#wreckem pic.twitter.com/OPOxFbIz4V

— Dominic Panazzolo (@Dom_Panazzolo) January 27, 2018
Panazzolo is one of many Australian kickers to join the collegiate ranks in America. He played his first two collegiate seasons at Snow College in Utah and can utilize the traditional punt or the rugby style punt. This past season for the Red Raiders, he had ten punts of more than 50 yards and downed 15 punts inside the 20-yard line.
ALSO, Panazzolo can kick with either foot. So now that we've seen him do this trick with his right foot, the only logical next step is for Panazzolo to do the same thing, with his LEFT foot.
Your move, Dom!