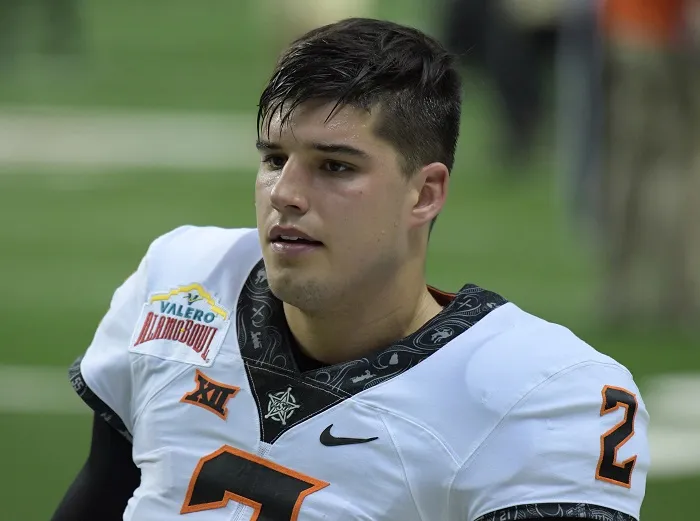 With the NFL Draft set for tomorrow, some of our favorite players from the Big 12 conference will begin their careers at the next level. Since we want to see all of these young men succeed, here's what I believe would be the best landing spots for the top players in the conference. Once again, this is not where I project them to go, but simply where they could go that would be a positive fit for their careers.
Baker Mayfield, New York Giants
All this talk of the Browns or Jets make me cringe. It's not that I don't think Mayfield can succeed at either place, it's simply I don't want him to have to deal with those two franchises. With the Giants, the Heisman Trophy winner gets the bright lights of Broadway he deep down desires (and can handle), but the ability to do it for a franchise that will push him (with Eli Manning still in the mix), but also put him in a more likely position to succeed.
Mason Rudolph, Denver Broncos
The Broncos have a great defense and one of the all-time great quarterbacks as the team president in John Elway. They are a decent QB away from contention. There will be a learning curve for Rudolph at the next level, but if he can let the defense carry him while he learns quickly on the job, this could end up being a fantastic situation for all parties involved.
Connor Williams, Tampa Bay Buccaneers
It's a team that could use his services on the offensive line, but a place he can grow into the position as well. I don't know if Williams is a legit 10-year left tackle in the NFL, he might be better used on the right side. Perfect, because Tampa Bay right tackle Demar Dotson is 33 years old and it might be time to start preparing for a replacement and grooming a protege.
James Washington, Atlanta Falcons
Get James Washington on some fast indoor turf, with a solid QB, getting to learn from someone like Julio Jones, and having a great deep-ball thrower in Matt Ryan. Boom. That'd be a home run, literally and figuratively. He would be joining a great franchise, but not be expected to be the savoir at his position. A win, win.
Dorance Armstrong, Kansas City Chiefs
It wouldn't be a far drive for Armstrong from his old home, Lawrence, to his new home, Kansas City. The defense is great already, but Armstrong is one of those high-ceiling mid-round picks just like … Chiefs OLB Justin Houston, who was once a third round pick and led the team with 9.5 sacks last season. Armstrong saw his production diminish from 2016 to 2017, so getting him into a comfortable place to build up his confidence and maximize his impressive talent is ideal.
DeShon Elliott, Dallas Cowboys
Home boy stays in Texas, helping out a secondary that could use some of just that. The Cowboys ranked 22nd in the NFL in passing defense last season and Elliott is a player being overlooked in this draft who could help out the Cowboys immediately.
Mark Andrews, San Francisco 49ers
Now that the franchise has its $140 million man in Jimmy Garopollo, the 49ers need to give him some more weapons. They can probably find Andrews in the third round and can make him a perfect tight end, but who has the hands and skill set of a wide receiver. He would be a fantastic option in Kyle Shanahan's offense.
Obo Okoronkwo, Miami Dolphins
South Beach isn't always kind to young men in their 20's, but Obo seems mature enough to handle the circus. The Dolphins need help at outside linebacker and he could show off his pass rushing abilities immediately. Tom Brady should be watching his blind side!
Orlando Brown, Green Bay Packers
The Packers have been hampered by injuries at the offensive tackle position. But the chance for Brown to join one of the best and most stable franchises in the NFL, while getting to protect the best player in the league? That's a great opportunity for a young man to walk into.
Allen Lazard, Indianapolis Colts
If Andrew Luck gets back to being healthy, Lazard could be an awesome downfield target for the QB. The Colts have a need here as well. The franchise has had its issues, but Lazard can make an immediate impact. T.Y. Hilton has been the team's top WR, but he's more of a slot guy at 5'10", so Lazard's big body gives the franchise a nice alternative at a key position.