Big 12 News
TCU vs. Ohio State the Highest-Rated Big 12 Game of the 2018 Season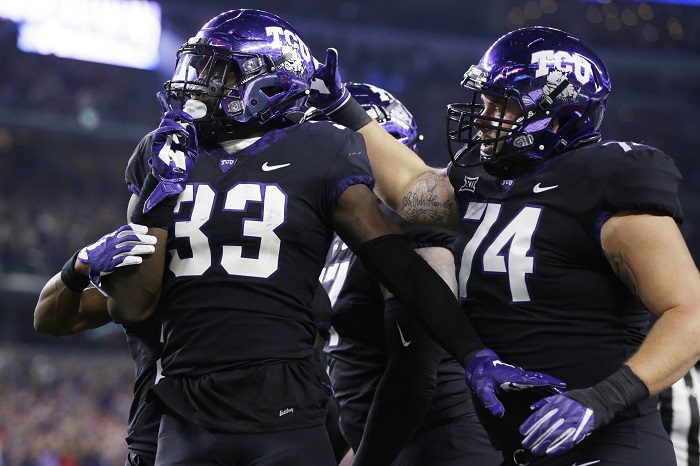 As we look back on the Big 12 football regular season, the final rankings for highest-rated games are out, and TCU's game against Ohio State in September was the highest-rated Big 12 game and the sixth-highest rated game of the college football season.
If we are being fair, it was probably because the game was one of the biggest of the non-conference schedule and included Ohio State, who remains ratings gold. The Buckeyes had eight of the top 35 most viewed games in college football this season.
Here is how the list looked for highest-rated games in college football this year:
Michigan – Ohio State: 7.5 share
Alabama – LSU: 6.6 share
Ohio State – Penn State: 5.3 share
Auburn – Alabama: 5.1 share
Notre Dame – USC: 4.4 share
Ohio State – TCU: 4.2 share
Michigan – Notre Dame: 4.0 share
Georgia – Florida 3.9 share
Miami – LSI: 3.8 share
Ohio State – Purdue: 3.8 share
Other Big 12 games in the Top 35:
11. Texas- Oklahoma: 3.5 share
24. Oklahoma – West Virginia: 3.0 share
27. West Virginia – Texas: 2.7 share
That's it, unfortunately. The Big 12 had four games in the Top 35. By comparison, the Big Ten had 13 of the Top 35, with Ohio State counting for eight of them.
I hate to look back in history, but when you think back to 2014, the inaugural College Football Playoff, don't kid yourself that the CFB committee wanted ratings with its first-ever College Football Playoff and wanted the Buckeyes over the Baylor Bears or TCU Horned Frogs. I'll forever believe that that played a role in the final decision that fateful weekend nearly four years ago. In the words of someone famous, "Sad!"
That's less likely to happen this weekend since Oklahoma and Ohio State are both blue bloods, but if you think that TV ratings don't play a factor in all this, well I've got a bridge to sell you, my friend.
**Sign up here for our HCS weekly e-mails for a chance to win FREE Heartland College Sports and Big 12 team gear!!**