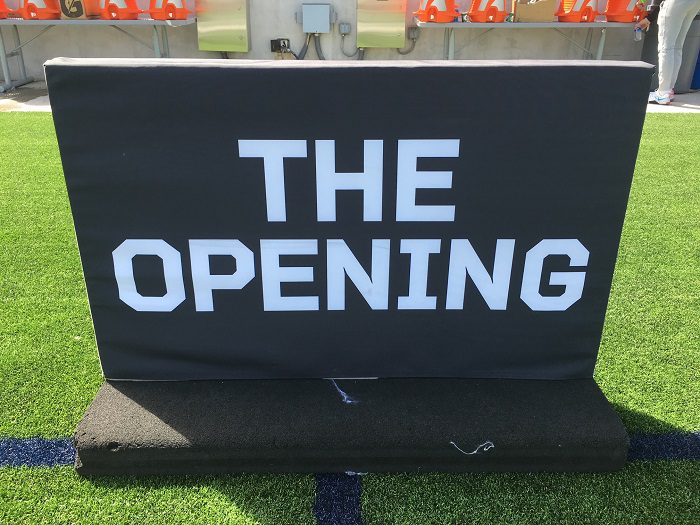 On Sunday, I made my way to Legacy Stadium (Katy, TX) where I saw hundreds of prospects display their talents on the field. Luckily, the weather wasn't too bad, and, in the end, I saw some great plays made along with some excellent quotes from prospects with serious interest in Big 12 schools. I watched over 6 hours of drills, one on ones, you name it, but the important thing at the end of the day is, where do schools stand with these talented young men? Here is the best of the best from Sunday afternoon in Katy. Enjoy!
Awards- Houston Regional MVPs
QB- Kade Renfro, Stephenville HS (Texas)
RB- Chris "Duece" Vaughn, Cedar Ridge HS (Texas)
WR/TE- Parker Washington, Richmond Travis HS (Texas)
OL- Donovan Jackson, Episcopal HS (Texas)
DL- Nick Booker-Brown, Westfield HS (Texas)
LB- Corey Flagg Jr., North Shore HS (Texas)
DB- Perry Wells, North Shore HS (Texas)
Rating- RB Zach Evans (135.84 Rating) North Shore HS (Texas)
Quotes
2020 3-star DT Chidozie Nwankwo (Richmond, TX) (Big 12 Offers: BU, ISU, KSU and Texas Tech)
"I like Texas Tech out of my Big 12 offers. I like the coaches and the coaching staff. A lot of the guys I played against in high school go there and all I hear out of there is good news."
Recruiting Nugget: Chidozie was wearing an LSU jacket that covered up his massive arms. Seriously, he may have some of the biggest arms I have seen on a defensive tackle. Anyways, he mentioned that he loved LSU and that Ed Orgeron's job status is something he is keeping an eye on. He will visit Houston, Texas A&M and LSU coming up.
2020 3-star OT Larry Moore (Missouri City, TX) (Big 12 Offer: Kansas)
"I talk to the Kansas staff almost every day. They keep in touch with me and I like the school and everything. I am going to visit Lawrence next month for the spring game."
Recruiting Nugget: Besides Kansas, Larry has offers from SMU, UTSA, Tulsa and ULM which means Kansas is his only power five offer right now. When I have talked to kids about Kansas at these camps, many don't know much besides the fact that they have an offer. So, the fact that Larry is in contact with them nearly every day and will be visiting Lawrence for the spring game is a very good sign for Kansas fans.
2020 4-star SDE Princely Umanmielen (Manor, TX) (Big 12 Offers: Baylor, Kansas State, Oklahoma, Oklahoma State, TCU, Tech and Texas)
You can find my full interview with Princely right here.
2020 3-Star RB Chris "Duece" Vaughn (Round Rock, TX) (Big 12 Offer: K-State)
"I have been in contact with coach Anderson (KSU RB Coach) and the coaching staff a lot. I really like the philosophy they have in their offense. Coming from NDSU they like to run the ball and get their running backs in space with the ball and that is something I am really in tune with. I am trying to get to Kansas State before spring practice is over."
Recruiting Nugget: Chris has plenty of ties to Arkansas because his father was on the coaching staff at Arkansas under then head coach Houston Nutt. Chris seemed to really like the new staff at K-State but right now it would be tough for me not to say that he is an Arkansas lean. I also want to mention again the he won MVP for the running back group in this camp.
2020 3-Star ILB Corey Flagg Jr. (Houston, TX) (Big 12 Offers: OSU & Tech)
"These two schools are tremendous programs (OSU and Tech). They are power five programs and they have great coaches with coach Gundy and coach Wells who just came in. I like what they are telling me, and I will take an official visit to Oklahoma State soon and I will get out to Lubbock as well."
Recruiting Nugget: While Corey seemed to enjoy both Texas Tech and Oklahoma State, he really raved about Boston College and his connections he had there. He also mentioned that he would love an offer from Ole Miss as well. Boston College is already one of the schools at the top part of his list and if Ole Miss offers, expect them to be right up there as well. He also won MVP of the linebacker group.
2020 3-Star WR Daniel Jackson (Cibolo, TX) (Big 12 Offers: TCU, Tech and KU)
"All three Big 12 schools (TCU, Tech and KU) are in the same boat for me right now. I visited TCU already and I plan on going to both Tech and Kansas so I can try to figure out where I am going before the season starts."
Recruiting Nugget: Daniel's stock will continue to rise. I have been high on him for awhile and over the past few weeks, schools are starting to take more notice because his offer list continues to grow by the week, and it will continue to keep growing. I would say his recruitment is still very open right now and I will keep in contact with Daniel as time goes on for more updates. This is a guy to keep an eye on for sure.
2020 4-star WR Collin Sullivan (Round Rock, TX) (Big 12 Offers: Baylor and KU)
"I wouldn't say either school sticks out to me more than the other (Baylor and Kansas). Baylor is right down the street from me so I could go there plenty of times and I have been talking to Kansas with the new staff and even going back to the old staff there. The old wide out coach at Texas Tech (Emmett Jones) is up there in Kansas and I want to try to get up there during the summer." On the Big 12 as a whole: "Right now they are winning. I think it woke everybody up when Oklahoma came in blowing by people. Of course, everyone talks about the SEC and I don't want to compare the two but the Big 12 is very good."
Recruiting Nugget: Collin is still weighing his options right now. I will say that I think he would love an offer from Texas and with Austin being so close (Round Rock is basically a suburb of Austin), the Longhorns would be a favorite to land Collin if they do extend an offer. Collin put on a heck of a performance during the camp session it is easy to see why he is highly rated.
2020 3-Star CB DJ Warnell (Dickinson, Texas) (Big 12 Offer: Texas Tech)
Recruiting Nugget: I didn't post any quotes here because to be honest with you (I am not here to BS you unless I am having fun) he didn't seem too interested in any Big 12 schools contacting him right now. The answers I got were generic and I could read in between the lines a bit during the interview. However, DJ did mention that he is waiting on a certain offer, but he wanted to keep that to himself at right now.
**Sign up here for our HCS weekly e-mails for a chance to win FREE Heartland College Sports and Big 12 team gear!!**