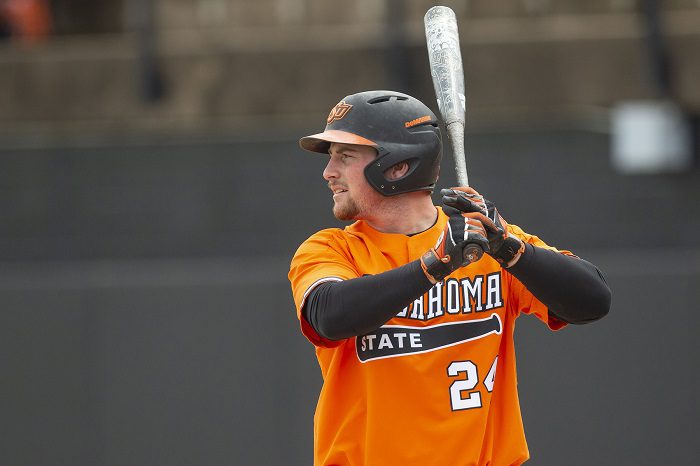 The field has been cut down from 299 to 64. Five of the nine Big 12 teams are in the field of 64. After this weekend, only 16 teams will remain. The winners of each regional, which utilizes a double elimination format, will move on to the Super Regionals. Each of the past five seasons, the Big 12 has been represented in the College World Series. Will the streak continue? Who will advance? The Road to Omaha continues this weekend with the NCAA Regionals.

Oklahoma City Regional
*All games will be played at Chickasaw Bricktown Ballpark
Game 1: (2) Connecticut vs. (3) Nebraska , Noon CT Friday
Game 2: (1) Oklahoma State vs. (4) Harvard, 6 p.m. CT Friday
Game 3: Loser Game 1 vs. Loser Game 2, 1 p.m. CT Saturday
Game 4: Winner Game 1 vs. Winner Game 2, 7 p.m. CT Saturday
Game 5: Winner Game 3 vs. Loser Game 4, Noon p.m. CT Sunday
Game 6: Winner Game 4 vs. Winner Game 5, 5 p.m. CT Sunday
Game 7: If Necessary, Game 6 rematch
All games will be streamed on ESPN3
Head Coaches
Oklahoma State: Josh Holliday, 7th season (267-150-1)
Connecticut: Jim Penders, 16th season (525-367-5)
Nebraska: Darin Erstad, 8th season (266-191-1)
Harvard: Bill Decker, 7th season (124-164)
Oklahoma State will be the clear favorite in this regional. Let's start off by saying Harvard is much better in the classroom than they are on the diamond. The Crimson are making their first appearance in an NCAA Regional since 2005 and it's only because they won The Ivy League. 23 of their 41 games came against conference competition. Their rotation doesn't provide a pitcher with a sub 4.00 ERA. The offense has yet to truly be tested. To say the least, Harvard is likely just happy with their conference crown. Assuming the pokes get past Harvard, they'll meet either Connecticut or Nebraska. The Huskers, led by former MLB All-Star Darin Erstad, plays completely as a team. There is no "slugger'. There is not a "speedster". Many of them have similar statistics. As for the pitching staff, they have a solid rotation. Nebraska can play with the best. In fact, the Huskers scored wins over three Big 12 opponents this season. This includes a series win at Baylor and a neutral site victory over Texas Tech. When the Huskers play solid defense, they have a shot to win. That goes for all of the teams in this regional as all rank worse than 140th in fielding percentage out of 299 teams.
Connecticut is an inconsistent team. They'll win some and they'll lose some. UConn was swept once this season, by regional host East Carolina. Their only sweep came against a deplorable Michigan State team. Outside of that, they'll allow a mediocre Cincinnati team to win the AAC Tournament, but take the series against Louisville and Houston. They are middle of the road in every aspect of the game, but they still managed to win 36 games and score an NCAA Regional berth. Connecticut is that team that drives every other fan base insane, but just doesn't win the regional. The best team, and most consistent here, is Oklahoma State by far. The Pokes are the only team here to win their conference tournament. Oklahoma State swept regional host Oregon State on the road in May. They have multiple sluggers and a high-octane offense that should light this regional up. Anything outside of a Super Regionals appearance is a major disappointment for the Cowboys.

Oklahoma State Players to watch: Trevor Boone (.294 avg., 19 home runs, 51 RBIs), Andrew Navigato (.303 avg., 12 home runs, 14 doubles, 5 of 10 stolen base attempts), Carson McCusker (.316 avg., 5 home runs, 16 doubles, 3 triples)
Oklahoma State Probable Rotation: RHP Jensen Elliott (9-3, 3.59 ERA), LHP Parker Scott (3-1, 1.45 ERA), RHP Joe Lienhard (3-1, 4.73 ERA)
Connecticut Players to Watch: Michael Woodworth (.319 avg., 5 home runs, 2 triples, 8 doubles, 14 of 19 stolen base attempts), John Toppa (.318 avg., 4 home runs, 12 doubles, 14 of 20 stolen base attempts), Anthony Prato (.311 avg., 2 home runs, 15 doubles, 14 of 24 stolen base attempts)
Connecticut Probable Rotation: LHP Mason Feole (2-3, 3.44 ERA, 10 starts), RHP Jeff Karsten (5-3, 4.57 ERA, 12 starts), RHP Jimmy Wang (2-2, 3.83 ERA, 11 starts)
Nebraska Players to Watch: Aaron Palensky (.324 avg., 6 home runs, 2 triples, 11 doubles, 6 of 6 stolen base attempts), Angelo Altavilla (11 doubles, 3 home runs, 8 of 9 stolen base attempts, .247 avg.), Mojo Hagge (.289 avg., 2 home runs, 7 doubles, 2 triples, 6 of 9 stolen bases)
Nebraska Probable Rotation: RHP Matt Waldron (6-4, 3.11 ERA, 13 starts), LHP Nate Fisher (7-2, 2.88 ERA, 14 starts), RHP Reece Eddins (6-3, 5.18 ERA, 12 starts)
Harvard Players to Watch: Patrick McColl (.399 avg., 12 home runs, 3 triples, 16 doubles, 5 of 7 stolen base attempts); Jake Suddleson (.382 avg., 11 home runs, 2 triples, 11 doubles, 53 RBIs); Hunter Bigge (.319 avg., 7 doubles, 7 doubles)
Harvard Probable Rotation: RHP Hunter Bigge (7-1, 4.72 ERA, 11 starts), RHP Ian Miller (3-3, 6.04 ERA, 11 starts), RHP Buddy Hayward (4-1, 4.12 ERA, 9 starts)
**We now have FREE Big 12 Forums here at Heartland College Sports. Go sign up here and join our conversation! **