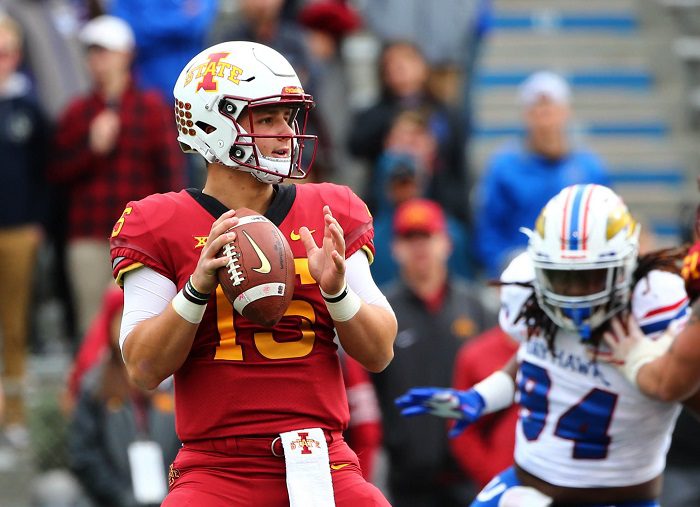 Here is everything you need to know about the upcoming Big 12 match up in our Iowa State vs. Kansas preview and prediction.
Game Info
11 a.m. CST, Saturday, November 23rd, Jack Trice Stadium, Ames, Iowa
TV: FSN (Mark Followill, Jordan Palmer)
Radio: Cyclones Radio Network; Jayhawks Radio Network; Sirius 137, XM 199; TuneIn Radio
Opening Line: -24.5
Fun Fact: Kansas leads the all-time series at 50-42-6 and Iowa State has the edge in Ames at 23-22.
Key Players
Kansas Jayhawks
QB Carter Stanley
Stanley needs to get back on track for the Jayhawks. After helping the team score more than 80 points in two games against Texas and Texas Tech, the Jayhawks have combined for 23 the past two games vs. K-State and Oklahoma State. During the previous two games (UT, TTU) he threw for over 700 yards with seven touchdowns to one interception. The last two weeks he's barely thrown for 240 yards with two touchdowns to three interceptions. Stanley needs to get back in a groove for KU to have a shot.
Safety Mike Lee
Lee has been the most consistent defender for the Jayhawks and is a senior leader on this team. Last week he had nine tackles against Oklahoma State with one forced fumble, his second in the past four games. Lee is going to have his hands full with the way Iowa State uses tight ends in the passing game and then will incorporate the running attack. Lee could find himself deep in zone coverage and then up in the box in back-to-back plays.
Iowa State Cyclones
RB Breece Hall
Hall is averaging 120.4 rushing yards, 5.7 ypc and has seven touchdowns in the last five games. His 120.4 rushing average ranks fifth among "power 5" backs since October 12th. His seven rushing touchdowns already matches an Iowa State freshman record, along with his four 100-yard rushing performances. He's proving to be an incredible asset for the Cyclones not just this year but in 2020 and 2021, and could likely end up as the Big 12 Offensive Freshman of the Year.
LB Marcel Spears
Spears has done it all on defense for the Cyclones with a team-high 73 tackles, along with eight tackles for loss, 2.5 sacks and four pass break ups. Those numbers rank him in the top 5 in the Big 12 in tackles and top 15 in tackles for loss. He is living up to the hype as a Preseason All-Big 12 pick and has filled his role as the team co-captain admirably.
Key Storylines
Kansas Jayhawks
The Jayhawks are not going to win this game running the ball. Pooka Williams is great, but he won't get it going against the second-best rushing defense in the Big 12. KU only has 100 combined rushing yards the last two weeks. They should try to keep Iowa State's defense honest, but don't try and win the game on the ground. Iowa State's passing defense has been far more vulnerable at times with some youth in the secondary, ranking 5th in the Big 12 in pass defense and pass defense efficiency. KU has some decent wide receivers in Andrew Parchment, Stephon Robinson and Daylot Chartot, so see if Carter Stanley can find some connections with them early and get some points on the board.
Iowa State Cyclones
Breece, Breece, baby. KU is the only team in the Big 12 to allow 5.0 yards per carry. Now they have to try and slow down one of the hottest running backs in the country. After a hard-fought win last week against Texas and a great showdown looming against Kansas State next week, let's see if ISU can get this one in the bag early and enjoy Senior Day. If they can get it done, it will start with an effective running game and Breece Hall, who's 7.0 points per game as a runner/receiver in Big 12 play is fourth in the conference behind Chuba Hubbard, CeeDee Lamb and Jalen Hurts. Nice company.
Prediction
Iowa State 35, Kansas 14
The Cyclones are looking to send an impressive group have seniors who have seen the turnaround under Matt Campbell through its entirety. Guys like Marcel Spears, Julian Good-Jones, Deshaunte Jones, Josh Knipfel, Bryce Meeker and many others deserve a great day in Ames. A celebratory day. I believe that will happen. Iowa State is a Top 25-caliber team who has come up on the short end (barely) too many times this year, but the team could easily be in contention for a Big 12 title this year with a break or two there way. Instead, they're still heading for a good bowl game and will take care of business on Saturday against KU behind a strong running game and a defense that continues to hold most of its opponents under its season average in scoring.
Powered by RedCircle
**We now have FREE Big 12 Forums here at Heartland College Sports. Go sign up here and join our conversation! **