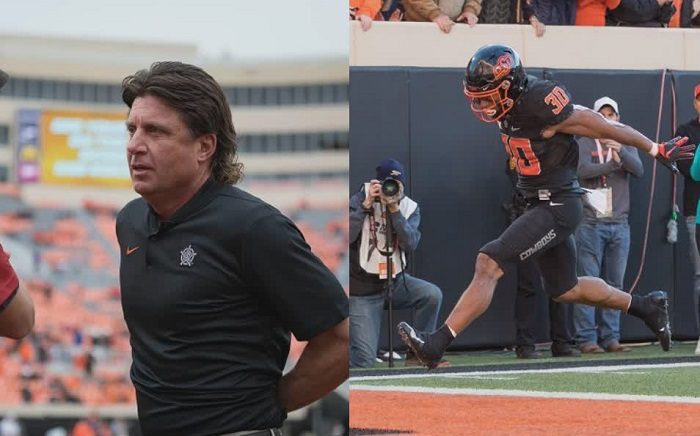 I hope Mike Gundy is the head coach at Oklahoma State next season.
If he is that would mean he listened. That would mean he changed. That would mean he grew as a coach but more importantly that he grew as a person.
That's the kind of story we need right now, not as sports fans but as citizens of the country and inhabitants of this planet. The best scenario for everyone involved would be Chuba Hubbard including Gundy in a speech at the end of next season, either while hoisting the Heisman Trophy or in a interview after winning the Doak Walker or after getting drafted saying how proud he was of his Coach for being man enough to face to flaws and change for the good of himself and most importantly for the good of others.  That they listened to each other, talked and cried and bonded and made changes for the better. That's how Mike Gundy went from adversary to ally. We need to know that successful outcomes can be achieved out of what look like pretty dire situations.
It's a story we don't hear often these days: redemption. People don't get a chance to fix problems in today's world. Social media judgement is swift. Sides are taken and warriors man their keyboards to go to battle tearing down others before any of the facts are even known.  Just read some of the replies to Hubbard's now infamous tweet. If he doesn't leave Stillwater to get away from Gundy he may do it to get away from some of his so-called fans who loved him until this afternoon when he dared share an opinion.
Yes it's Gundy's right to wear whatever shirt he wants, but it's Hubbard's right to get pissed off about that shirt. See how that works?
Ah, the now infamous shirt! I don't know what Mike Gundy did to set his star running back off, but I know that no matter how fast Hubbard is on the field he's fairly even-tempered and didn't go from staying another year to sitting out until something changes that quick because of a t-shirt his coach wore to go fishing.  There's been something brewing under surface for a while and it exploded today. The shirt and what Hubbard thinks it symbolizes was the final straw.
I don't know Gundy any better than most of you reading, this but I've personally always liked him and have often gone to bat for him.  I never got the vibe he's a racist, but I'm not in locker room. Maybe he is. He's definitely odd. And until some of the players making vague statements following Hubbard's tweet give a little more detailed info none of us will know. Some of the things shared were definitely out of line (threats to send players "back to the hood" stands out).  So while I don't get the racist vibe from Gundy I do know 110% he's out of touch with his players and has been for a while.
Gundy has lived most his life as royalty in a bubble. Star quarterback and wrestler in high school, star QB in college, a few years bopping around as an assistant coach before coming back to his home state to be the OC and eventual head coach of his alma mater.  The Gundy name carries weight in Oklahoma. Even the rival Sooners have a Gundy of their own on staff!  
But being held in that high of regard from such a young age means less accountability. Lack of accountability breeds arrogance and stubbornness. Add in that Gundy became Oklahoma State's most successful coach ever and he's basically become untouchable. But with all his charm he has definitely shown that arrogance and stubbornness over his tenure in Stillwater, and it may have finally got the better of him. He's butted heads publicly with his boss (AD Mike Holder) and his other unofficial boss (the late OSU Super Booster T. Boone Pickens). Spats with media members became more and more common. He's used other job openings as leverage to get his way. And it's always worked out for him. He's gotten what he wanted every time which has just made him all the bolder the next go round.
But pushing out his chest and saying, "I'm Mike M-Fing Gundy, you need me more than I need you" won't save him this time.  He's close to an open revolt from his team, if it hasn't already happened in the time it has taken me to type this out.  It's well known that you can't lose the locker room or the kids won't play hard for you, but this is more serious than just losing the locker room. This deals with race, and with privilege, and with a large percentage of his team feeling like they aren't treated equally as humans in day to day life.  This deals with centuries old wounds.
This is something that a nine-year-old Big 12 Championship Trophy doesn't help you with.
The issue of race and equality has been simmering in this country for a long time, longer than anyone reading this has been alive, and it's finally boiled over a few weeks ago. Changes are coming, big changes, and they are coming soon. And for everyone on both sides sake it would be wonderful if those changes could be achieved through talk and thought and understanding and sympathy and empathy and not through some more unpleasant means that's we've only seen slight glimpses of so far.
And someone like Mike Gundy is exactly who needs to be willing to change, someone who needs to understand that saying, "I'll send you back to the hood" to a young black man isn't the same as telling blonde haired, blue-eyed Billy you'll send him back to the suburbs.  I don't think Gundy is a bad guy and I hope things don't come out that make me change my mind on that, but I do think his mentality is stuck in a different time and his station in life allowed him to go unchallenged in his thinking on some very serious issues for too long.
But, if the wealthy, mullet wearing, snake hunting, tractor driving, golden boy local hero can be made to understand what he's doing is wrong, can be made to understand the present climate of the world, and more importantly, he can ACTUALLY CHANGE, then that's a victory for us all. That would progress, and that's what we all need right now.
So I'll say it again, for everyone's sake:
I hope Mike Gundy is the head coach at Oklahoma State next season.
**Want to win a $25 gift card?  Go sign up here and join our conversation! The best poster each week wins a gift card to your favorite establishment!**