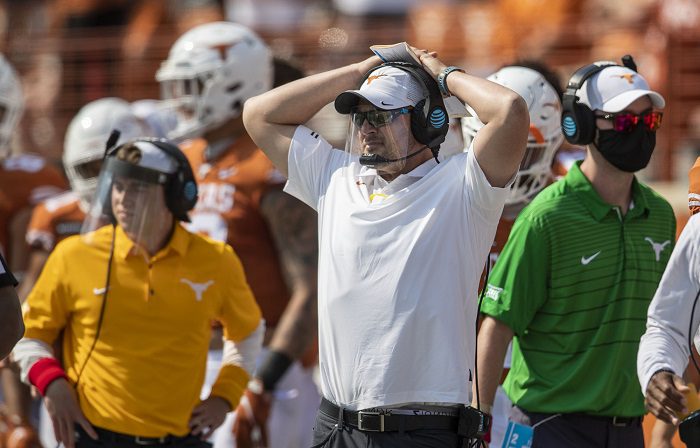 I hear it all the time, "Who has the best conference in college football?" SEC? Big 10? ACC? What about the Pac-12? Very rarely are you going to hear the words "Big 12" coming out of someone's mouth in that conversation. Whether you do it or not, there are plenty of folks out there who love to bash the Big 12 conference (cough, Paul Finebaum, cough). It was a wild and whacky weekend in the Big 12. I do not think there is any other way to put it. So, let's get started, shall we?
The Good
West Virginia (Beat Baylor 27-21 in 2 OT)
What a much-needed win for Neal Brown and his Mountaineers after their ugly loss against Oklahoma State. The defense was outstanding allowing just 14 points in regulation and sacking Baylor quarterback Charlie Brewer six times. And how about this. The Mountaineers allowed Baylor to rush for just 27 yards on 33 carries. Even though they gave up a late score to allow the game to go to overtime, Tykee Smith made the play of the game intercepting a pass in the second overtime to keep Baylor from scoring. Offensively, I still need to see a little bit more. The run game was not bad at all getting 134 on the ground but I need to see more consistency from Jarret Doege in the passing game. If he can take care of the football a bit better, I think West Virginia can make some noise this season. And of course, if they can get rid of some of those penalties. 
TCU (Beat Texas 33-31)
Penalties and Max Duggan. Those are my takeaways from this game for TCU. Max Duggan is becoming better and better each week going 20/30 for 231 yards and rushing for two touchdowns. Of course, that run game was working for the Frogs too as they rushed for 226 yards averaging 4.5 yards a pop. The defense was not perfect by any means but overall, the Frogs played a little sloppy and still found a way to win in Austin and beat Texas for the seventh time in nine years. Gary Patterson should have DKR Memorial Stadium named after him. Or at the very least, a statue of him would be a nice gesture. I mean, Texas has the money to do it so why not?
Oklahoma State (Beat Kansas 47-7)
Not a whole lot to say here. Oklahoma State beat Kansas. I guess the only real surprise is how bad they beat them? Freshman quarterback Shane Illingworth was good as he went 17/23 for 265 yards and 3 touchdown passes. Two of those touchdowns went to Tylan Wallace and Chuba Hubbard finally got going again as he rushed for 145 yards and 2 scores. Overall, the offense was successful totaling up nearly 600 yards, but this team is led by their defense. The Cowboys held Kansas to under 200 yards and 1 for 14 on third down. Call me crazy but it is possible that Oklahoma State is the best team in the Big 12 right now. 
Kansas State (Beat Texas Tech 31-21)
It certainly was not a game that we all had expected to happen as both starting quarterbacks were knocked out of this game early. With Skylar Thompson on the sideline, Will Howard entered the game. But Howard only attempted 12 passes in three quarters of play as the Wildcats relied on the legs of true freshman running back Duece Vaughn who not only led the team in rushing (113 yards) and receiving (81 yards). With that said, overall, the offensive line did well as no Kansas State rush went over 22 yards, but they averaged 4.7 yards a carry. As for the defense, they were spectacular in the first half holding Tech scoreless, but they did not have a great third and early fourth quarter allowing three touchdowns. The defense allowed Tech to convert 50% of their third downs which was a bit worry some but when they needed it most, they got the stop. 
Iowa State (Beat Oklahoma 37-30)
You hear that? I think I can hear juicy wiggle all the way down here in Texas because Iowa State just beat Oklahoma at home for the first time since 1960 and have beat then Sooners twice in the last four years. Brock Purdy did not have his best game, but it did not matter because once again, it was the Breece Hall show as he rushed for 139 yards and 2 touchdowns. Xavier Hutchinson had a great 65-yard touchdown score and Charlie Kolar played well too. The defense gave up some yards but when the game was on the line, freshman Isheem Young picked off Spencer Rattler in the endzone to seal the deal. My opinion does not matter much because the fact is, Iowa State is playing good football right now and since 2017, Iowa State is 11-1 in the month of BROCKTOBER.
The Bad
Texas (Lost to TCU 33-31)
I know TCU had more penalties but what a crap show in Austin. Texas played undisciplined football on Saturday between bad tackling, dropped passes and of course, penalties. Sam Ehlinger was not the most accurate, but he did manage to toss 4 touchdown passes. But who was making plays for Texas outside of Ehlinger? The wide receivers were lackluster, and the running back group looks below average right now. And do not even get me started with the Keaontay Ingram fumble on the goal line to take the lead in the fourth quarter. Defensively, this unit had some decent moments in the red zone but the lack of stopping the run and tackling are a HUGE issue. All I know is that Tom Herman's seat is red hot in Austin. Maybe Tom can let Matthew McConaughey coach this team for the Red River Rivalry next weekend. 
Baylor (Lost to West Virginia 27-21 in 2 OT)
Let me start by saying, the defense played more than well enough to win the game for Baylor. In no way, shape or form should we be pointing any fingers at the Baylor defense. As for the offense, it was beyond ugly and if not for the defense, they would be in my ugly column. Charlie Brewer was sacked six times and got hit many more times than that. And the run game was non-existent rushing for 27 yards on 33 carriers. So yeah, the offensive line is a problem. And where were the wide outs? The Bears need to find more playmakers on offense and putting up 14 points in four quarters is not going to get the job done against most teams. Of course, 12 penalties and two turnovers did this team no favors on Saturday. 
Texas Tech (Lost to Kansas State 31-21)
Well, Alan Bowman is hurt again which is bad news for Texas Tech and as of right now, I have no idea how long he will be out for. But Henry Colombi stepped in and did a decent job helping Tech put up 21 points after being down 14-0 but surprisingly it was the run game led by Xavier White that outrushed Kansas State 204-198. But in the end, it just was not enough. I do not think Tech played that bad, but Kansas State just made a couple more key plays. But once again, the focus will be on the health of Alan Bowman which is nothing new. 
Oklahoma (Lost to Iowa State 37-30)
In my mailbag last week, someone asked me when the last time Oklahoma lost back to back conference games. Well, previously the answer was 1998 but after last night, the answer is 2020. Let me start by sating Spencer Rattler is NOT the problem. I thought Rattler made some excellent throws and he was accurate with the football. Unfortunately, a few of his misses were flat out drops and that last interception came at the worst possible time like it did the previous week against Kansas State. My issue with the Sooners is who is that go to guy at wide receiver? Hollywood Brown and CeeDee Lamb aren't walking through that door. And the offensive line is still shaky and running back Seth McGowan looked like a freshman.
As for the defense, tackling is still a big issue and the secondary at times is non-existent. Pat Field and Brendan Radley-Hiles had a rough game and the lack of ball skills in this secondary is mind boggling at times. As crazy as it sounds, if Oklahoma loses to Texas next week, they will be 1-3 overall and 0-3 in Big 12 play. If that happens, Oklahoma can kiss that dream of winning six Big 12 titles in a row goodbye.
The Ugly
Kansas (Lost to Oklahoma State 47-7)
What positive thing am I supposed to say here? Kansas still has not figured out the quarterback situation and 92 passing yards is not going to get it done nor averaging 2.5 yards per rush. The defense was just as bad giving up 47 and nearly 600 yards. I have said it before, and I will say it again, but this looks and feels like an 0-10 Kansas team. My advice? Stock your fridge full of beer and your cabinet full of liquor and drink until it is basketball season. 
Big 12 Refs
Ah, the Big 12 refs strike again. After a hard day of work of screwing up, they will need to ice those arms so they can throw more flags next weekend. Or perhaps I will have to send them arm slings for Christmas. Excuse my language here but it was a complete shit show from Big 12 officials today. Especially with the early games. A combined 26 penalties in the Texas/TCU games with flags thrown and picked up everywhere. 24 penalties in the Baylor/West Virginia game and a horrendous penalty on Baylor's Josh Fleeks for flexing in the endzone AFTER HE SCORED A TOUCHDOWN! And there were some interesting ejections on targeting calls as well this weekend. But what else should we expect at this point? They wanted to be the star of the show and here they are getting their moment of glory.
**Want to win a $25 gift card?  Go sign up here and join our conversation! The best poster each week wins a gift card to your favorite establishment!**