Big 12 Sports Articles
Big 12 Football Mailbag: Ranking the Big 12 QBs, Texas Tech's Struggles, Red River Rivalry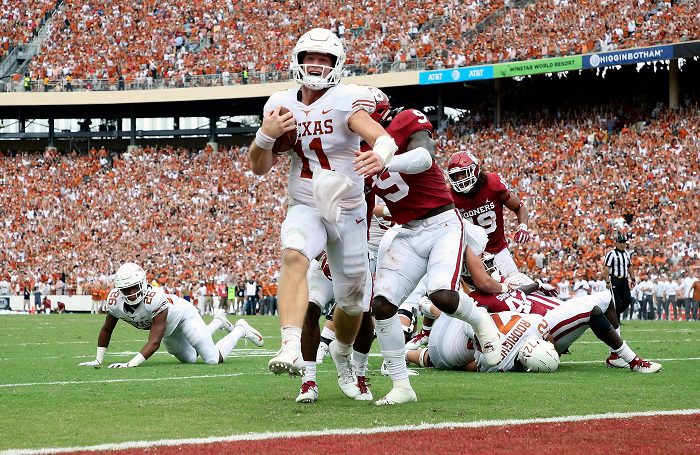 Welcome to the HCS Big 12 mailbag. This mailbag is for all you football junkies out there who root for a Big 12 school who not only have questions about your team, but other teams in the conference as well. So, join me, grab a cold brew or your favorite drink and relax as I answer all your Big 12 questions in my mailbag.
I will pick the best question for each mailbag and label it as my question of the week. The winner gets a free HCS Koozie to keep your beer cold (Unless you like it warm, but that's just plain wrong). I want to thank each one of you who submitted a question this week and for those reading, I am glad you could join me. I am doing this on Monday evening and of course this mailbag wouldn't be nearly as fun without a cold beverage right next to me choice? An ice-cold Busch Beer. No, not a Busch light. A regular classic Busch Beer. A tall boy of course. Cheers!
Just a heads up, this week's mailbag was so full that I had to break it into two parts so part one will be released on Tuesday while part two will come out Wednesday so if you do not see your question here, don't sweat it!
@FireWellsTTU asks: Will Texas Tech ever not be in the "bad" or "ugly" category this season?
Duke: For those who do not know, every Sunday I do a Big 12 version of "The Good, The Bad and the Ugly" to recap the everything that went down the day before. My rules are simple, if you win, you are in my good graces and depending on how you lose, you could wind up in my bad or ugly column. However, Tech was my lone exception back in week one when they beat Houston Baptist by just two points and gave up a million passing yards. Yes, they won but it was the ugliest win I have ever seen. And as I sit here and look at Tech's schedule, I see three winnable games IF Alan Bowman is healthy. Those games are West Virginia, Baylor and of course Kansas. So yes, they will be in my good graces at some point this season.
@spursnsalsa asks: Is this the worst Red River Rivalry game of all time? Only half the fans, both coming off loses, 2020, etc.?
Duke: It would be hard for me to say that this will be the worst Red River Rivalry game of all time considering usually on or both of these teams are good but when I got back to the 2016 game it seemed like it no matter who won, they were not going to do much after. Both teams entered the game at 2-2 with Oklahoma losing to Houston and Ohio State while Texas lost to California and Oklahoma State. However, Oklahoma won the game 45-40 and finished 9-0 in the Big 12 and ended the year with a win over Auburn in the Sugar Bowl. This game is usually played on the first Saturday in October and most times each team has only three or four games under their belt, so expectations usually stay high. But there are years like a 2016 where they already have two or more losses.
@track182 asks: Who is the best running back right now, and why is it Breece Hall?
Duke: Well, I got a lot of crap for saying that Breece Hall is currently the best running back in the Big 12. Chuba Hubbard is in the conversation and honestly would be my 1B choice while Breece is my 1A choice. Chuba had his breakout game this past weekend against Kansas and up to this point has 339 yards and 4 touchdowns while averaging 4.9 yards per carry playing against Tulsa, West Virginia, and Kansas. Meanwhile Breece Hall has played Louisiana-Lafayette, TCU and Oklahoma and has rushed for 397 yards and 6 touchdowns averaging 6 yards a carry. Neither back has a great offensive line in front of them and due to Breece looking better and having played tougher competition, I am going with Breece Hall. But remember, the season is still young.
@MNelson_ISU asks: How would you rank big 12 quarterbacks right now?
Duke: Matt, I thought we were friends? Are you trying to make people mad at me? I will do a midseason quarterback ranking so I do not want to give away my full list, but I will go ahead and give you my top three as of this very moment.
Texas QB Sam Ehlinger: I can see people being furious, but Sam is not the problem at Texas. He has thrown for 14 touchdowns on just 2 picks this season and is second is passing yards in the Big 12.
Oklahoma QB Spencer Rattler: The redshirt freshman has been spectacular this season. He is the leader in passing yards in the conference and has tossed 10 touchdowns and has a completion percentage of 73.4%. Yes, Oklahoma has lost two games, but it is by no means Spencer Rattler's fault. Look at the defense.
TCU QB Max Duggan: Mad Max is here. The improvement I see in the passing game from him is night and day better than his freshman season in 2019. Even though he has only played a game and a half, I think he will still be in my top three when the season ends. Oh, and by the way, he can still run the football like few quarterbacks in the country.
@mammothclone asks: If each team were a part of Danny Ocean's team in "Ocean's 11", who would they be and why?
Duke: I will be flat out honest with you. I have only scene Ocean's 11 once and I by no means was blown away enough to watch it a second time. Plus, didn't they make like three more sequels after that one? Sorry but I would not be able to give a remotely capable answer on this one.  
**Want to win a $25 gift card?  Go sign up here and join our conversation! The best poster each week wins a gift card to your favorite establishment!**