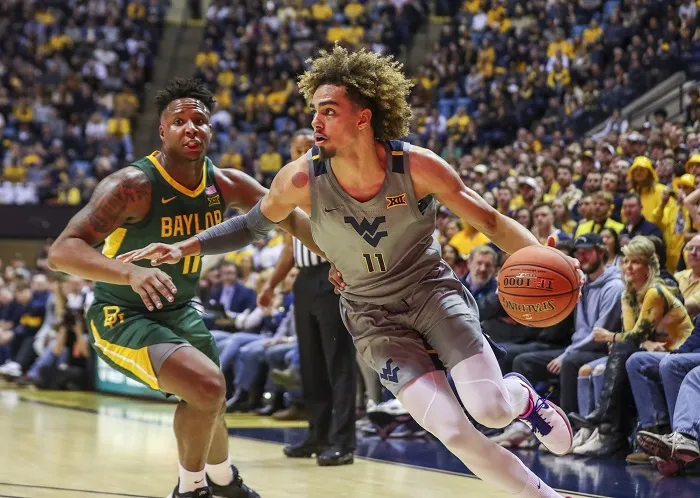 Here is the Heartland College Sports Big 12 men's basketball power rankings as of Nov. 30.
Note: Since most Division I teams had to tear up their original schedules, and are even adjusting their schedules on the fly due to COVID, I'm putting less emphasis on 'who' teams are playing as I put together these power rankings. Teams simply have less control over scheduling this year and have to take what they can get, in some cases.
1. Baylor (Preseason Start: 1)
The Bears started 2-0, even after head coach Scott Drew got COVID-19 and the Bears lost their first three games. They managed to slip off to Las Vegas and beat Louisiana and Washington convincingly. Jared Butler already looks like he's in Big 12 Player of the Year form. The Bears also may have found a potentially productive forward in Jonathan Tchamwa Tchatchoua. Right now they look like the conference's best team.
2. West Virginia (Preseason Start: 3)
Derek Culver was the MVP of the Bad Boy Mowers Crossover Classic, while Miles McBride emerged as the team's leading scorer. But the play of guards Taz Sherman and Sean McNeil solidified the Mountaineers' (3-0) guard rotation. Once Oscar Tshiebwe stays out of foul trouble, he should be a nightly double-double (and he's already close). WVU has the early makings of a team that will be happy to challenge Baylor and Kansas once Big 12 play rolls around. 
3. Kansas (Preseason Start: 2)
Kansas actually played well in its season-opening loss to Gonzaga. The Bulldogs just shot the roof off that arena in Fort Myers. Marcus Garrett has had a pair of inconsistent games, though that should smooth out. But the rise of a pair of freshmen — redshirt Jalen Wilson and true freshman Bryce Thompson — are going to help the Jayhawks (1-1) in the long run.
4. Texas (Preseason Start: 4)
Texas (1-0) played only one game this week, a win over UT-Rio Grande Valley. The Longhorns played well, true freshman Greg Brown had a great debut and the Longhorns have had five days to prepare for the Maui Invitational in sunny, Asheville, North Carolina, this week. The competition gets much tougher from here.
5. Texas Tech (Preseason Start: 5)
Tech started the season 2-1, beating a pair of middling Southland Conference team and then losing to a ranked Houston team. True freshman Micah Peavy is already a starter. Transfer guard Mac McClung is already producing at a high level. This team, even with four transfers, looks like it's blending together faster than last year's team.
6. Oklahoma State (Preseason Start: 7)
Oklahoma State slides up a spot after a 2-0 start. Cade Cunningham had a great first week and the Cowboys look like a team that is rounding into form sooner than some might expect. Isaac Likekele is already putting together some impressive performances that touch all five critical parts of the box score. He nearly had a triple-double in the opener.
7. TCU (Preseason Start: 8)
I'll move TCU up a spot after a 3-0 start. The Horned Frogs have more difficult games ahead, but after three games they're showing impressive balance both in the starting lineup and on the bench, as they've had three different leading scorers and one redshirt freshman, Taryn Todd, who is averaging 8.5 points off the bench.
8. Iowa State (Preseason Start: 8)
The Cyclones (1-0) have only one game to their credit, but the Cyclones won the game over Arkansas-Pine Bluff. There were promising signs in that win, including the play of all three transfers. Getting outrebounded by a SWAC opponent is a bit troubling.
9. Kansas State (Preseason Start: 10)
Kansas State (0-2) lost both games at its Little Apple Classic, including a buy game vs. Drake. The odds are good the Wildcats are going to be near the bottom for a while. If there are positives, it's the fact that senior Mike McGuirl has shown dramatic improvement as a scorer and freshman Nijel Pack looks like a good fit in the starting lineup.
NR Oklahoma (Preseason Start: 6)
This has never happened before in my history of doing power rankings. Oklahoma didn't play a game this past week due to COVID concerns within the basketball program. So, after thinking about it, I'm going to leave Oklahoma unranked until it plays a game. That next game is supposed to be against Florida on Dec. 2, but the Gators paused basketball activities on Nov. 22 due to COVID concerns. The Gators were supposed to resume basketball activities on Nov. 29. This all assumes OU can play on Dec. 2, too. 
**Want to win a $20 gift card?  Go sign up here and join our conversation! The best poster each week wins a gift card to your favorite establishment!**