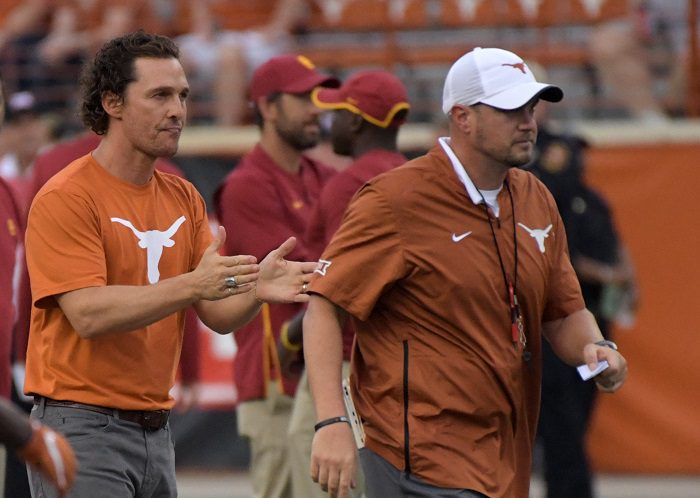 Matthew McConaughey remains the unofficial mascot for Texas Longhorns athletics. He appears on the sidelines at football games, basketball games and basically any "big moment" happening at UT, McConaughey is in the house.
He recently joined ESPN+'s Stephen A's World, and McConaughey commented on the Longhorns hiring of Steve Sarkisian. He said, "Look, I feel good and I feel hopeful,. He obviously did great work as an OC at Alabama. He's now stepping into the HC, which is the same but more and a different job than he had then. Look, at the University of Texas, you've got to understand how to embrace the awesome scrutiny that comes with the stage here — as players and as coaches. The stage at the University of Texas is like no other."
McConaughey added, "So in that way, because it's like no other, you actually are an underdog at UT. Now, who can shine on that stage? I want him to bring — he's got an underdog mentality. He's got his retribution story. He's got his own redemption story. Well, let's parlay and parcel that into our becoming of who our football program is right now. We want badass with character. Let's see."
Sarkisian was hired earlier this month after Tom Herman was fired following a second-straight season of expectations not being met.
Sarkisian has put together an incredibly impressive staff in Austin, with the most recent and notable hire being Pete Kwiatkowski leaving Washington to become the Texas defensive coordinator. He's also brought some of his former colleagues at Alabama to Texas with him as well.
Last thing McConaughey noted to Stephen A. was the following, saying, "I've yet to meet him. I'm going to give him a call here, maybe this afternoon to catch up to him, because I want to explain about some things. But you get handed the keys to the Ferrari at the University of Texas. So you've got to remember that, when you were driving to get to this position, you were grinding. You were braking late turns. Don't start braking early now. Let's get it on. Let's roll."
There's no doubt the head coach at Texas has the keys of a Ferrari. The problem is that for over a decade, no one has known how to properly drive the car and let it take off. We'll find out starting this fall on if Steve Sarkisian can be that guy.
**Want to win a $20 gift card?  Go sign up here and join our conversation! The best poster each week wins a gift card to your favorite establishment!**