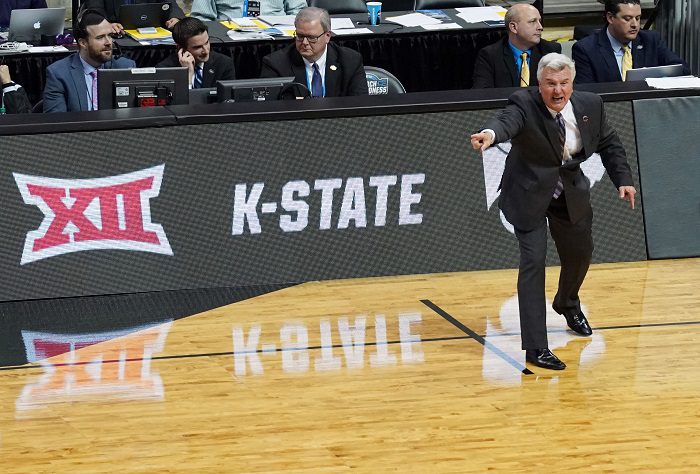 Here's a preview of the TCU Horned Frogs and the Kansas State Wildcats in Game 1 of the 2021 Big 12 Men's Basketball Tournament at the T-Mobile Center in Kansas City.
No. 8 TCU (12-13, 5-11 in Big 12) vs. No. 9 Kansas State (8-19, 4-14), 5:30 p.m. CT, ESPNU
Season series (tied 1-1): TCU def. Kansas State, 67-60, in Manhattan, Kan., on Jan. 2; Kansas State def. TCU, 62-54, on Feb. 20 in Fort Worth, Texas.
Winner gets: a Thursday game with No. 1 seed Baylor at 2:30 p.m. central
Projected starting lineups
TCU: G RJ Nembhard, G Mike Miles, G P.J. Fuller, G Chuck O'Bannon, C Kevin Samuel
Kansas State: G Mike McGuirl, G DaJuan Gordon, G Nijel Pack, G Selton Miguel, F Davion Bradford
READ MORE: 2020-21 Big 12 Basketball Individual Awards
READ MORE: 2021 Big 12 Tournament: Schedule, Printable Bracket, Dates and Times
Player to watch
TCU: Miles. This true freshman played his AAU ball with guys like Oklahoma State guard Cade Cunningham, Oklahoma State guard Rondel Walker, and Texas forward Greg Brown. But he may end up being the player that sticks around the longest in the Big 12 , and the Horned Frogs would love to see that. Miles ended the regular season as TCU's second-leading scorer, providing nearly 14 points per game. He's a playmaker, a solid shooter, and an emerging defender. He has the potential to be a Top 5 guard in the Big 12 next year. But on Wednesday, Miles needs to lead the way if the Horned Frogs expect to play on Thursday.
Kansas State: Pack. He was the centerpiece of Bruce Weber's 2020 recruiting class, and Pack has played like it all season. A starter from the jump, Pack ended the regular season as the Wildcats' leading scorer (12.0 ppg), and leading passer (3.8 apg). Playing nearly 34 minutes a game, there isn't at facet of the game that Pack isn't involved in. Looking ahead to the future, Pack could be the guy that helps get the Wildcats back to respectability in the Big 12. Looking ahead to their game with TCU, the Wildcats need Pack to play like be consistent floor general he has played like all season.
Heading into the Tournament
TCU: The Horned Frogs are reeling going into the Big 12 Tournament, having lost three straight and six of their final seven games. One of those losses came against Kansas State on February 20.
Kansas State: After a horrific 13-game losing streak, the Wildcats won three of their final four games to end the regular season. One of those wins was over then-No. 7 Oklahoma. They carry quite a bit of momentum going into the game against the Horned Frogs.
Number to know
TCU: 34.1. That is TCU's shooting percentage from the 3-point line. Going into the Big 12 Tournament the only active Horned Frogs shooting 40 percent or better from the 3-point line is Taryn Todd.
Kansas State: 13. that's the number of players the Wildcats are expected to bring back next season. The only senior on the team is guard Mike McGuirl, and he could choose to come back for another season, thanks to the NCAA's extension of eligibility due to COVID-19.
Who wins?: I'll take Kansas State in this game, It's hard to ignore the differences in momentum, with the Wildcats being in a good place going into Kansas City and the Horned Frogs trying to figure things out. Still, I think this will be a close game down the stretch, as the Wildcats' young stars, paired with McGuirl's leadership, taking the win over Miles, RJ Nembhard, and the rest of the Horned Frogs.
You can find Matthew Postins on Twitter @PostinsPostcard. Send him a tweet with your question to be included in this week's Big 12 Basketball Mailbag, which appears each Friday during the conference season.
**Want to win a $20 gift card? Go sign up here and join our conversation! The best poster each week wins a gift card to your favorite establishment!**