Big 12 News
Steve Sarkisian: 'Recruiting Rankings Don't Win Championships'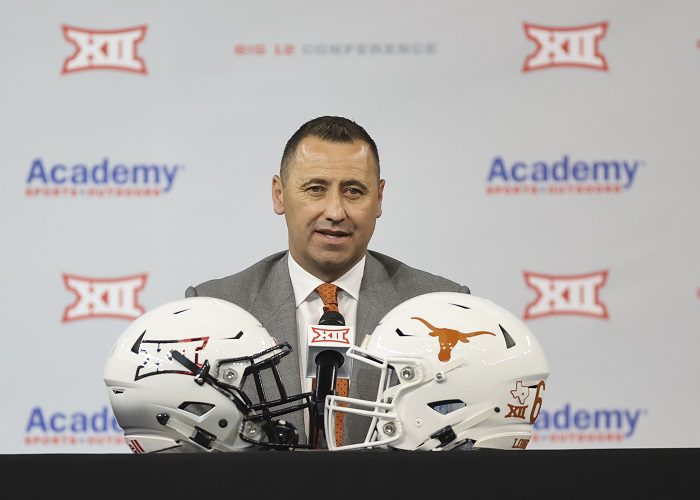 Texas head coach Steve Sarkisian is the latest coach hired to try and get Texas back to National Championship contention. No one could have predicted this past decade of Longhorn football to go as it's gone, yet here we are.
And like Charlie Strong and Tom Herman were asked before him, the biggest questions posed to Sarkisian at Big 12 media days were based around how and why no one else has been able to get this program back in position on a national level, what he's learned from their mistakes and how he will do things differently going forward.
Sarkisian said, "I haven't been focused on what happened before me. I'm putting all our energy into what we're doing now. I do believe in teams win championships. Locker rooms and facilities don't win championships. Recruiting rankings don't win championships. You don't get a ring for that. You get a ring for winning tough games in November and December in the fourth quarter when you have to have 'that drive' or get 'that stop'."
Sarkisian added, "We have to chase greatness every day. We don't pick and choose what day we decide to work really hard."
There's no doubt that one of the many critiques against Tom Herman was that his teams played up and down to competition on a consistent basis. That should be fix No. 1 for Sarkisian.
But he's right to point out that no head coach at Texas can complain about not having the facilities or the budget to win at a high level. They do and they've had that for a long time.
Texas is consistently the highest-grossing revenue football program in America, but the team hasn't won a Big 12 Conference Title in 12 years. Since that season, the program is 78-60 and have finished second in the conference just once.
Sarkisian comes to Texas after spending the last couple of seasons with the Alabama Crimson Tide as the offensive coordinator under Nick Saban. Tom Herman was fired in a somewhat surprising move following the season. The Longhorns fell short of expectations this season going 7-3 and missing the Big 12 Championship Game. But they rallied late with a huge win over Kansas State and then crushed Colorado in the Alamo Bowl.
Steve Sarkisian's head coaching experience is with the Washington Huskies and then the USC Trojans. His overall record is 46-35 and he was last a head coach for the Trojans in 2015.
Sarkisian was considered the possible successor to Nick Saban at Alabama, but as he told Colin Cowherd in recent months, "You don't say no to Texas."