Baylor Bears
Dave Aranda Gave the Best Answer at Big 12 Media Days on Big 12 Defenses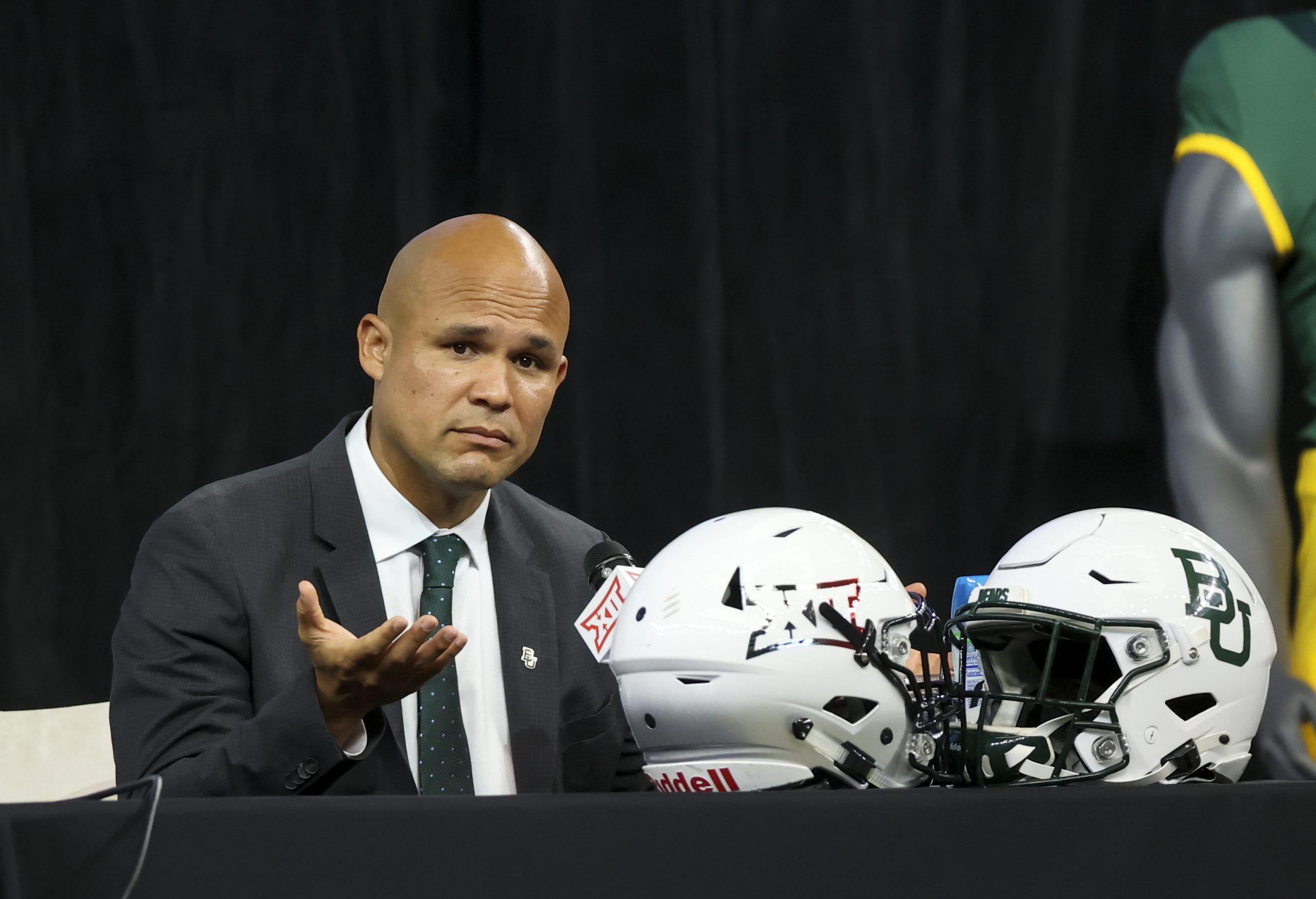 As a media member, you just love it when a coach really digs into your question with an incredibly in-depth answer. And on Thursday at Big 12 media days, I had the pleasure of asking that question to Baylor head coach Dave Aranda, who gave an incredible answer to my question about Big 12 defenses and the improvement.
Here's a look at our Q&A, which Aranda didn't answer so much as a head coach as he did as a defensive coordinator, with an incredibly technical answer. I love everything about it. Here's how our back and forth went.
You spent time, of course, in the Big Ten, the SEC, now the Big 12. The perception around the Big 12 not playing defense, a lot of that went out the window last year in traditional and also advanced metrics. What do you think about the defense in this league, where it's been and where it can go, not just on the field but also recruiting some of the guys you've got to play in the SEC now bringing them to this conference?
COACH ARANDA: It's a great question. I see this being a defensive conference. And I look at Coach (Gary) Patterson and what he's done. He's been playing defense in this conference for quite a long time. I look at OU and their success on defense and their commitment to defense.
I look at Iowa State and the work that they did and the courage that they had to be different and to do what fits the league. But I think the league offensively is changing. It's coming from a 10-personnel spread look to more of a 12-personnel, one-back, two-tight end look. There's going to be more one-back, three tight ends. The league is looking more like the Big Ten than the 10-personnel spread sets it used to be.
My friend, Matt, is here today, and I know their offense is probably one of the few that's spread like that.
And so I think the ability for the defense to set edges, to be disruptive in the interior — if you get a tackle for loss, if you get a sack, if you get any form of a negative play if you're stemming and the offense jumps and any way that the offense has to move back, that percentage or that percentage that that offense has the chance to score goes way down. And so creating negative plays is really where it's at on defense. And I think there's a fair amount of people now that are really interested in getting in the backfield.
I think the answer to that on offense is going to be more, like we talked about, 12-personnel, 13-personnel looks, where you're trying to absorb all of the interior blitzes and stunts and everything, as opposed to doubling certain people and someone is singled. And, nope, he just whiffed on the guy and now it's second-and-15.
So getting it to where it's more wide zone and you're picking stuff up and knocking them off — and the same with play-action pass. The more you can run the ball, the more you can get play-action pass off of it and hold people accountable as opposed to being spread sets where now there's pressures and stunts coming from different areas.
It's a good question. I think the league has changed. I think it's going to change even more.