Big 12 News
Gene Taylor: Kansas State is Positioned 'Better Than All' of Remaining Big 12 Schools in Conference Realignment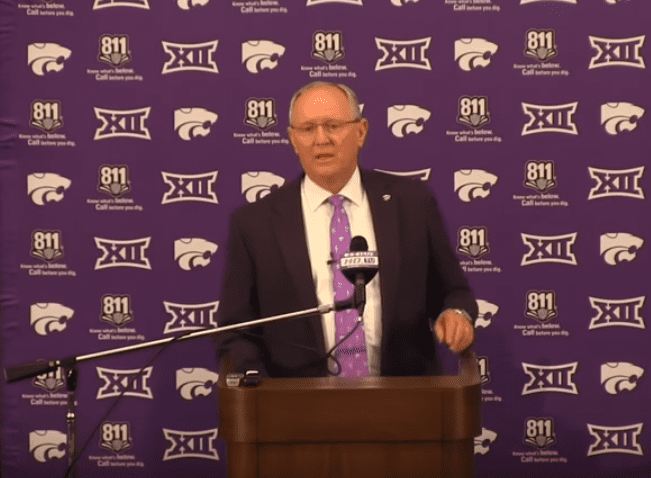 There's lots of jockeying for position across the college football landscape right now in the wake of Oklahoma and Texas deciding to bolt the Big 12 for the SEC.
Is Kansas going to the Big Ten? How about Iowa State? We need to talk about West Virginia in the ACC right? And obviously Texas Tech goes to the Pac-12, but who might join them there?
One of the programs being left out of most conversations is the Kansas State Wildcats. We've long discussed how unfair that is. But finally someone in leadership at Kansas State is stepping up and saying publicly what they should've said three weeks ago.
Kansas State AD Gene Taylor told John Kurtz of KMAN in Manhattan, "We're positioned in a lot of ways better than all of them. I think that's what you have to understand. We've won more Big 12 football championships than some of these schools. Our fan base probably travels a lot better. When you look at our academic profile of our programs, we're one of the top in the Big 12 in terms of APR, graduation rates, and GPAs. All of those things, we're as strong as any of those schools on a regular basis. It's frustrating that media writes it that way, but I think if they were to dig down into it and make some comparisons, they'd see that we're absolutely as good, if not better than a lot of those schools in a lot of ways. It was kind of that way the last time around. We have to keep putting our resume out there, so to speak, and make sure people understand who K-State is."
This is LONG overdue commentary from Taylor. The Wildcats should be beating this drum non-stop publicly. While privately the powers that be across college football may know this, the media narrative publicly needs to also be on board with this too. Let's see if they can finally build momentum in that direction.