Big 12 News
Bob Bowlsby Suggests Big 12 Could Expand to '20 or 24 Teams'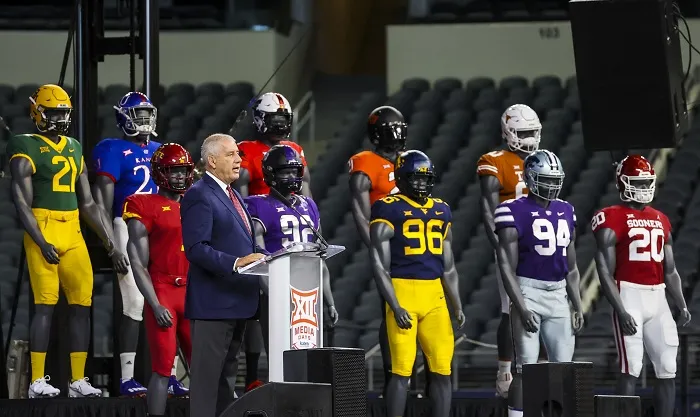 It was a historic week for the Big 12 Conference, but according to commissioner Bob Bowlsby, there could be more to come. A lot more.
On Friday, the Big 12 Conference officially welcomed in four new members in BYU, UCF, Cincinnati and Houston. It capped off a tumultuous several weeks that started with Oklahoma and Texas shockingly announcing their plans to leave the Big 12 for the SEC. And after weeks of speculation wondering what the future would hold for the Big 12, the conference was able to keep itself in tact and bring new teams into the fold.
But when commissioner Bob Bowlsby met with the Waco media on Saturday prior to Baylor's game against Texas Southern, it's clear that he's not done looking at expanding the league beyond the 12 teams it will have after OU and Texas leave.
Bowlsby said, "We'll look for targets of opportunity. We might find out down the road that larger alignments are going to be the order of the day. We might find ourselves going to 20 or 24 (teams) at some point in time."
My initial thought is that I don't see how there are another 8-12 schools that could possibly bring value to the Big 12, but I will give leadership of the conference this much: They're actually trying to think ahead and outside of the box, something that has not been done in this conference since it was founded.
It's always felt like Big 12 leadership, no matter who was in charge, was getting left behind and rarely being the aggressor. Maybe that all changes now with Texas gone, as the Longhorns obviously have had a stranglehold on the decision making in this conference since it's formation 25 years ago.
So for Bowlsby, newly-hired consultant Oliver Luck, along with the Big 12 Presidents and athletic directors, to be looking to the future of college sports and trying to plan accordingly in the best interests of the entire conference, that, if nothing else, is a breath of fresh air for this league and all its fans, who have been used to the exact opposite for far too long.