Baylor Bears
Three Thoughts on Baylor's 31-29 Win Over Iowa State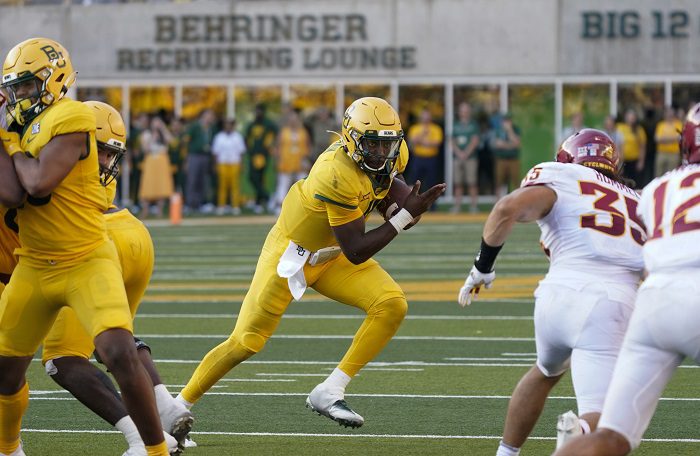 The Iowa State Cyclones went to Waco to open up Big 12 play against a Baylor team that was looking for that season-defining win. Despite a 3-0 start, Baylor had a weak schedule to date and was looking to prove that they were a team to be feared in the Big 12 Conference. Meantime, the Iowa State Cyclones had already dropped a game against Iowa, but was entering conference play with still big plans of competing for a Big 12 title. However, it was the Bears who took care of Iowa State with an impressive 31-29 win at home to improve to 4-0, while Iowa State dropped to a disappointing 2-2 on the season.
Here are three thoughts on the game.
1. Baylor Won the Line of Scrimmage
The Bears dominated the line of scrimmage on both ends in this game against Iowa State. They were clearly the more dominant defensive line against an Iowa State offensive line that struggled, while on the other side of the ball, the Bears seemed to get that extra push on the offensive line when they needed to. They were just tougher, and that surprised me in this game, especially with the way Baylor's offensive line performed.
2. More With Less
The Baylor Bears were outgained in this game 479-282, while losing the time of possession. But they were clearly the more efficient team, holding Iowa State to field goals, while also adding some special teams magic from Trestan Ebner. Their bend-but-don't-break approach on defense proved very effective. Offensively, the Bears strung together drives early in the game that went eight plays for 75 yards, six plays for 56 yards and nine plays for 75 yards, with all three ending in touchdowns. They caught the Iowa State defense asleep early, and kudos to Gerry Bohanon, in the biggest start of his career, getting things off on the right foot with an efficient afternoon that gave the Bears the early confidence they needed against a Top 15 team to pull off the biggest win under Dave Aranda in Waco.
3. Pete's Mea Culpa
For the last two weeks I've said I needed to see it to believe it from Baylor. Well I saw it on Saturday. I saw a team that has a solid stable of backs, led by Abram Smith, a quarterback who has come a long way from his disappointing performance in back up duty in the 2019 Big 12 Championship Game, and a defense that is continuing to find its identity under Dave Aranda. It was impressive to watch. I kept saying I just needed to see it against better competition to believe it. I saw it on Saturday and for that I give Baylor all the credit. This is a team that will be heard from in the Big 12 race. I'm not predicting a trip to AT&T Stadium in December, but I do think that they can play a role in the conference race as the season progresses. And any team that overlooks them would be incredibly foolish to do so. There doesn't appear to be a clear-cut No. 2 Big 12 team right now, so why not Baylor?