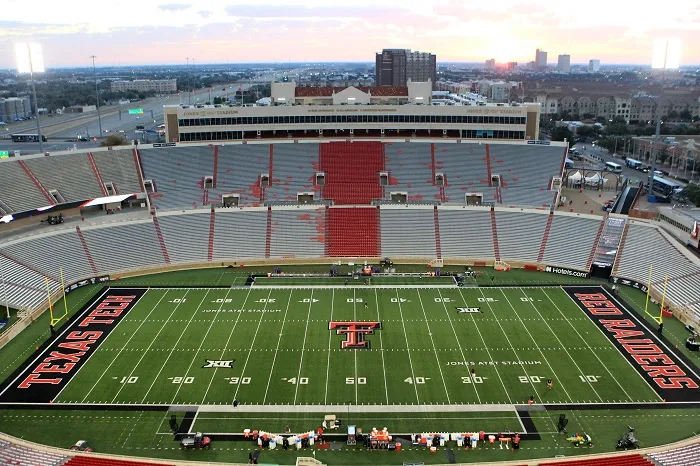 Texas Tech has a golden opportunity to make a successful hire after firing Matt Wells this week.
The problem is, this particular future success of a hire is not one who is a big name or will immediately draw season ticket sales.
In fact, Athletic Director Kirby Hocutt might not even consider this name because Hocutt may be on the hot seat too. Boosters will want a splash hire. As we have witnessed, splash hires aren't always successful.
Hocutt has a list of names Tech fans are salivating for. Many will be looking to hire Nick Rolovich, who was fired from Washington State for choosing to seek a religious exemption rather than receiving a COVID-19 vaccination. There's Jeff Traylor, who has led UTSA to a perfect record so far this season and a top 25 ranking. Sonny Dykes is the son of legendary Texas Tech coach Spike Dykes. He played baseball at Tech and currently has the SMU Mustangs with an undefeated record where the ponies will face former colleague Dana Holgerson at Houston this weekend. Eric Morris played at Texas Tech under Mike Leach and recently knocked off Texas State as the head coach of FCS school Incarnate Word. There's also Graham Harrell, who was wildly successful as the North Texas offensive coordinator before USC scooped him up when Kliff Kingsbury resigned to pursue NFL coaching jobs.
Tech fans certainly want someone who loves West Texas and the university. However, there is one name that Texas Tech should give a look to. He probably won't get a look because he's not well known at the college level. His name is Drew Svoboda.
Who is Drew Svoboda?
Svoboda is the Special Teams Coordinator and Tight Ends Coach at Alabama. Yes, the same Alabama where Nick Saban is the Head Coach. Saban's previous Special Teams Coordinator resigned, so Saban made the phone call while Svoboda was at Memphis. Prior to entering the college ranks, Svoboda had massive success as the head coach of Klein Collins High School. He has one of the strongest recruiting pipelines to Houston in the nation. What you may not know is the story of how his time at Klein Collins unfolded. First, he was an assistant. He was the Strength & Conditioning Coach, helping build a new program in its infancy. Another assistant whisked him away to Oak Ridge High School for a coordinator position. Klein Collins ended up making a head coaching change. They replaced the previous head coach, someone who wasn't always liked by the players, with a player's coach: Mike Konicki.
Konicki, however, battled cancer throughout his time at Klein Collins. The players loved Konicki and he made an impact on their lives, but the program would go 2-18 during his tenure. Konicki died at the age of 44 in 2008. This placed the administration in a tough position. The players suffered the loss of a coach they loved, but they also didn't see on-field success during his tenure. How does this program achieve on-field success while navigating the traumatic situation 15-18 year olds have in watching someone who inspired them die?
Step in Drew Svoboda: A bridge to connect the gap of player's coach and on-field success. As soon as Svoboda was announced to the players on the football team, there was celebration. His former players lit up with smiles on their faces and couldn't help but give the program's newly hired coach hugs and high fives.
Svoboda saw success early, narrowly missing a playoff berth in his first season. In year two, Klein Collins finished 12-1 with a district championship. Svoboda received multiple Coach of the Year accolades, and continued to throughout his tenure. During his time at Klein Collins, he coached players including Isaiah Spiller, Demetri Goodson, and Cameron Goode. The longer Svoboda coached in Houston, the more his profile was raised. He eventually became President of a Houston area coaches association in Houston and was on the Board of Directors for the Texas High School Coaches Association.
As you can tell, Svoboda has some of the strongest connections to Texas high school coaches. He is loved by players, which is crucial to recruiting. Additionally, he saw success calling plays to lead Klein Collins to the state semifinals and many district championships. Oh, and he's admired enough by Nick Saban that the Alabama coach called him up when there was a hole to fill on the staff.
The Time is Right
Texas Tech has hired former head coaches. Tommy Tuberville and Matt Wells didn't work out nor did they want to be there. The Red Raiders have hired an alum. Kliff Kingsbury didn't work out. The two coaches who have had the most success at Texas Tech were never a head coach prior to their tenure with the Red Raiders. Spike Dykes made a name for himself as a high school coach in West Texas. Mike Leach was a high profile coordinator. Drew Svoboda made a name for himself as a high school coach in Texas and is now a coordinator at Alabama.
The Red Raiders should at least give Svoboda an interview. Svoboda's time is coming. He is a rising star in the coaching ranks, and will be a coach at a Power Five school soon. Tech should get ahead of the herd and interview Svoboda for the position.