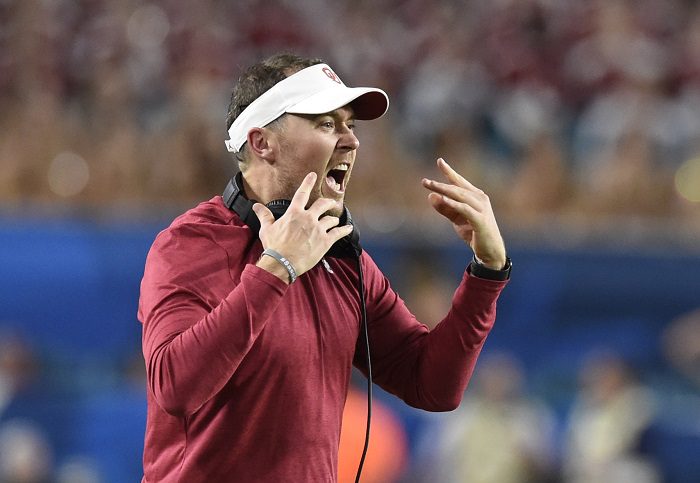 The Oklahoma Sooners saw their 17-game winning streak come to an end on Saturday in Waco against the Baylor Bears. And when losing is something a team is not accustomed to, sometimes one may react in a way that is petty, tone deaf and hypocritical, just to use a few descriptions.
That was OU head coach Lincoln Riley on Saturday afternoon.
The way the Baylor – Oklahoma game ended included the fans storming the field twice in Waco. The first time it happened, though, was a mistake, as Baylor fans did not realize head coach Dave Aranda had called a timeout with three seconds left, up 24-14.
So then, the fans had to be begged by the PA announcer to get off the field, so Aranda could have the Bears kick a field goal, which they did to win 27-14.
Why did it happen?
Why did Aranda do this? He wanted to get additional points in case there was a tie among two-loss teams in the Big 12 title race, because point differential between teams is the third tiebreaker in the league's rules.
But it did not sit well with Lincoln Riley.
"It became a safety issue," Riley said. "I know why Dave tried to kick the field goal. I don't agree with it. And I still think above all else, there's a code of sportsmanship that I believe in. I wouldn't have done it. But that's his decision, that's his football team. How the officials don't enforce a 15-yard penalty when you probably got 5,000 people on the field is unbelievable to me. It is what it is. That's his decision. That's the officials' decision. I don't agree with it."
Riley said he saw one of his players, David Ugwoegbu, "just get bum-rushed by three guys" and sent Oklahoma's team to the locker room during the delay. He said he considered telling all the players to leave without having any on the field for a final play.
"I did tell them that, and I don't know, maybe I should have done it," Riley said. "You know, I just I don't believe this situation was handled well by a lot of people. Doing it with class is important to me. And at the end of the day, that's why we decided to bring 11 guys out even though deep down I damn sure didn't want to."
Lincoln Riley has a right to be upset with how it all played out, but to say that Dave Aranda broke some code of sportsmanship is ridiculous.
Aranda didn't call the timeout knowing the fans wouldn't realize what was happening and then storm the field. And ultimately, it's his job to think through every scenario and give Baylor the best chance to possibly win the Big 12 Conference, which is what he was doing.
Lincoln Riley doesn't have to like that, but then his beef should be with the tiebreaker rules, not Baylor for playing by them.
Lincoln Riley Has a Short-Term Memory
And if we're going to have the conversation about sportsmanship, can we go back a couple of weeks to Lawrence, Kansas.
After a 1st and 10 from the Kansas 11-yard line, Kennedy Brooks ran for three yards and the Jayhawks burned their final timeout with 1:30 to play in the game. OU was leading 28-23 in a game they were trailing entering the fourth quarter against the worst team in the league. But at that point, the Sooners had options to burn the clock and call it a day.
Lincoln Riley chose not to do that. Riley ran Kennedy Brooks two more times and he scored a touchdown as Oklahoma won 35-23.
Why did OU do that? As many noted at the time, kneeling would have been tricky timing-wise, but my suspicion is that it sure didn't hurt to make it look like their performance against Kansas wasn't nearly as bad as it was. For those who weren't paying attention, a 12-point win looks a lot better than a 5-point win.
Or, we can go back to early in the season, when Oklahoma led Western Carolina 62-0 entering the fourth quarter. The Sooners tacked on another 14 points to win 76-0. And when you look at the play calling down the stretch of that game, it was not run, run, run.
In fact, of the last 15 offensive plays of the game for the Sooners, they ran seven passing plays and eight running plays.
And if we want to take this one step further, was Oklahoma and Texas secretly soliciting membership into to the SEC behind the Big 12's back breaking a "code of sportsmanship"?
Sure, that one was decided well above Lincoln Riley's head, but I just figured I'd ask.
Needless to say, Riley isn't likely to find a lot of sympathy for his stance on this one. However, maybe his future friends in the SEC will give him a shoulder to cry on.
Editor's note: Credit to Matt Mosley for also pointing out that Riley kicked a field goal with 1:20 left in a 2018 game against Baylor to take a 66-33 lead. Oops.