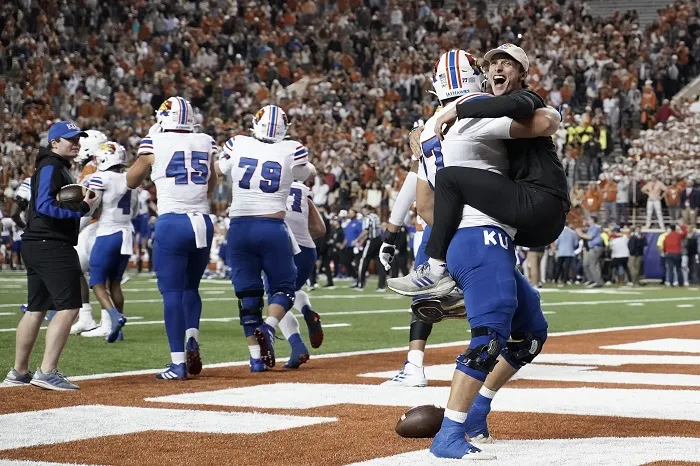 It was another wild weekend in the Big 12 from the off-field news to the on-field play. There was plenty of excitement on Saturday and I will break it all down here for you as I share the good, bad, and ugly from Week 11 in the Big 12.
The Good
Kansas State (Beat West Virginia 34-17)
The Wildcats took it to West Virginia on Saturday. They dominated they first half and while West Virginia pulled close, Kansas State was able to separate once again in the second half. Kansas State's offense controlled the game and ran the ball well with Deuce Vaughn, but Skylar Thompson impressed me once again through the air. Thompson went 14/19 for 138 yard and a score. Those numbers wont jump off the page, but he has been efficient since his return. Also, kudos to the defense for shutting West Virginia's running game down. Nobody is talking about this football team, but they are sitting at 7-3 with two games left.
Baylor (Beat Oklahoma 27-14)
The score may not tell the whole story, but the Bears took it to the Sooners in Waco. They controlled the game using their powerful rushing attack led by Abram Smith and played great defense. Gerry Bohanon didn't have his best day throwing the ball but much like Abram Smith, he was able to run the football effectively and make Oklahoma pay. Of course, I can't forget about their defensive effort. Baylor shut down Oklahoma's offense from start to finish. They held the Sooners to just 260 yards and just 14 points. It was a great team performance and Dave Aranda should be considered for coach of the year and I loved the field goal at the end of the game. It's just a shame this team lost to TCU or else they could be playing for a Big 12 title.
Texas Tech (Beat Iowa State 41-38)
If Texas Tech played the second half like they did the first half, they would have won by three scores, but a win is a win. I didn't think Tech had a chance and they found a way to win thanks to the play of freshman quarterback Donovan Smith. He was able to buy time and find Myles Price and Erik Ezukanma throughout the game. I still have questions about their defense but thanks to their offense, it didn't matter. When they needed a play, Donovan Smith found a way. And how about some love for the kicker? Jonathan Garibay drilled a 62-yard field goal as time expired to win the game. That's legendary stuff and he should not pay for a drink in Lubbock for a while. With the win, Texas Tech is now bowl eligible.
Oklahoma State (Beat TCU 63-17)
What a way to honor Barry Sanders by rushing for 451 yards on the day. Whether it was Dominic Richardson or Jaylen Warren, the Cowboys had their way with TCU's defense on the ground. They controlled the entire game and used their elite defense to help crush the Horned Frogs. The Cowboys held TCU to go just 2/12 on third down and didn't allow them to score a touchdown until the fourth quarter when they had a 49-3 lead. This game was never close as Oklahoma State stomped on the gas pedal and never looked back. Overall, it was a good day for the Cowboys. Barry Sanders got a statue, Oklahoma State won the game, Mike Gundy got to see his son play quarterback and the Cowboys got some help with Iowa State and Oklahoma losing. With just two games left, this team is a shoe in to play for a Big 12 title.
Kansas (Beat Texas 57-58)
WELCOME TO THE GOOD COLUMN KANSAS! It's been a while since you have been in this spot during Big 12 play but here you are. Jalon Daniels and Devin Neal had the game of their lives to help led the offense to a big win. They kept fighting all game long and Lance Leipold deserves some praise. This team is still a long way from being competitive week in and week out, but they are getting better. I can't believe I am saying this, but Kansas has just won their first conference road game since 2008. Enjoy your weekend Kansas football fans because you deserve it.
The Bad
West Virginia (Lost 34-17 to Kansas State)
The Iowa State win was a fluke because I haven't seen that team since. The Mountaineers let Kansas State control the game and due to the score, West Virginia was forced to throw their way back into the game. That is a recipe for disaster for this team and Jarret Doege struggled to get the offense moving as he turned the football over twice. West Virginia lost the turnover battle and couldn't stop Kansas State's offense. They had no chance winning this game playing like that. The good news is that the Mountaineers need to beat Texas and Kansas to get bowl eligible. Right now, I would say they have a great chance at doing that.
Iowa State (Lost 41-38 to Texas Tech)
Iowa State didn't deserve to win this game. They played poorly in the first half and once again a slow start cost them a game. Brock Purdy didn't play well and while Breece Hall had a moment or two, the run game never got going against a bad Tech defense. The only reasons Iowa State crawled back into it was due to Xavier Hutchinson and Charlie Kolar who made some big-time plays.
As bad as the offense was at times, this game falls on the shoulders of the defense. They gave up over 200 yards on the ground and let Texas Tech torch them through the air by way of the deep ball. This was like Morgantown all over again because the defense pulled a no show for a good chunk of the game, but they got some calls go their way. Iowa State is a talented football team, but the inconsistencies have been killer for them this year. With the loss, they can now kiss their Big 12 title hopes goodbye.
The Ugly
Oklahoma (Lost 27-14 to Baylor)
I have been doing this article for years and I can't remember a time where Oklahoma made their way this far down this list. There isn't much of an analysis here because the Sooners got their butt kicked and there's no other way to put it. In every phase of the game, they got beat. From special teams, offense and defense, Baylor won. People will point at the defense and while they struggled to stop the run, I have more questions about the offense. First off, the offensive line is not what it should be. They got beat up front and never established any sort of run game. That put more pressure on Caleb Williams to be superman and it appeared to me that he wasn't 100% healthy. Was brining in Spencer Rattler the right move? I am not sure, but it didn't change the result.
This is not a playoff team or a national title contender, but they still have a good chance at winning their seventh Big 12 title if they can get there. Also, Lincoln Riley needs to relax with the code of sportsmanship excuse. He ran up the score on Western Carolina and went for it on fourth down up 69-0 in the fourth quarter with than two minutes left. If you want to be upset with someone, look in the mirror.
TCU (Lost 63-17 to Oklahoma State)
Well, the score tells the entire story of the game. The defense couldn't stop Oklahoma State's rushing attack as they allowed over 450 yards on the ground. Offensively, Chandler Morris didn't have that same magic he had against Baylor. This game was over when it started and at one point, TCU was down 49-3. The Honed Frogs will not be go bowling this year and at this point, it's time to focus on the coaching search. Saturday night was embarrassing but luckily for them, they weren't the most embarrassing team in the Big 12.
Texas (Lost 57-56 to Kansas)
Throw out the stats sheets and the box score. Texas lost to Kansas in football. That shouldn't happen and it certainly shouldn't happen twice in the last six years. This program continues to find new rock bottoms and Saturday was the lowest point in the program I can remember. Texas is currently on a five-game losing streak for the first time since 1956. You can make excuses about the injuries or complain about the talent level, but Texas should not be losing to Kansas. Some of you who celebrate these top ten recruiting classes are the same ones complaining about the talent. The problem isn't the talent coming in, it's the lack of development when they get to Austin. That's been the case for years and I don't expect Steve Sarkisian to fix everything in year one but losing five games in a row is inexcusable. This program is the laughingstock of college football and will likely miss a bowl game for the third time in the last seven years.