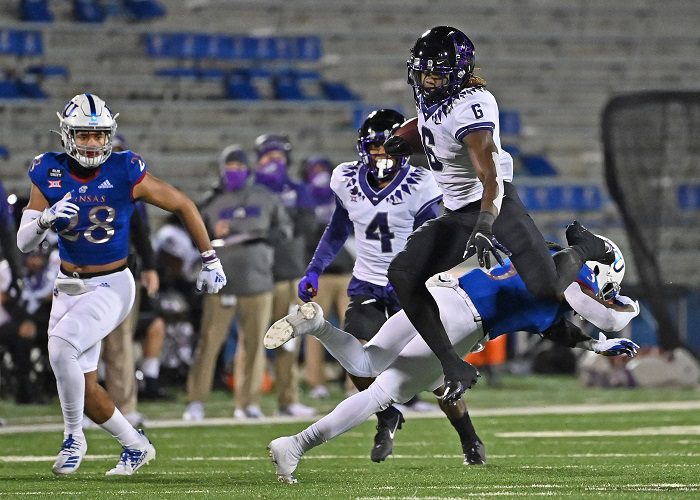 Here is everything you need to know about the upcoming Big 12 match-up in our TCU vs. Kansas preview and prediction.
Game Info
3:00 p.m. CST, Saturday, November 20th, 2021; Amon G. Carter Stadium; Fort Worth, Texas
TV: ESPN+
Radio: WBAP 820 AM (Brian Estridge); Jayhawk Radio Network (Brian Hanni)
Spread: TCU -20.5
Fun Fact: Since TCU joined the Big 12 back in 2012, the Horned Frogs have an 8-1 record against the Jayhawks
Key Players
Kansas
RB Devin Neal
There are a lot of good running back in the conference, so it is easy for a player like Devin to get lost in the shuffle. However, one should not overlook what he has done this season as a true freshman. Neal has rushed for over 600 yards this season and is fresh off a memorable performance against Texas where he rushed for 143 yards and three touchdowns.
DE Kyron Johnson
While safety Kenny Logan gets most of the attention on the Kansas defense, Johnson had a great game against the Longhorns recording two sacks. He is the best pass rusher the Jayhawks have and will get some good opportunities against TCU.
TCU
The Unknown Quarterback
This is a first considering we have are not sure who will get the start for the Horned Frogs on Saturday. Max Duggan, Chandler Morris, and Sam Jackson got injured. Plus, Matthew Downing entered the transfer portal, so TCU is running out of options. It has been reported that wide receiver Jake Neufeld will possibly be getting some snaps however it could be possible that Max or Chandler will be healthy enough to play so it will be interesting to see what Saturday has in store for the Horned Frogs.
LB Dee Winters
Dee has been a key player for the TCU defense this season. He leads the team in tackles and is an excellent athlete at the linebacker spot. Wherever the football is, Dee Winters is likely to be close by.
Key Storylines
Kansas
Can the Jayhawks find magic twice in one season? They are fresh off an emotional win at Texas where they won their first conference road game since 2008. Kansas has been able to be competitive at times in some games and I do wonder if they will bring that same fight and energy to Fort Worth on Saturday. Lance Leipold still has plenty of work to do in Lawrence, but it does appear that this team is slowly taking steps in the right direction. They have an opportunity to take a big step if they can walk out of the TCU game with a win.
TCU
If there was ever a time TCU needed a bounce-back win it is this weekend. The Horned Frogs got absolutely embarrassed in Stillwater last Saturday night where they lost 63-17. They were never competitive in the game, but they have a chance to get a rebound win at home. I know Jerry Kill is just the interim head coach but if the Horned Frogs can win on Saturday, that will give them five wins on the year with an opportunity to get to a bowl game on the final week of the season.
Prediction: TCU 34, Kansas: 21
Both teams have their fair share of struggles on defense especially when it comes to stopping the run as TCU is ranked ninth in the conference in rush defense while Kansas is dead last. TCU has caught the injury bug this season, but the good news is that running back Kendre Miller could make his return Saturday which should help ease the quarterback situation. While I don't trust either defense, I do believe TCU is the better team and after getting crushed in Stillwater, they will be ready to play on Saturday.