Baylor Bears
Dave Aranda Told Mack Rhoades in October: 'This is Where I Feel I Belong'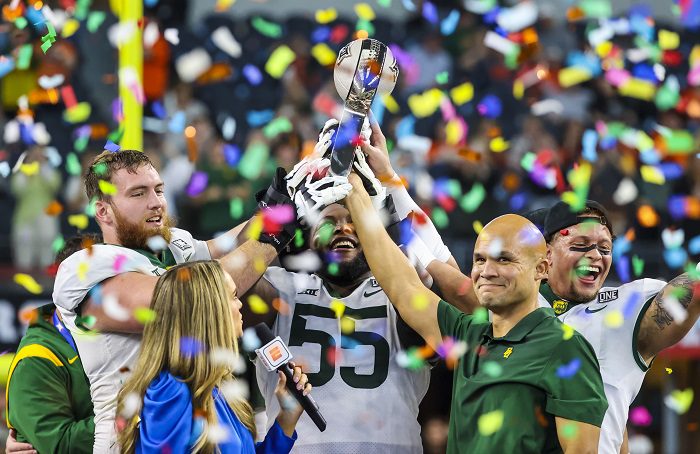 As Oklahoma State running back Dezmon Jackson bounced the fourth-down run outside of the tackled and headed for the pylon, it looked like the Cowboys would win it's first Big 12 Championship since 2011. We've all seen that play before; the running back finds space outside after the linebackers get sucked in on a goalline run and just beats them to the edge. It looked like a done deal.
However, Baylor's Jairon McVea made the biggest play in Baylor's history, tackling Jackson just inches short of the pylon to secure a Baylor win, 21-16. The sea of green in the stands erupted, players and coaches on the sidelines celebrated hysterically as the program had just clinched its third Big 12 Championship. But not Dave Aranda. No, Aranda was as stoic as ever and remained emotionless amongst the pandemonium on his sideline.
It was a fantastic encapsulation of Aranda's approach to coaching. Humble. Modest. Confident. Those words describe Aranda, but also his team throughout the 2021 season. Baylor was not expected to make much noise in the conference this season, and I'm sure that is exactly how Dave Aranda wanted it. He is building something special in the heart of Texas, and it sounds like he is well aware of that. In a world where college football coaches get caught looking for greener grass, Aranda sounds like he is at home. In a recent interview with FOX Sports' Joel Klatt, Aranda said of Baylor, "I love it here, and this is, this is where I want to be. . . . The fit at Baylor is so strong."
That is so different from what we are seeing around the country; Lincoln Riley and Brian Kelly just left prestigious programs to take "better" jobs. Aranda is one of the hottest names in college football, and in a year where more than two dozen jobs have come open, he remains in Waco despite being a candidate for several jobs in "better" programs. Baylor has everything it needs to be successful and Aranda has figured it out in just his second year.
His approach to the game is simple: take things one day at a time. If you take care of that, the bigger things will come together. He also loves his players, truly loves them, and builds relationships with them. Baylor athletic director Mack Rhoades recalled something unique about Aranda's relationship with his team during an interview with Richard Justice of Texas Monthly:
"One of our players stood up in the locker room after a game this season and thanked Dave for being a 'servant leader.' I've never heard a student-athlete use that term to describe his head coach. I think that fits Dave."
That is not something you hear a lot from a college player. That is powerful, and telling, for a coach at the D-I level. That's not something that you hear often, and adds to the evidence that Aranda and Baylor are a match made in heaven.
Rhoades went on about Aranda in the Texas Monthy interview, digging into what made Aranda the right guy for the Bears:
"His authenticity. His intellect. His humility. I walked away from that conversation thinking, this is going to be somebody that is always evolving, always getting better. He's different, and I think that's what makes him special. He's a natural introvert who finds different ways of connecting with players and coaches."
At the end of the day, Aranda has been a commodity for other jobs and when the LSU job came open, Rhoades knew that Aranda, former LSU defensive coordinator, would be shoe-in for the job. They had a discussion about the future and about his name being the center of attention for the LSU job. That is not what Aranda, or Rhoades for that matter, wanted at all. Aranda's solution was simple yet powerful.
"This is where I want to be," Aranda said. "This is where I feel I belong."