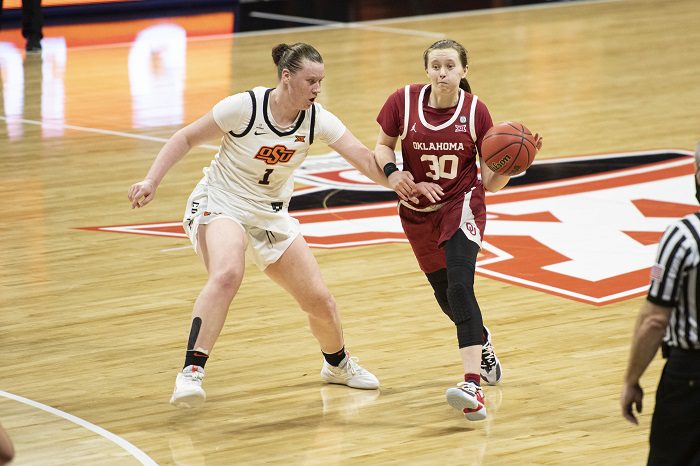 The Big 12 Conference hit Week 4 of its 2021-22 women's basketball season last week. Just some of the things that happened last week:
The Big 12 wraps up its week of SEC Challenge games, with the SEC taking the 6-4 win.
Oklahoma's Ana Llanusa and Kansas State's Brylee Glenn took the Big 12's weekly awards.
The Big 12 Basketball Tracker has up-to-date Big 12 Men's and Women's news all week.
That, and so much more, happened in Week 4. Here are our three takeaways this week.
Can Kansas End the Drought?
The last time the Kansas Jayhawks reached the NCAA Tournament was 2013. That season, as a No. 12 seed, the Jayhawks upended Colorado and South Carolina before falling to Notre Dame in the Sweet 16.
Is it time for Kansas to end that drought?
Kansas defeated Vanderbilt, 74-67, on Sunday, running the Jayhawks' record to 7-1 for the season. The only loss to this point is one to Tennessee, one of the game's true powers, ranked just outside the AP Top 10 right now. But, that loss was only by 10 points. And, on a neutral floor, Kansas was never out of that game until the final few minutes. That's encouraging when you consider it's the only ranked team Kansas has played to this point.
The Jayhawks have three games remaining, all in Kansas, against Santa Clara, Wichita State and Northwestern State. Wins in all three of those games could run Kansas to 10-1 entering Big 12 play where they open on the road at TCU.
Kansas is built around Holly Kersgieter, Aniya Thomas and Zakiyah Franklin. The trio is averaging more than 33 points per game, with Kersgieter leading the way with 11.7 points per game. Off the bench is Mia Viksic, who in five games is already the Jayhawks' top 3-point shooter. Taiyanna Jackson leads Kansas with 6.6 rebounds per game, but Ioanna Chatzileonti is right behind her at 5.9 per game. In fact, Kansas had six players averaging at least eight points per game entering the Vandy contest.
One of the concerns head coach Brandon Schneider had coming into the season was the sheer number of foreign players on the roster and the team's ability to communicate. He said before the season that he was counting on basketball being a universal language. So far, so good.
How all of this translates into conference play remains to be see. The league has three ranked teams at the moment — Baylor, Iowa State and Texas. Oklahoma and West Virginia are receiving votes. That's what the Jayhawks are aspiring to after going 7-18 a season ago. Kansas won just three Big 12 games a year ago, defeating Oklahoma, Kansas State and TCU. This version of the Jayhawks has already matched last season's win total and looks far more competitive that last season's team.
The last Kansas team to make the NCAA Tournament won 20 games. If Kansas can get there, it has a good chance, especially with an expanded tournament field.
Put Some Respect On Oklahoma (Part 2)
If you read my men's takeaways on Monday, you may recall that I wrote that the Sooner men were coming together quicker than expected. Well, it's time to recognize that the OU women's team is doing the same thing.
First-year coach Michelle Baranczyk had big shoes to fill, just like men's coach Porter Moser did. And, just like the Sooner men, the women are a close loss away from being undefeated (the Sooners fell to Oregon by five points). At 7-1, the Sooners are well on their way to reaching last year's 12 wins in Sherri Coale's final season.
Unlike Moser, Baranczyk inherited a relatively experienced team with few transfers. She took in Kennady Tucker from North Carolina and Jordan Moser (yes, Porter's daughter) from Loyola-Chicago. Everyone else has at least one season at Oklahoma or is a true freshman.
She also has a high-scoring trio, in case you missed it:
That was on Nov. 30. Taylor Robertson, Madi Williams and Ana Llanusa then spent the Sooners' 94-63 win over Mississippi State backing that up. Robertson dropped 22 points, including six 23-pointers. Llanusa had 21 points, including three 3-pointers. Williams had 13 points and pulled down 11 rebounds. With Robertson, Williams and Llanusa — all of whom have been All-Big 12 selections in the past — OU is competitive with anyone.
Now, like their male counterparts, the Sooners have to do some work on the bench. Skylar Vann has been the Sooners' star off the pine, averaging 9.9 points per game in fewer than 18 minutes per game. From there, it's a drop to Kelbie Washington (5.4) and Liz Scott (5.1). If there's good news, it's that Baranczyk has been able to get nine different Sooners at least 10 minutes per game this season (Moser has only been able to do that with seven players). That more balanced playing time can be key to developing more consistent depth for the rigors of Big 12 play.
The Sooners are on a three-year NCAA Tournament drought. With four non-conference games left against Eastern Michigan, No. 16 BYU, Utah and Wichita State — all in Norman — the Sooners have a chance to reach double-digit wins before Big 12 play begins. And, like Kansas, reaching 20 wins could help them get into an expanded tournament field.
Statement Games Ahead
Like the men, many Big 12 women's teams are slowing their schedules down a bit to accommodate final exams and winter break. So what are the remaining tests on the schedule before Big 12 play starts in the New Year?
Iowa State hosts No. 12 Iowa in its annual rivalry game on Wednesday. TCU gets a big test when it hosts No. 19 Texas A&M on Sunday. Kansas State hosts Oregon on Dec. 18, another good measuring stick game for the Wildcats. Baylor catches No. 13 Michigan in a neutral site game on Dec. 19 in Uncasville, Connecticut, the same day Texas faces last year's national runner-up, No. 6 Arizona, in Las Vegas. Texas Tech has back-to-back games with Ole Miss and No. 24 LSU in Lake Wales, Florida, on Dec. 21 and 22.
You can find Matthew Postins on Twitter @PostinsPostcard.