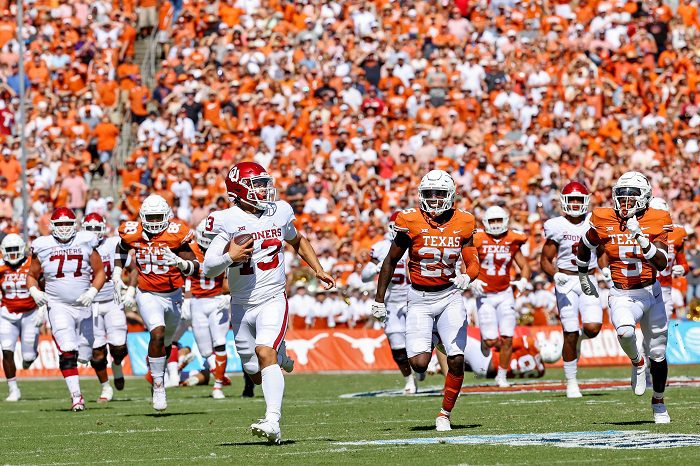 On Saturday night, it was Alabama quarterback Bryce Young who took the Heisman trophy home. Earlier in the season, there was no clear-cut favorite but, in the end, Bryce Young ran away with the award. While Bryce will be coming back for the 2022 season, is their anyone from the Big 12 that could challenge him for the Heisman trophy next year? Here are three Big 12 players who can.
1. Texas RB Bijan Robinson
Even though he was an early-season favorite this year, Bijan's 2021 season ended on a bad note. Texas finished with an abysmal 5-7 record and Robinson missed the final two games of the year due to an injury. Earlier this past season, Bijan topped 100 rushing yards in six of his first seven games and looked like a shoe in to get an invite to New York. At times, he looked like the best running back in college football and eventually injuries and the lack of a supporting cast faded his chances down the stretch. Even with little help and catching the injury bug, Bijan still managed to have 1,400 total yards and 15 touchdowns. There is no question he has the talent to win a Heisman trophy, but he will need some help from his offensive line and need to stay healthy next season.
2. Oklahoma QB Caleb Williams
Despite not really playing until week seven, Caleb Williams made himself known to the college football world when he led Oklahoma to an all-time comeback win against Texas. He forced his way into the Heisman race midway through the season after putting on a show against Texas and then TCU. Caleb would also go on to throw six touchdown passes in a beatdown against Texas Tech but after that game, he didn't look like himself. It turned out that he was dealing with a hand injury late in the season that slowed him down a bit. If Caleb decides to stay at Oklahoma with the coaching change, then he should be in the mix for the Heisman next season as long as he is healthy.
3. Kansas State RB Deuce Vaughn
What he lacks in size, he makes up for in his play. Every time Deuce Vaughn touches the football it is must watch tv. He is one of few players in college football that can turn nothing into something as he is able to slip through holes and make cuts like few running backs can. This past season Deuce rushed for over 1,200 yards and scored 15 rushing touchdowns. Along with running the football, Deuce is a threat in the passing game as well as he had 471 receiving yards and three touchdown grabs. I believe Deuce Vaughn is due for an even bigger season in 2022 and could launch himself into the Heisman conversation.