Baylor Bears
What's Wrong with the College Football Playoff and How to Fix It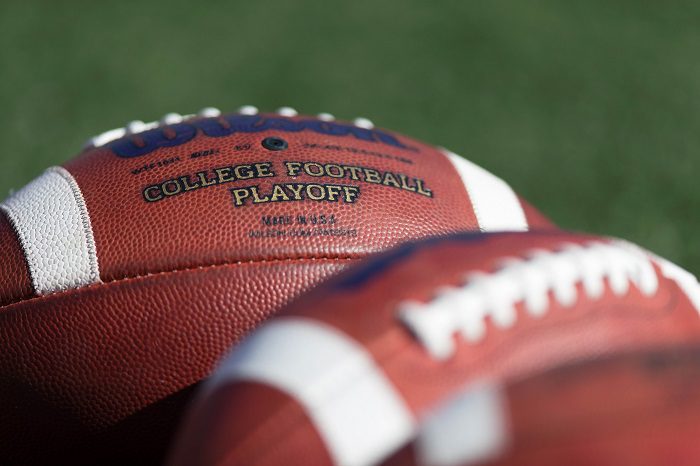 As HCS recently reported, the 2021-22 College Football National Championship game had the second-smallest television audience in the playoff era.
The explanations most often floated for the lack of interest in the crowning of a new national champ are "SEC fatigue" and "Alabama fatigue." Many have also pointed out that the National Championship was a rematch of the lopsided SEC Championship game played just weeks before, and rematches of lopsided games, especially when staged so soon after the first matchup, are boring dawg.
SEC fatigue is probably a real thing, but what is the CFB Playoff selection committee supposed to do about it? In all fairness, Alabama and Georgia were the two best teams in 2021, although I would give Dave Aranda's Baylor a puncher's chance against both of them.
One obvious answer to the malaise of over-familiarity plaguing the playoffs is expansion. But there is more wrong with the playoffs than flagging interest among everyone but SEC fans.
I'll return to playoff expansion and SEC fatigue before this article is finished, but first I want to address a structural problem with the CFB Playoffs that will be an issue whether the playoff expands or not.
THE UNMERITED MONEY FUNNEL
I believe that most if not all of us can agree that it is only fair that teams who make the playoffs or non-playoff New Year's Six (NY6) bowls deserve to be rewarded financially for their success. That's called meritocracy: you get paid more for being better.
However, what the CFP Playoff does is reward entire conferences for the success of teams that participate in the bowl games under the Playoff's control, the NY6. According to Business of College Sports, here are the 2021-22 payouts.
A conference receives $6 million for each team from the conference selected to play in the playoff semifinal.
A conference receives $4 million for each team from the conferene selected to play in the non-playoff NY6 games.
Conferences also receive money per team to cover expenses; while no additional payout is allotted for participation in the National Championship, additional money to cover expenses is provided.
Now, what each conference does with the money it receives is up to the conference. However, no conference hands the entire sum over to the team(s) that earned it. The Big 12 and SEC award the actual participants much larger shares (roughly half). The ACC and Pac-12 share the money evenly among all conference members. What the Big 10 would do with 2021-22 participation money had not been confirmed as of January 4.
Every team in the SEC benefits financially from what Alabama, Georgia, and Ole Miss accomplished by earning berths in the NY6 bowls.
Yes, Vanderbilt receives a share of the $16 million collectively earned by Bama, UGA, and Ole Miss for participation in the last NY6. Meanwhile, TCU, a much better football program than Vandy, receives a share of the $8 million earned by Baylor and Oklahoma State.
While the Big 12 pie is split fewer ways than the SEC, it doesn't take a math genius to figure out that $16 million spreads thicker among 14 teams than $8 million spreads among 10.
This is the opposite of meritocracy. Why should Mississippi State, a team that got body-slammed by Texas Tech in the Liberty Bowl, get more NY6 money than Tech?
Then there's the ACC and the Pac-12, each spreading $4 million among 14 and 12 teams respectively. Why should Vandy get more participation money than Utah or Oregon, one of only two to beat Utah's Rose Bowl opponent? Why should Vandy get more participation money than 10-win Clemson or 11-win Pitt and Wake Forest?
Finally, there's all the G5 schools and independents, such as the mighty Army Knights, that routinely receive nothing from the participation pie.
Now, to be fair, everyone gets a handsome base payout, and the Big 12 comes out really well in the arrangement. Here's how the CFBP base payouts broke down in 2020:
Each P5 conference received a base payout of $66 million.
The G5 conferences shared a base payout of $90 million.
Notre Dame received a base payout of $3.19 million.
Independents not named Notre Dame shared a collective base payout of $1.56 million.
These conference-logo-based payouts are really nice for the P5, and it can be argued that P5 conferences drive interest in the sport and generally provide a better on-field product, so they deserve the higher pay (or can simply demand it). And perhaps more G5 teams that deserve to make more for their products, like San Diego State and Boise State, will get their chance with the Big 12 in the near future.
However, given the lucrative base payouts for P5 conferences, the money awarded for participation in the NY6 Bowls should not be further enriching those entire conferences. Of course, a monetary reward should be given to the programs that participate in those games, but there is no reason Mississippi State and LSU should earn more NY6 participation money than the teams that smoked them in their non-NY6 bowl games, Texas Tech and Kansas State.
There is no reason Vanderbilt should get more NY6 participation money than Clemson.
The NY6 should be a celebration of the sport, and it is fitting that everyone should get some of that pie. However, the participation bonuses shouldn't be a way to funnel extra money to entire conferences. The participation funds received by non-participants need to either be leveled out and distributed evenly through conferences or, preferably, awarded according to merit: more wins = more money.
HONOR CONFERENCE CHAMPIONSHIPS
Now, back to Bama/SEC fatigue.
One simple way to somewhat combat this fatigue would be to make winning a conference championship a prerequisite for competing for a national championship. The problem with this proposal is that Ohio State, Alabama, and now Georgia have all won national championships without winning their conferences during the playoff era. Obviously, there is a good case to be made that certain elite teams that fail to win a conference championship deserve a shot at the national title.
However, acknowledging that not every national title-worthy team will win its conference, there are still advantages to honoring conference championships, and the main two are increased access and diversity, even with a sweetheart deal for Notre Dame.
This season, such a rule would have put Alabama, Michigan, Cincinnati, and Notre Dame in the playoffs, excluding the eventual champ, Georgia, but the pool of teams eligible would've included Baylor, Pitt, and Utah, and such a practice would prevent conference champs from being cut-out by bluebloods such as Alabama and Ohio State when those schools failed to win or even play for a conference championship.
Another advantage of this is that it would make conference championships de facto playoff games because a conference championship would be necessary to win a national championship.
That said, this arrangement would be far from ideal, especially under a four-team playoff format.
EXPANSION = AWESOMENESS
If the 12-team playoff expansion went forward as proposed last summer, the top four conference champions would receive byes. This honors both the regular season and conference championships by rewarding conference champs with the best regular seasons a bye in the playoffs.
If such a playoff expansion had been implemented for this postseason, this is how it would have looked:
Alabama, Cincinnati, Michigan, and Baylor would've earned first-round byes as the top four conference champions.
The rest of the field would have consisted of Georgia, Notre Dame, Ohio State, Ole Miss, Oklahoma State, Michigan State, Utah, and Pitt.
The first-round match-ups would've been Ole Miss vs. Oklahoma State, Georgia vs. Pitt, Notre Dame vs. Utah, and Ohio State vs. Michigan State.
In the quarterfinals, Alabama, the number 1 seeded team, would've faced the winner of Ole Miss vs. Oklahoma State; Michigan, the 2-seed, would've faced the winner of Ohio State vs. Michigan State; Cinci, the 3-seed, would've faced the winner of Notre Dame vs. Utah; Baylor, the 4-seed, would've faced the winner of Georgia vs. Pitt.
The semi-finals would pit the winner of the 1-seed quarterfinal against the winner of the 4-seed quarterfinal and the winner of the 2-seed quarterfinal against the winner of the 3-seed quarterfinal.
While rematches are going to happen, the beauty of this system is layered. First, there are more games, so more teams outside of the usual suspects get a chance.
Second, it also becomes far more difficult for a conference championship game to be rematched as the National Championship. In fact in the scenario outlined above, a conference championship rematch in the National Championship is impossible. A rematch of the SEC Championship or the Big 12 Championship would've been possible in the semifinals, but not in the championship game.
Third, respect is shown for conference championships. If you aren't the champion of your conference, you have a lot more to prove to be called national champs. This system rewards the top four conference champions and makes the teams that didn't win conference championships (or did so with less impressive regular seasons than the top four) play an extra game in order to truly EARN the right to possibly be crowned the national champ.
As far as I'm concerned, UGA and Alabama still need to play a rubber match to see which team is truly better in 2021-22 because UGA went straight from getting curb-stomped by Bama in the SEC Championship to the playoff semi-finals.
With all due respect to the folks in Athens, the series is tied 1-1, and UGA didn't do anything to atone for losing its conference championship game to make the rematch feel decisive.
Had UGA been required to play an extra game to atone for getting beatdown in the SEC Championship, that would have been different. As it stands, I really don't feel like UGA is the national champ. Great team, but it didn't even win its conference.