Big 12 News
Big 12 Planning Two Seven-Team Divisions Starting in 2023: Report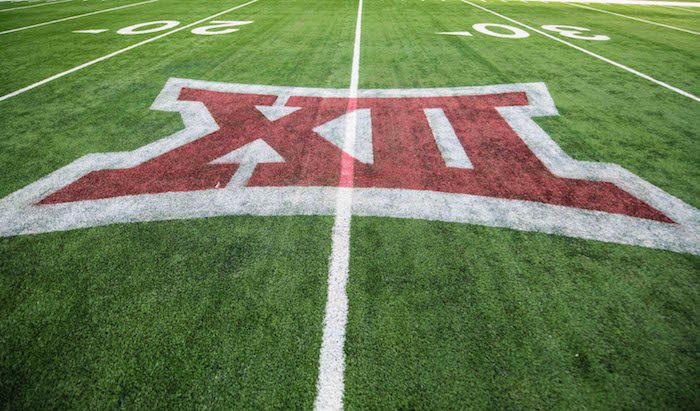 With changes coming to the Big 12 Conference in 2023, the league is already planning for the future with the goal of having two seven-team divisions beginning next season.
According to a report from CBS Sports' Dennis Dodd, Big 12 athletic directors met last month in Las Vegas to begin deciding how the league will look for three seasons (2023-25) before Texas and Oklahoma departing for the SEC in July of 2025.
The Big 12 is operating under the assumption that both the Longhorns and Sooners will stay in the league four more years the current Big 12 television contract with Fox and ESPN ends in 2025. If not, both schools would be subject to what have been projected as nine-figure early exit fees for breaking the Big 12 grant of rights that bind schools' TV inventory to the conference.
BYU, Cincinnati, Houston and UCF are all expected join starting for the 2023-24 athletic year, which will create an interesting two years where the Big 12 operates at 14 teams, but then they would drop to 12 teams for the 2025-26 athletic year, when Oklahoma and Texas leave for the SEC.
"We've got subcommittees in several sports that are talking about structure," Big 12 commissioner Bob Bowlsby told CBS Sports. "Conference office, staff, ADs, sports administrators and coaches involved on a sport-by-sport basis, they're all doing the same thing."
The other goal, according to sources, would be to split Oklahoma and Texas in different divisions, so it would not disrupt the future divisions after the two schools leave. The CBS report adds one working group member joked that Texas and Oklahoma should be placed in the same division to make sure they can't play each other in the Big 12 Championship Game.
The original Big 12 Conference had North and South divisions from 1996 to 2010, but after conference realignment, the league played a round-robin with 10 teams after losing Colorado, Texas A&M, Nebraska and Missouri, while adding TCU and West Virginia. In 2017, the Big 12 brought back its conference championship game, without divisions, in a No. 1 vs. No. 2 format.
The other angle to watch is whether or not Oklahoma and Texas actually stick around the Big 12 until 2025. Expectations are, as of now, that they will, as it would cost a potential high eight-figure buyouts for each program for breaking the Big 12 grant of rights.
So while there's still plenty left to be determined, the Big 12 is moving ahead for a post-Oklahoma and post-Texas world.