Big 12 News
UCF, Cincinnati and Houston Hope to Finalize AAC Exit by Spring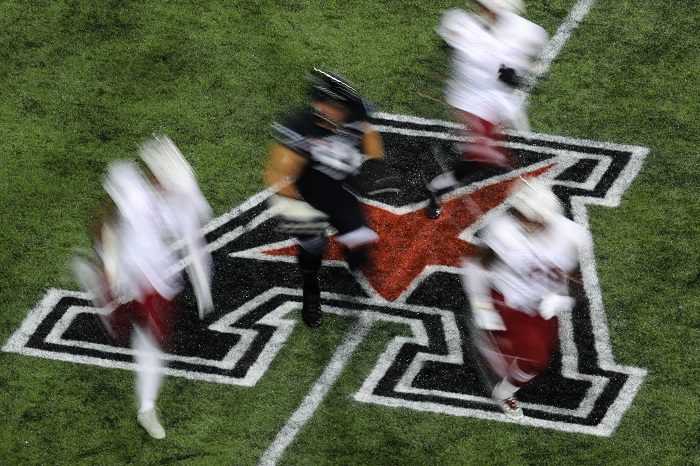 Ever since four new teams announced their plans to accept invites to the Big 12 last September, it has been relatively quiet in terms of how the process is going to unfold. Well now, we have a little more insight into what is next, at least for the three AAC teams in Cincinnati, UCF and Houston.
UCF, Cincinnati and Houston are contractually required to remain with the AAC through 2024, however, it's been reported that all three prefer to leave in 2023.
AAC commissioner Mike Aresco told the Orlando Sentinel this week, "The clock's ticking, but we've had ongoing discussions with the group and they've been very amicable. We have great relationships with not only [UCF athletics director] Terry [Mohajir] but [Houston AD] Chris Pezman and [Cincinnati AD] John Cunningham."
"I'm hoping that by spring, we'll have something resolved," he added.
For UCF, Cincinnati and Houston to leave a year early in 2023, the AAC would require a financial settlement, which the commissioner is more than willing to do. Aresco said, "We would have to negotiate a settlement and we're happy to do that. We know that the teams that are leaving don't necessarily want to stick around and if there's a way to negotiate something fair, we'll do it."
As has been reported in recent months, the AAC bylaws require schools to give a 27-month notice before they leave and pay a $10 million buyout fee. That would mean an exit of July 2024, so if that timeline is going to move up one year, it will likely cost each school more money. But how much remains to be seen.
Given the fact that the TV money from the AAC to the Big 12 is several times more per year, a cost per school above the $10 million would likely pay itself back in one year.
But of course if this move happens early, Aresco wants the details finalized sooner rather than later because of the logistics involved with the three departures and adding six new member schools in UAB, FAU, Charlotte, North Texas, Rice, and UTSA.
As for the Big 12, if it does get all four new teams in by 2023, it would have two seasons of 14 teams, before Oklahoma and Texas leave for the SEC in 2025, and then would reduce to 12 teams. The league reportedly plans to go with two seven-team divisions in the short term.