Trending Now
The SEC is the Latest Conference to Consider Abandoning Divisions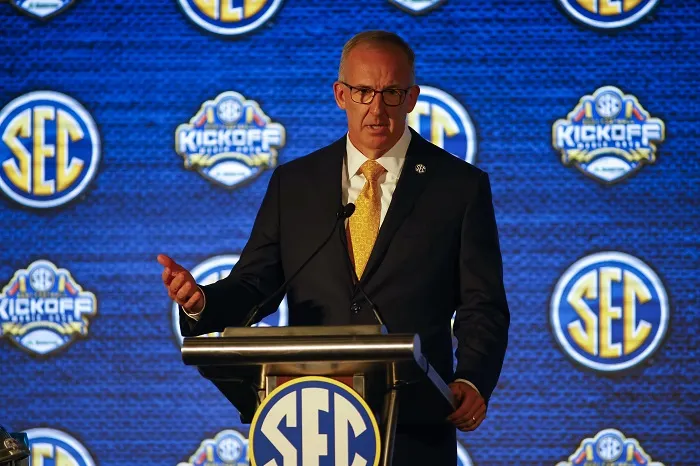 Just weeks after the Big Ten Conference said it was considering moving away from divisions, SEC commissioner Greg Sankey is also open to the change.
"Options include kind of this single division structure," Sankey said on the Paul Finebaum Show. "It doesn't mean we'd go to that, but perhaps there are no divisions. If we do that, that needs to be carefully considered. We've seen a bit of a rush of commentary — 'Hey, let's just go ahead and change our expectations of how a conference championship game is conducted.' That's really the rule in play. What do you have to do to have a conference championship game? Someone said let's go change that quickly. Well it's interesting that those who want to change that aspect quickly — that ties directly into the postseason — don't want to look at the postseason and try to address those issues in a timely fashion."
"I'll take both sides and say 'good, let's have this single division format dialogue. Let's not try to cram it into 30 days if people are unwilling in trying to move along earlier on a CFP format. Let's think about the implications for the regular season, the postseason and the postseason qualification before we take a quick vote.'"
Obviously, the SEC is set to add Oklahoma and Texas in 2025 to become a 16-team conference, which would create even less balance between a theoretical SEC East and SEC West, assuming Oklahoma was able to keep up to its standards and play in the West with Alabama and others.
But it's interesting to note that the Big 12 was ahead of this trend when they dropped divisions and then brought back the conference championship game for a No. 1 vs. No. 2 match up.
NCAA rules didn't allow the Big 12 to host a title game from 2011 to 2016 since it lacked divisions, but after the rule change, the league brought it back in 2017.