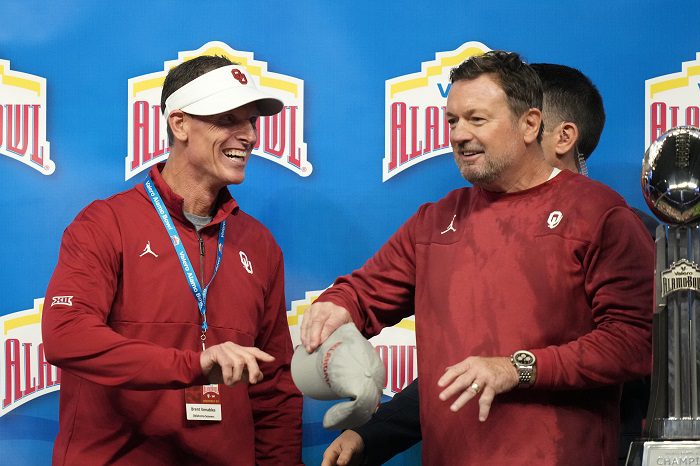 Brent Venables is the 23rd head football coach and 12th former assistant coach hired as head coach at the University of Oklahoma.
Some of the past 11 coaches elevated to head coach have been successful, and some not so successful.
Here is a ranking of those coaches from No. 11 to No. 1.
11. John Blake
Defensive line coach at OU from 1989 to 1992. Hired as head coach in 1996 but was fired after three years with a dismal 12-22 record. Third former Oklahoma player (1979-82) to serve as the Sooners' skipper.
10. Gomer Jones
Assistant coach at several institutions, including Ohio State, St. Mary's Pre-Flight (a World War II team), Nebraska, and Oklahoma. Jones was assistant head coach at OU and in charge of the linemen for 17 years. Hired as head coach in 1964 but fired after a record of 9-11-1 over two seasons.
9. Gary Gibbs
Defensive coordinator and linebackers coach from 1975-1988. Hired as head coach in 1989. Resigned after six years after a record of 44-23-2. Gibbs had three decent seasons: 8-3 in 1990, 9-3 in 1991, and 9-3 in 1993. The Sooner finished 17th in the polls in '90 and '93 and 16th in 91. His Sooners went 2-1 in bowl games, but Gibbs did not win a Big Eight Conference championship. He only once defeated rivals Texas (1993) and Nebraska (1990). Third former Oklahoma player (1972-74) to serve as head coach.
8. Dewey "Snorter" Luster
Assistant in charge of the linemen in 1931 at Oklahoma. Coached halfbacks at Colorado School of Mines in 1932 before taking the head coaching job with Norman High School for three years. Returned to OU to coach the halfbacks for two seasons (1937-3). Hired as head coach in 1941. In his four years' Luster's Sooners finished 27-18-3 and captured the Big Six Conference title twice (1943 and 1944). He resigned due to poor health after the '45 season. First former OU player (1917-20) to become Sooners' head coach.
7. Tom Stidham
After serving as an assistant coach at Northwestern, Stidham served as OU's line coach from 1935-36. He was promoted to head coach in 1937 and led the Sooners to a 27-8-3 record. Stidham's best season was 1938, when OU went 10-0, claimed the Big Six Conference crown, and finished the season at No. 4 in the AP poll. The Sooners were invited to their first bowl game but dropped a 17-0 decision to No. 2 Tennessee. Resigned to become head coach at Marquette University.
6. Chuck Fairbanks
Assistant coach at Arizona State and Houston before joining Jim Mackenzie's staff in 1966. Fairbanks coached the Oklahoma secondary and was defensive coordinator in '66. He was elevated to head coach following Mackenzie's death in the spring of 1967. In six seasons, Fairbanks coached the Sooners to a 52-15-1 mark, including three Big Eight Conference championships (1967, 1968, and 1972). OU ended 1967 as the third-best team in the polls with a 10-1 record. In 1971 and 1972, the Sooners finished second in the polls with an 11-1 mark each year. Fairbanks led the Sooners to a bowl game in every year except 1969. His teams won three, lost one, and tied one. Fairbanks bolted Norman to become head coach for the New England Patriots following the 1972 season.
5. Jim Mackenzie
After serving stints as an assistant at Missouri and Arkansas, Mackenzie was tabbed as the Sooners' head coach in 1966. Oklahoma won six of 10 games that year, including a stunning upset over Texas, ending an eight-year losing streak to the Longhorns. Mackenzie served only one season as OU's skipper as he succumbed to a heart attack in the spring of 1967. He didn't win a conference title or have a ranked team. Still, he was notorious for hiring a formidable staff, including Fairbanks, Barry Switzer, Homer Rice, and Larry Lacewell.
4. Lincoln Riley
Riley served seven years as an assistant at Texas Tech before becoming offensive coordinator at East Carolina for five seasons. He was OU's offensive coordinator from 2015-16 before being promoted to head coach in 2017. Riley led the Sooners to a 55-10 record in five seasons and four straight Big 12 conference championships. Oklahoma qualified for the College Football Playoffs in his first three years (2017, 2018, and 2019). OU lost the semifinals in each of those playoffs. Riley only won one bowl game in four appearances. He resigned from Oklahoma to become head coach of Southern California for 2022.
3. Bob Stoops
Served as an assistant at Iowa, Kent State, Kansas State, and defensive coordinator at Florida. Hired to become OU's 21st head coach. Second longest-tenured head coach in Norman who won more games as a Sooner head coach. Stoops' Sooners went 191-48, including a national championship (2000) and 10 Big 12 Conference Championships. He also led Oklahoma to the national championship game three more times (2003, 2004, and 2008) but lost all three contests. Stoops held a 9-9 bowl record, including taking Oklahoma to the 2015 College Football Playoff, losing in the semifinal matchup. Stoops retired after the 2016 season. He returned to coach the Sooners for one game (the 2021 Alamo Bowl) after Riley's sudden departure and before the University of Oklahoma hired another one of his assistants—Brent Venables. OU won the Alamo Bowl to lift Stoops' bowl record to 10-9. Stoops was inducted into the 2021 College Football Hall of Fame.
2. Bud Wilkinson
Bud served as an assistant at Syracuse, Minnesota, and Iowa Pre-Flight (another WWII institution) before being named an assistant at Oklahoma in 1946, tutoring the halfbacks. He took over as head coach at OU one year later when his boss, Jim Tatum, accepted a coaching job at Maryland. Wilkinson, who created the Split-T offensive formation, led the Sooners to three national championships. He and Gomer Jones also designed a defensive formation known as the "Oklahoma 5-2."
OU won 31 straight games in Bud's second through fifth seasons. From 1953 to 1957, the Sooners embarked on a 47-game winning streak, an NCAA record that might never be matched nor surpassed by a major college team. Oklahoma won 13 consecutive conference championships in Wilkinson's 17-year career in Norman. He took the reins as head coach in 1947 and did not lose a conference game until 1959, a remarkable record of 71-0-1 in league play. Wilkinson won six of eight bowl games, including knocking off No. 1 Maryland in the 1954 Orange Bowl. He finished his career with a 145-29-4 record, and he was inducted into the College Football Hall of Fame in 1969.
1. Barry Switzer
An assistant at Arkansas tutoring halfbacks before arriving in Norman in 1966, where he served as offensive coordinator. A year later, when Fairbanks took the head coaching job, Switzer also added the title of assistant head coach. Switzer was promoted to head coach in 1973 when Fairbanks jumped ship to the NFL.
In 1970, as Fairbanks' offensive coordinator, Switzer convinced his boss to switch to the Wishbone offensive formation, and no team ran it better than Oklahoma. Switzer continued to use the weapon to capture three national championships and 12 Big Eight Conference titles in 16 years. He also had an impressive winning streak of 28 straight during his first three seasons. Switzer's Sooners rolled to an incredible record of 157-29-4 before he resigned in 1988. He won eight of 13 bowl games and he was inducted into the College Football Hall of Fame in 2001.
There's a case to put Wilkinson or Stoops at No. 1, but Switzer's winning percentage of 83.7% was the best among the trio. Wilkinson (82.6%) and Stoops (78.9%) were close.