Baylor Bears
Baylor Women Uses Transfer Portal to Boost Depth for 2022-23 Season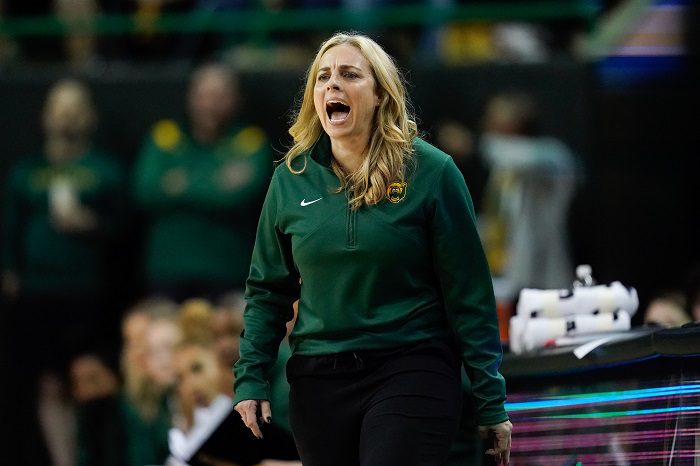 Turning over 60 percent of a starting lineup for a Top 25 program isn't ideal, but that's where the Baylor Bears women's basketball team finds themselves right now.
Three of their starters from a season ago are in the professional ranks — center Queen Egbo, guard Jordan Lewis and forward NaLyssa Smith. All three were drafted last month and have embarked on professional careers. Two of them are teammates, in fact. Smith and Egbo were both drafted by Indiana.
The cupboard isn't bare. But this will look like a much different team in 2022-23.
The Bears have three ready-made starters returning. Guards Ja'Mee Asberry and Sarah Andrews were both full-time starters a year ago and, as the season went on, they became two of the best outside shooting threats in the conference. Forward Caitlin Bickle came off the bench this past season, but she looks poised to move into the starting lineup as she uses her COVID-19 year of eligibility.
From there, the Bears don't have a whole lot coming back. Guard Jaden Owens should assume a larger role off the bench next season, while forward Kendra Gillespie should have a chance to get more playing time.
But they will have competition, thanks to the transfer portal.
Former Missouri guard Aijha Blackwell should slide snugly into Lewis' former spot in the starting lineup. She averaged 15.4 points to go with 13.0 rebounds as a guard and the Bears hope to get the same out of her next season.
Another SEC product, former Kentucky forward Dre'una Edwards is transferring in after averaging 16.8 points and nearly nine rebounds per game last season. Edwards figures to be the player that could most closely replicate what Smith did for the Bears last season.
Former Stanford guard Jana Van Gytenbeek hasn't had much opportunity to produce after two seasons with the Cardinal, but she has the range to add to the perimeter shooting that Asberry and Andrews already provide.
The Bears also have some great talent coming into the program, including their top-ranked recruit, 6-foot-4 forward Kyla Abraham, who would be the most likely incoming recruit to give the Bears a boost right away.
The Bears will lose the experience of their explosive trio from a season ago, but the Bears figure to have more depth than they had a year ago, when they used just one or two players off the bench. That gives them a chance to return not only to the NCAA Tournament, but get out of the first weekend, unlike two months ago.
Baylor Women's Basketball Roster Update for 2022-23
Returning for 2022-23 (6): G Jaden Owens, G Andrea Katramados, G Ja'Mee Asberry, G Sarah Andrews, F Kendra Gillespie, F Caitlin Bickle.
WNBA (3): F NaLyssa Smith, C Queen Egbo, G Jordan Lewis.
Transfers entering program (3): G Aijha Blackwell (from Missouri), F Dre'una Edwards (from Kentucky), G Jana Van Gytenbeek (from Stanford)
Class of 2022 Signees (3): F Kyla Abraham (6-foot-4, Smithfield High School, Carrollton, Va.), G Bella Fontleroy (6-foot-2, Kickapoo High School, Springfield, Mo.), G Catarina Ferreira (6-foot-1, Eastern Arizona College, Sao Paulo, Brazil).
Projected starting lineup: G Ja'Mee Asberry, G Sarah Andrews, G Aijha Blackwell, F Dre'una Edwards, F Caitlin Bickle.
Projected primary bench: G Jana Van Gytenbeek, G Jaden Owens, F Kyla Abraham, G Bella Fontleroy, G Catarina Ferreira.
You can find Matthew Postins on Twitter @PostinsPostcard