Big 12 News
Kansas Waiting On Two Key Decisions As Jayhawks Solidify Roster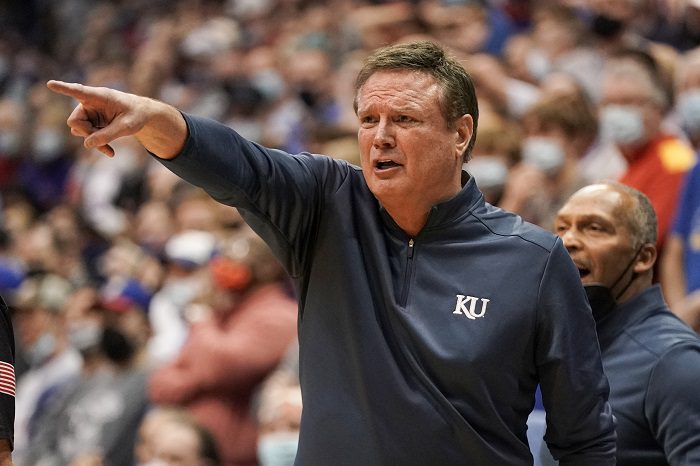 A month after winning the national championship the Kansas Jayhawks are having the turnover they expected but have plenty of talent to take up the slack next season.
A half-dozen Jayhawks were out the door after the title. Guard Ochai Agbaji and forward David McCormack declared for the NBA Draft and aren't coming back. Forward Mitch Lightfoot, guard Jalen Coleman-Lands, guard Remy Martin and guard Chris Teahan are all out of eligibility.
The only players the Jayhawks are waiting on are guard Christian Braun and forward Jalen Wilson, both of whom declared for the NBA Draft but are retaining their eligibility for now as they works through his decision before the June 1 deadline.
If either Braun or Wilson come back, naturally, they're each an instant starter. The pair, along with holdover and guard Dajuan Harris would give the Jayhawks a trio that could score more than a combined 30 points per game next season.
After that, well, there are a lot of pieces to sort through. It's a reminder of what the Jayhawks had to do after their 2008 national championship, where they lost eight players to eligibility or the NBA.
That 2008-09 team went 27-8, and at one point that season, the Jayhawks were unranked. Kansas reached the Sweet 16 of the 2009 NCAA Tournament.
For the Jayhawks to at least duplicate that, they must sort through a wealth of talent that is relatively untested.
Start with what's coming back, and it's a lot. There's guard Bobby Pettiford, guard Joseph Yesufu, guard Kyle Cuffe Jr., forward Zach Clemence, forward KJ Adams Jr. and forward Cam Martin. That half-dozen returnees is the result of Kansas recruiting and players that transferred into the program before last season.
Yesufu, Clemence, Pettiford and Adams played little last season, the result of Kansas' experienced roster. Cuffe and Martin didn't play at all, as both took a redshirt. Martin will be an intriguing option next year. He redshirted knowing the Jayhawks had a ton of experience, but he was the Division II national player of the year in 2021.
The Jayhawks have a huge recruiting class in-bound, ranked No. 4 which features four Top 50 players. That includes forward Zuby Ejiofor, center Ernest Udeh Jr., guard/forward Gradey Dick and guard MJ Rice.
Then, there's Kevin McCullar. The former Texas Tech forward is also testing the NBA waters but keeping his eligibility open and has narrowed his transfer choices down to two — Gonzaga and Kansas. If McCullar doesn't go pro and comes back, his decision to come to Kansas may come down to whether Braun or Wilson stay in the NBA Draft.
Kansas Men's Basketball Roster Update for 2022-23
Returning for 2022-23 (10): G Bobby Pettiford, G Joseph Yesufu, G Dajuan Harris Jr., G Kyle Cuffe Jr., G Charlie McCarthy (walk-on), F Dillon Wilhite (walk-on), G Michael Jankovich (walk-on), F Zach Clemence, F KJ Adams Jr., F Cam Martin.
Jayhawks leaving (6): G Ochai Agbaji (NBA), F David McCormack (NBA), F Mitch Lightfoot (eligibility), G Jalen Coleman-Lands (eligibility), G Remy Martin (eligibility), G Chris Teahan (eligibility).
Jayhawks in NBA Draft pool but could return (2): G Christian Braun, F Jalen Wilson.
Jayhawks in transfer portal (0): None.
Transfers entering program (0): None.
Class of 2022 Signees (4): F Zuby Ejiofor (6-foot-8, Garland HS/Garland, Texas) C Ernest Udeh Jr. (6-foot-10, Dr. Phillips High/Orlando, Fla.), G/F Gradey Dick (6-foot-7, Sunrise Christian/Wichita, Kan.) and MJ Rice (6-foot-5, Prolific Prep (CA)/Durham, N.C.)
Projected starting lineup: G Dajuan Harris Jr., G Christian Braun, G/F Gradey Dick, F Jalen Wilson, F Zach Clemence
Projected primary bench: G Joseph Yesufu, G Kyle Cuffe Jr., F KJ Adams, F Cam Martin, G/F Gradey Dick.
(As of May 16, 2022. Subject to change).
Matthew Postins can be found on Twitter @PostinsPostcard