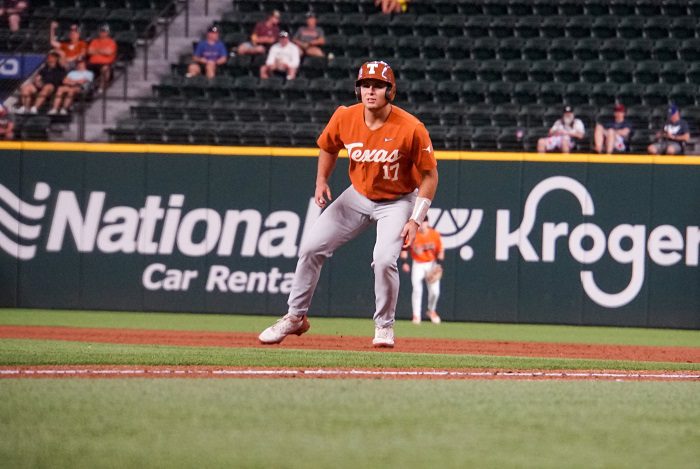 When you think about college baseball, there are a few programs that come to mind. USC, Arizona, and LSU are a few schools that I think of, but Texas would also be on that list. The Longhorns are one best all-time baseball programs in the entire country. Austin is home to six national titles, 37 trips to the College World series and countless All-Americans. After Sunday, I believe you can add yet another All-American to that list.
Ivan Melendez has had a year some of us will never forget. Melendez otherwise known as the "Hispanic Titanic" has been without a doubt the player of the year in the Big 12 Conference. On Sunday, Ivan hit his 28th home run of the season and has now cemented his name among the Texas greats as he broke the single season home run record in school history.
Coming into the season, most people knew that Ivan Melendez was going to be pretty good. He spent last season as the designated hitter hitting 13 home runs in his first season at Texas. While he was a solid player last season, I am not sure if anyone saw his 2022 season coming. Not only is Melendez the triple crown winner in the Big 12, but he is also up for several national awards that he will likely win.
While the media and the fans have been in awe of what Ivan Melendez has done this season, so have his coaches. Head coach David Pierce has said plenty about how special Ivan is but there was one coach in particular who really summed up just how good Ivan Melendez is. When asked about Ivan, here is what Texas pitching coach Sean Allen had to say. "I'll tell you this being the pitching coach you're doing some other things when we're on offense, and I've never missed him when he hits. No restroom, no water break, no nothing. It's been the most special season I've been a part of. Obviously, he's had a great year. I had a kid in Florida National that had a 56-game hitting streak. So, I've seen some special years. But it's not even close. I mean, he's a Golden Spikes winner. If he doesn't win that it's an absolute shame because to do it in our park. Like I said on the radio, if you're breaking records at this university, you're an elite, special player. And he's a better kid. He's a better teammate than he is a player. And I know he takes a ton of pride in that. And that's what's so special for us and our team."
Coach Allen is right. When Ivan is at the plate, it is much watch tv. You never know what is going to happen with the bat in his hands but nine times out of ten, it is going to be something special. Outside of dominating the Big 12, Ivan has numbers that are better than anyone in college baseball. He ranks first in the country in home runs (28), slugging percentage (.916), and has the second-best batting average (.415) in the nation.
When you are that good at a place like Texas, you are truly a special player. While Melendez continues to rewrite the history books in Austin, he had a moment to talk about his legacy at Texas. "I mean, it's great just to see hard work pay off and, you know, to go deep into major league ballpark is special. But I'm a team guy. At the end of the day, I was probably like the least productive this whole weekend from a team standpoint. But, just to see my hard work paid off, breaking that record, I feel honored and blessed."
Players like Ivan don't come around very often. Even at a place like Texas. While he may be on top of the record books in Austin, he still isn't done quite yet. The Longhorns are set to host a regional next weekend and as expected, it's Omaha or bust because that's how Texas baseball works.
Ivan Melendez has already got his numbers. Now it is time to go chase a ring. If he continues to play the way he has in the postseason, then Ivan Melendez isn't just going to be a name that Texas fans remember. He is going to be a name that all college baseball fans remember.