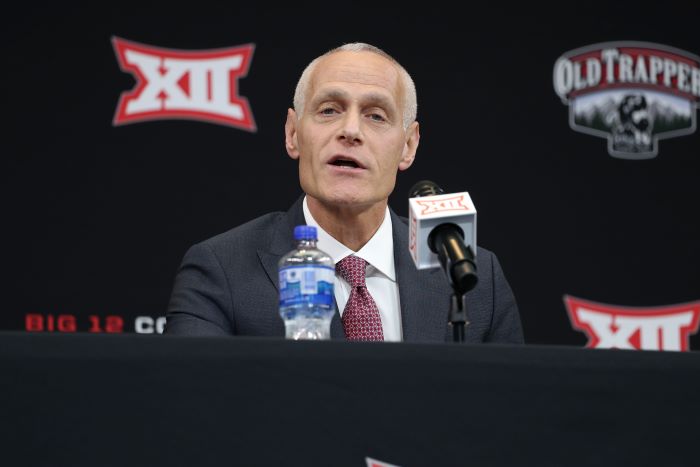 Big 12 Media Days has finally arrived. Normally, it is all about football, but this year is a bit different. For the first time in ten years the Big 12 has a new commissioner. Brett Yormark was hired to replace Bob Bowlsby on June 29th. Although he was named the new commissioner of the conference he won't fully take over until August 1st.
On Wednesday morning, it was Brett Yormark's first press conference as the new commissioner of the Big 12. While we didn't get all of the answers we were looking for, he did say a few interesting things. Here are my thoughts on what new Big 12 commissioner Brett Yormark had to say at Big 12 Media Days.
1. The Big 12 is Exploring All Options
The realignment question was asked several times during his press conference and there really was no clear-cut answer. In his opening statement Brett Yormark said, "We are exploring all options and we are open for business." That's what I expected him to say due to the fact that nobody has a clue what is going to happen next. The college football world is changing by the second and that includes where schools will end up next. Whether the decision is to expand or not, Brett made it clear that he will "Leave no stone unturned." This attitude is what I like from the new commissioner. Explore every option imaginable and do whatever is best for the Big 12. I just hope he will take action when necessary.
2. Media Rights Are at the Top of Brett's List
In Brett Yormark's opening statement, media rights were the first thing on his mind. Brett went on to say that "There is no higher priority for the Big 12 right now than our media rights negotiations." And to his credit, he's right. The Big 12's tv rights are up after the 2024-2025 season which is also when Texas and Oklahoma are scheduled to leave for the SEC. "What we look like today and what we look like when we enter those negotiations could be different," Yormark said. Nobody knows what the world of college football is like when that time arrives. Will the Big 12 add schools? And what will the other conferences look like? No matter what happens, a new media rights deal is the most important thing for the Big 12. The future of the conference depends on it.
3. The Big 12 is Going to Get Creative
Brett Yormark wants to get the Big 12 up to speed with the latest trends in college athletics. He even went as far to say that he wants to "Position our brand as a little younger, hipper, cooler." I would imagine that any man who was the COO of Roc Nation had to be someone who was an outside the box type of thinker.
Yormark also mentioned NIL during his press conference saying "I can say at a high level. I am an advocate of NIL. I have gotten my feet wet to some degree at Roc Nation where we were engaged with NIL. Maybe the conference needs to take a bigger role in what NIL looks like going forward. I am very well suited for NIL in whatever form it takes."
Whether it's social media or NIL, Brett wants to get this conference in the right direction and draw more eyeballs. Being creative and being that outside of the box type of thinker should help. This conference needs to do whatever it takes to keep up with the world of college sports and even become a trendsetter. Personally, I feel like Brett Yormark can help lead the Big 12 in the right direction.