Baylor Bears
Ranking the Top Five Big 12 Defensive Linemen Heading into the 2022 Season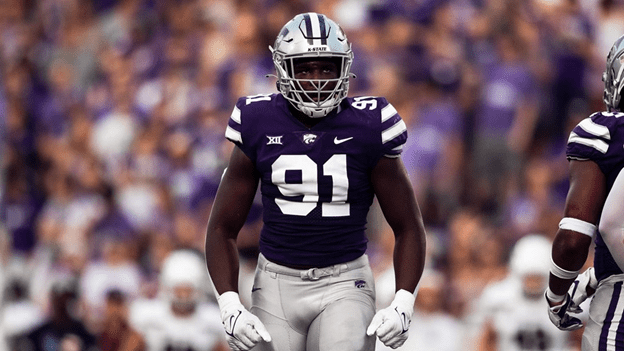 Kickoff is right around the corner as the season is set to start in September. Before the games arrive, I thought it would be fun to take a look at some of the best players in the Big 12 at each position.
Today, it's time to rank the top five defensive linemen in the Big 12 Conference.
1. Kansas State DL Felix Anudike-Uzomah
I put a premium on pass rushers and Kansas State's Felix Anudike-Uzomah is not just one of the best in the Big 12, but the entire country. As a true sophomore last season, Felix recorded a whopping 11 sacks. His single-season sack number was fifth all-time at Kansas State and was the second-best total by a Kansas State sophomore in school history. He also forced six fumbles last season and even had a game where he had four sacks against TCU. Now going into his junior season, I fully expect him to make another jump as he was my preseason Big 12 Defensive Player of the Year pick. Not bad for a player who had only FBS offers from Kansas State and Tulsa coming out of high school.
2. Iowa State DL Will McDonald IV
While Felix Anudike-Uzomah is my top player on the list, Will McDonald IV is right up there with him. McDonald has been a force on the defensive line for the Cyclones over the past two seasons. He led the Big 12 in sacks in 2020 and followed that up with another great season last year where he had 10.5 sacks. He's a great athlete and he even made the top five for Bruce Feldman's college football freaks list. By the time he hangs his cleats up at Iowa State, McDonald will be the career sack leader in the Big 12. That alone should tell you how great he truly is.
3. Baylor DL Siaki Ika
While pass rushers are premium players, so are the dominant guys in the middle. That is exactly who Siaki Ika is, a dominant player. He does a fantastic job eating up blocks and is a giant force in the middle of that Baylor defense. Siaki had four sacks in 2021 which isn't easy to do as a defensive tackle. He's able to use his raw strength and power to push back those offensive linemen like few other players can.
4. Oklahoma State DL Collin Oliver
There weren't many freshmen in college football last season that impressed me as much as Collin Oliver did. He finished his magical 2021 campaign with a conference-high 11.5 sacks. Collin was also Big 12 Defensive Freshman of the Year and unanimously named a Freshman All-American. In fact, he is just one of two sophomores to be named to the preseason All-Big 12 team. With Brock Martin and a healthy Trace Ford alongside him, it makes Oklahoma State's line extremely difficult to handle for opposing offensives. That should help free up Collin even more in 2022.
5. West Virginia DL Dante Stills
You can make a convincing case for multiple players here and I almost went with Brock Martin from Oklahoma State. Stills is a fifth-year senior for the Mountaineers and is coming off a good 2021 season where he had seven sacks and 15 tackles for loss. He had the chance to go to the NFL Draft but decided to come back to Morgantown. With plenty of experience under his belt, Dante is due for his biggest year yet as this will be his last chance to impress those NFL scouts.