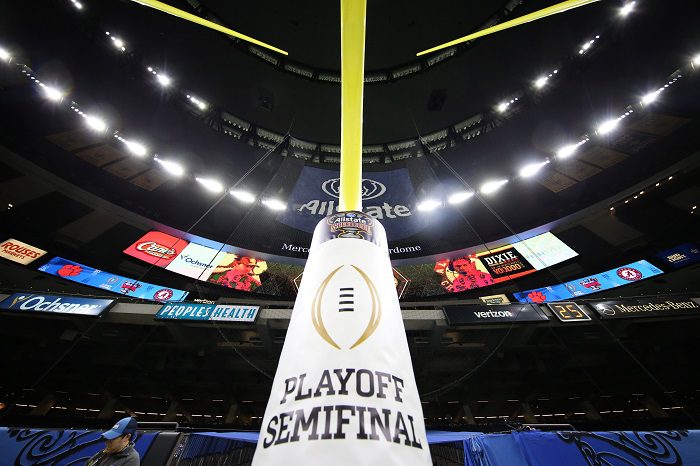 Even though we are just four weeks into the college football season, that doesn't mean we can't look ahead to what the future may hold. There are still plenty of important games to get through and a whole lot of season left but it is never too early to start thinking about the postseason.
Jerry Palm from CBS Sports recently released his latest college football bowl projections. It is always interesting to see how things change from week to week but here is what he currently has listed for the Big 12.
Sugar Bowl
Oklahoma vs Tennessee
With Oklahoma's loss last weekend against Kansas State, it threw the Sooners out of contention of the playoff for the time being. However, the Sugar Bowl is still a huge game, and it would be very interesting to see Josh Heupel play his alma mater as the head coach of a different school. Keep in mind, he was once on the same staff with Brent Venables at Oklahoma under Bob Stoops.
Alamo Bowl
Baylor vs USC
While this game would be fun, I would love to see a possible USC/Oklahoma matchup. Outside of the playoff, that game would be the most watched game of the bowl season. Still, I don't mind this matchup at all either.
Cheez-It Bowl
Oklahoma State vs Pitt
Oklahoma State was just here two years ago and after going to the Fiesta Bowl last season, this feels like a major step down. Don't get me wrong Mike Gundy at the Cheez-It Bowl would be awesome, but I still believe this team can get to a better bowl game.
Texas Bowl
Texas vs Mississippi State
Mike Leach going up against the Texas Longhorns? Inject this game into my veins please. You just know he hates Texas from his days out in Lubbock. I have no clue what Texas will look like when the season ends or if they will even make a bowl game this season.
Liberty Bowl
Kansas State vs Ole Miss
I would have a tough time figuring out which team is from the SEC because these two teams play different styles. Ole Miss has an old school Big 12 offense while Kansas State is more suited for the SEC with their ground and pound game. No matter what this would be a fun collision between two styles.
Guaranteed Rate Bowl
Iowa State vs Maryland
This may be one of the most underrated bowl games of the list. Iowa State taking on Tua's little brother out in the desert. I hope the city of Phoenix has enough Busch Light on hand.
First Responder Bowl
Kansas vs Cal
Honestly, I don't even care who Kansas plays because the Kansas Jayhawks are potentially going to a bowl game. I never thought I would see it happen, but I sure hope it does.