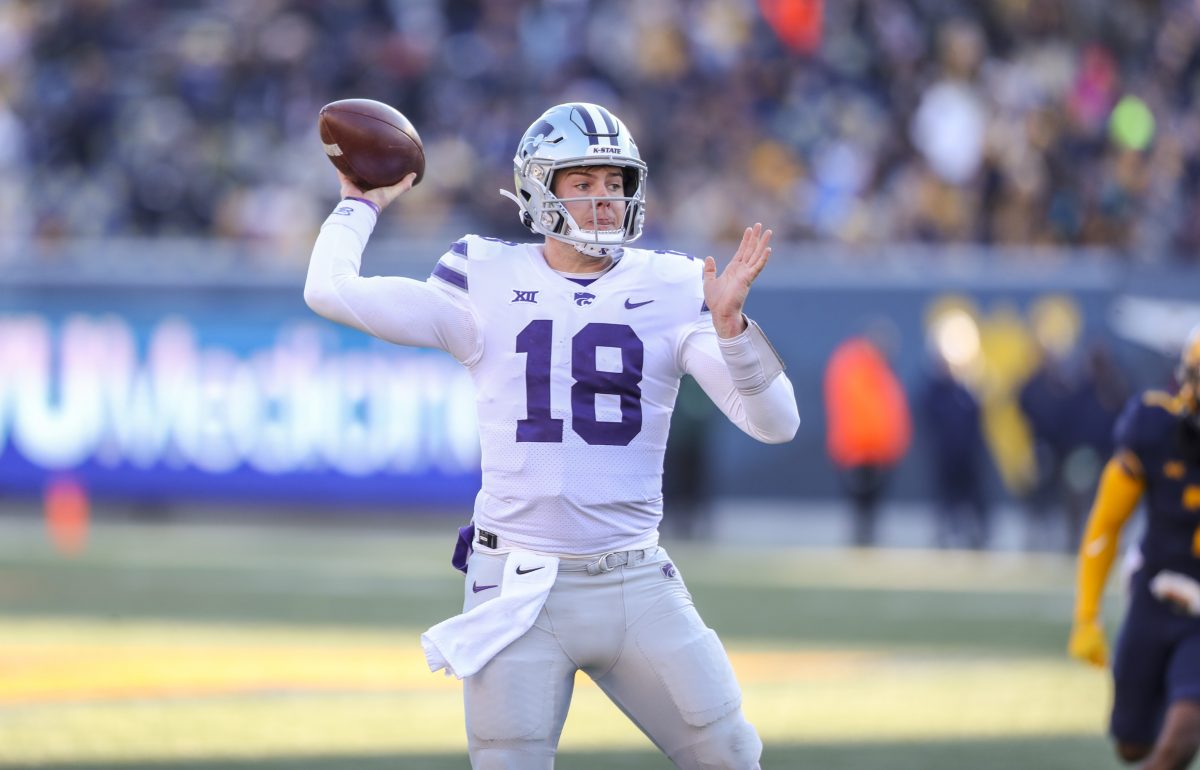 Coming into this weekend there are just two games left of the regular season. We have a full slate of Big 12 football as the race for the conference crown continues as we make our way to the final week.
TCU has already clinched a spot as they punched their ticket to Arlington last weekend. However, the second spot is still up for grabs. Kansas State is one of the teams trying to get to Jerry World, but they had to take care of business against West Virginia on Saturday afternoon.
It was a cold day in Morgantown, but the scoreboard was on fire for two quarters. In the end, Kansas State was just too much to handle for the Mountaineers. Here are my three thoughts on Kansas State's win over West Virginia.
1. The First Half Was Crazy
I don't think anyone could have predicted how that first half played out. Neither defense could make stops and both offenses exploded. Kansas State jumped out to a 14-0 lead in the first five minutes of the game thanks to a Deuce Vaughn score and a pick six by Cincere Mason. However, West Virginia would respond with a pick six of their own and three touchdown catches for Sam James. Luckily for Kansas State, their offense kept scoring thanks to quarterback Will Howard and a pair of field goals from Ty Zenter. The first half ended with Kansas State on top 41-25. As you can see by the final score, the second half was a bit of a snoozer compared to the first half. In the first two quarters the teams combined for 66 points and 553 yards of offense and we saw just 13 points and 253 yards of offense in the second half.
2. One More Win for Kansas State
Coming into Saturday, Kansas State controlled their own destiny to get to the Big 12 title game. They needed to beat West Virginia and have Texas lose to Kansas to clinch a spot. Well, they took care of West Virginia but as I am typing this it looks like Texas is going to win big as well. That means the Wildcats will need to win their final game of the regular season to punch their ticket Arlington. The only team left standing in their way is Kansas. I know it is a big rivalry game, but the good news is that they will get the Jayhawks at home. It's going to be a highly anticipated matchup next Saturday and I am sure the Little Apple will be buzzing.
3. West Virginia is Staying Home During Bowl Season  
With the loss today against Kansas State, West Virginia falls to 4-7 on the season and have just one game left on the schedule. They have a shot to get their fifth win next weekend against Oklahoma State on the road, but I don't see that happening. There is a good chance that this team will finish the 2022 season with a 4-8 record. I have said numerous times that Neal Brown should get the boot after the season even though it is going to be costly as they will owe him around 20 million dollars. Something needs to change in Morgantown, and it starts with Neal Brown. It's been nearly four full years of below average football and that is unacceptable. This team is a lost cause at this point and won't have anything to play for next Saturday. If there were any positives from Saturday it is that Garrett Greene got some experience in his first start.