Baylor Bears
Matt Rhule Turned Down Nebraska Job Offer: Report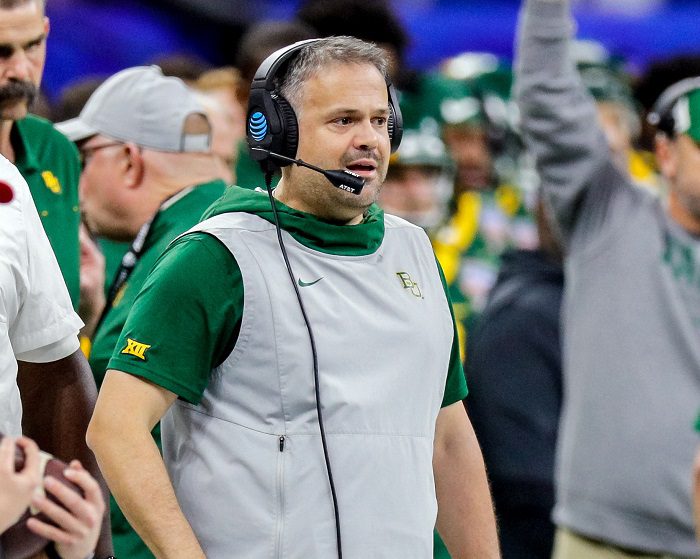 Former Carolina Panthers head coach Matt Rhule is no stranger to turning around programs at the college level. He did it with the Baylor Bears, and before that the Temple Owls, but his work in Waco was especially impressive as he was the first full-time head coach hired after the Art Briles era.
In his first season at the helm, Rhule's squad went 1-11. Then, in 2018, the Bears improved to 7-6, including a win in the Texas Bowl over Vanderbilt. Finally, in 2019, Baylor was suddenly a powerhouse again, going 11-1 in the regular season and finishing 11-3 and No. 12 in the final CFP rankings.
That turnaround landed him the Carolina job, but now his name is back on the market. However, it appears that he might not yet be ready to get back in the saddle and start another rebuild.
According to CBS Sports' Dennis Dodd, Rhule allegedly turned down the Nebraska Cornhuskers, who had him atop their list to replace Scott Frost in Lincoln, NE.
Here is what Dodd had to say about the 47-year-old's interest in the Nebraska job.
"Did Matt Rhule turn down the Cornhuskers this weekend? That was the word from several sources," Dodd writes. "Rhule had been the No. 1 candidate to replace Scott Frost. If Rhule has indeed taken his name out of consideration, that isn't necessarily a statement about the quality of the job. It's still a heavy lift for whoever takes Nebraska, but for Rhule, it may be a further indicator that he intends to sit out 2023 to rest and retrench. Rhule is at a point in his career where he can have his pick of jobs and not have to settle. His first two college jobs were bottom-of-the-barrel, last-place types (Temple, Baylor), but he made his reputation with worst-to-first success stories.
"If Rhule is no longer available, does Nebraska turn its attention to Kansas' Lance Leipold? The 58-year-old coach has deep roots in the state of Nebraska as a former analyst at Nebraska-Omaha and assistant under Frank Solich with the Huskers. Has the shine worn off, though? The Jayhawks started 5-0 and were ranked but will finish 6-6 if they lose to Kansas State this week. Another name to watch at Nebraska: Washington first-year coach Kalen DeBoer."
Rhule would undoubtedly be the perfect man for the job at Nebraska, but it appears he might not be ready to tackle something as monumental as turning around a blue-blood program like Nebraska.
If he truly is out of the running, we are likely to see a candidate from the Big 12 be next on the list, like Dodd mentioned with Lance Leipold. K-State's Chris Klieman might also be a candidate for the job if Rhule is out, but let's not put the cart before the horse. Nebraska will surely take another shot at Rhule if he is candidate No. 1, so let's see how this plays out in the coming weeks before we get to hasty. After all, this doesn't sound much like a guy that's not ready to coach again.
"As I sit here now, I miss that whistle" Rhule said on The 33rd Team with Vic Carucci on Monday. "I miss being at practice. I miss being with the guys. I miss seeing something done wrong and, 'Hey, let's stop it and do it again.' I miss teaching."