Big 12 News
TJ Otzelberger After Beating No. 1 North Carolina: 'I Love Iowa State. This is For Life.'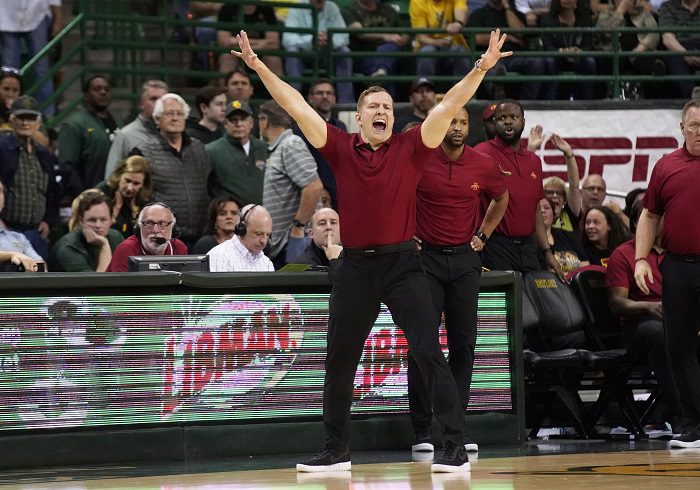 Iowa State has already lost a coach they thought they would have for life in Fred Hoiberg. Obviously, Hoiberg had different plans as he left for the NBA.
But now, with T.J. Otzelberger at the helm, he appears to have a much different approach to his future in Ames. After the Iowa State Cyclones improved to 5-0 and unseated the No. 1 North Carolina Tar Heels with a 70-65 win on Friday at the Phil Knight Invitational in Portland, Oregon, Otzelberger was on the verge of tears when he said, "I love Iowa State. I want to build the program for the long haul. This is for life. I'm living my dream."
The Cyclones (5-0) have not lost a non-conference game under coach T.J. Otzelberger since he took over the program last year. It's also the third time Iowa State has beaten the nation's No. 1 team, and the first time the Cyclones have pulled it off against a non-conference opponent.
As for the game itself on Friday, Iowa State guard Caleb Grill had a huge game for the Cyclones, as he scored 31 points on 11-of-15 shooting, including seven 3-pointers. Jaren Holmes added 22 points. Robert Jones added 10 points as the Cyclones shot 44 percent from the floor, including 45 percent from the 3-point line.
R.J. Davis led the Tar Heels with 15 points. Last year's tournament star, Armando Bacot, had 13 points and nine rebounds, while Caleb Love added 12 points. While the Tar Heels also shot 44 percent from the field, they shot 16.7 percent from the 3-point line.
The Cyclones, currently unranked, rode a pair of wins over ranked teams in a Thanksgiving weekend tournament into the AP Top 25 last year. They could do it again this year. The new AP Poll comes out on Monday.
The Cyclones will play in the final of the Phil Knight Invitational on Sunday night against either Alabama or UConn. The Cyclones will play after the Iowa State women, who will play North Carolina in the women's final before the men's final.