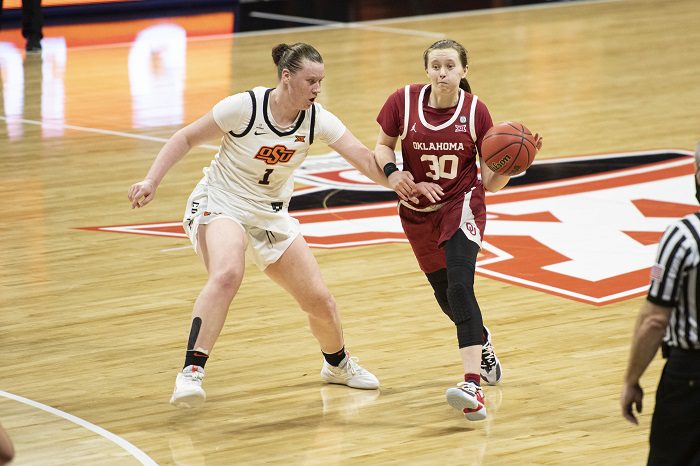 As Taylor Robertson's inevitable march toward college basketball immortality neared, her coach and her teammates joked that she should just go ahead and get it done.
"We told her to get it at TCU (a week ago Wednesday)," Oklahoma coach Jennie Baranczyk said last Saturday.
Robertson, seven 3-pointers away from breaking the national record when she faced the Horned Frogs, made juts two that night.
"So she doesn't listen to us," Baranczyk joked.
Then, forward Madi Williams took her shot last Saturday when the Sooners hosted Oklahoma State. Robertson only needed five 3-pointers to pass former Ohio State star Kelsey Mitchell.
"I think I told her to get it this game (Oklahoma State), too," Williams said. "(During) All of her shooting drills, we were telling her to hit five in a row. Didn't work."
Even fans have tried to gentle advise Baranczyk to help Robertson along.
"I've heard people say, 'Just give her the green light,'" she said. "Well, everyone has the green light on this team. In fact I'd like her to step closer to the 3-point line a lot of times."
Robertson scored two 3-pointers against the Cowgirls, as both came late in the game and both were vital to the Sooners protecting what became their 97-93 win.
That left Robertson with two 3-pointers to tie, and three 3-pointers, to pass Mitchell's record of 497 career 3-pointers when the Sooners went to Texas on Wednesday.
So, what happened? Robertson hit a pair of 3-pointers in the first quarter to tie Mitchell. It seemed history was at hand.
But Texas clamped down on her. She attempted just three shots in the second half and didn't play for most of the fourth quarter as Texas blew out the No. 14 Sooners, 78-58.
And so it goes to Saturday's Top 25 matchup with No. 18 Iowa State in Ames on Saturday. With Robertson's first made 3-pointer, the record will be hers.
If Robertson is thinking about it, it isn't apparent. Williams wondered aloud last Saturday If the rest of the Sooners just needed to stop telling her to get it and just let it happen when it happens.
"She cares more about winning than anything else," Williams said. "So, it's great to be able to play with somebody like that because in some ways, she keeps you steady."
OU has had some legendary players, and if you walk around the Lloyd Noble Center, you'll find them. Stacey Dales and Courtney Paris have their numbers retired.
You won't find anything in respect to Robertson's record chase (they don't keep a "strikeout count," as Baranczyk called it). If you're looking for Robertson before the game, you're not going to find her — unless you can access the practice courts at the Noble Center. Robertson takes 300 shots before every game. That takes some time.
The most ostentatious part of Robertson's chase for the record is that it hasn't been ostentatious at all. The way Robertson played as a freshman is the way she's played as a super-senior. The steadiness Williams referenced is on display every night Oklahoma plays.
When Robertson puts up a shot, Williams says, you expect it to go in. But Robertson is shooting 45.1 percent from the field, 41.8 percent from the 3-point line and 93.8 percent from the free throw line. That's part of the reason she shoots 300 shots before every game.
She's so dangerous that she's "at the top of the scout," as Oklahoma State coach Jacie Hoyt said last weekend.
There's no tally tracking Robertson's greatness. But she should finally catch it on Saturday.
She'll get there her way — quietly, methodically and with an eye on helping the Sooners and not herself.
"She's done a great job of trying not to think about it and literally just wants to win every single game," Baranczyk said.
You can find Matthew Postins on Twitter @PostinsPostcard