Baylor Bears
Big 12 Softball: 2023 Season Preview and Predictions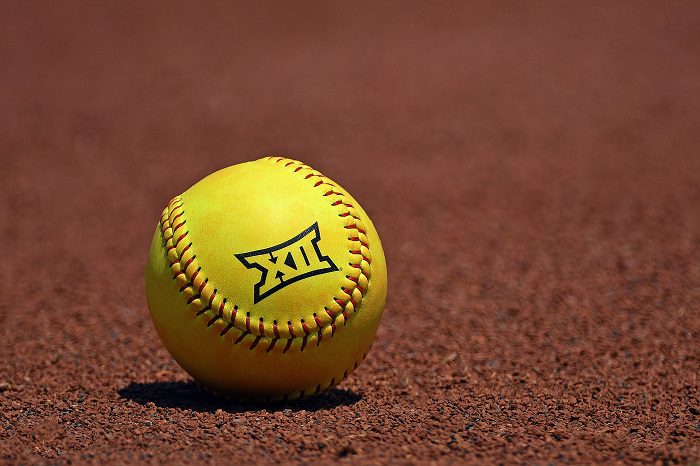 In just a couple of weeks, the 2023 Big 12 softball season will get underway and the race to Oklahoma City will begin.
Everyone starts with the same 0-0 record, and every team's goals and aspirations are still intact, but over the coming weeks and months, the elite teams will start to separate themselves from the pack. I believe all three Big 12 teams that made it to the Women's College World Series last season are capable of getting back there in 2023, and two of them should be favorites to do so.
With that being said, let's dive into how we see the Big 12 Softball season playing out and what each team's projected record is at the end of the regular season, plus how far each team will make it in the postseason.
1. Oklahoma Sooners
How do you replace Jocelyn Alo? You hit the transfer portal and bring in three batters that combined for 52 home runs last season. Texas A&M transfer Haley Lee left College Station as the Aggies single-season record holder in home runs (25) and slugging percentage (.955) and was an All-SEC First-Team Selection in 2022. Arizona State transfer Cydney Sanders was the 2022 Pac-12 Freshman of the Year after setting a single-season record in home runs (21) while also leading the team in slugging (.952), RBIs' (63), and Walks (52). Alynah Torres, who also played in Tempe last season, brings 16 home runs, 40 RBIs, and a .339 batting average to Norman after being selected to the 2022 All-Pac 12 First-Team.
Patty Gasso also replaced Hope Trautwein with 2022 All-Big Ten First-Team pitcher Alex Storako, who had a career-high 300 strikeouts in 2022. The Sooners also brought in the No. 1 pitcher (Kierston Diehl) and No. 7 pitchers (SJ Guerin) in the 2022 class.
With all of those additions, the Sooners also return All-Americans Jordy Bahl, Jayda Coleman, Tiare Jennings, Grace Lyons, and Kinzie Hansen.
From top-to-bottom, Oklahoma has fewer roster issues than it did a season ago and should be the runaway favorite to win a third-straight national championship in 2023.
Projected Record: 51-1
Postseason Prediction: Women's College World Series Berth
2. Oklahoma State Cowgirls
Kelly Maxwell and the Oklahoma State Cowgirls were one win away from playing in the Championship Series at the WCWS last season but came up short. When she announced that she was returning in 2023, it automatically made Oklahoma State a contender again. Maxwell was arguably the best pitcher in the country last season and her accolade list from a season ago is ridiculous. In 189.2 IP, Maxwell struck out 313 batters and maintained a 1.22 ERA.
All-Big 12 selections Kiley Naomi, Morgyn Wynne, Katelynn Carwile, and Chyenne Factor return to the field for Oklahoma State and bring championship-level experience to a roster that has some promising new pieces in the fold. Oklahoma State added transfer Rachel Becker, an All-American and All-Big Ten shortstop from Purdue, who maintained a .429 batting average, which led the Big Ten.
Alabama transfer Megan Bloodworth was a finalist for the 2022 NFCA National Freshman of the Year after hitting .292 in 45 games in 2022 with seven home runs and 30 RBIs. Another Bama transfer, Lexi Kilfoyl, comes in as another ace for the Cowgirls. In 2022, Kilfoyl had a 9-3 record and a 2.36 ERA with the Tide, including four wins over Top 10 teams.
Oklahoma State will serve as Oklahoma's best competition in 2023, and not just in the Big 12, but perhaps in the country.
Projected Record: 48-7
Postseason Prediction: Women's College World Series Berth
3. Texas Longhorns
Courtney Day and Mia Scott represent a duo of dangerous returnees for a Texas Longhorns' squad that rewrote the book for what unseeded teams can do in the NCAA Softball Tournament. However, outside of those two, Texas lost a lot of star talent from the team that ended 2022 as the national runner-up. All-World second baseman Janae Jefferson is gone, as are catcher Mary Iakopo and pitcher Hailey Dolcini.
If Texas is going to make a run again in 2023, it will have to be because Courtney Day took the next step, Mia Scott continues to do things only Mia Scott could do, and some new faces emerge.
Incoming transfer RHP Mac Morgan will likely play a large role in attempting to replace Dolcini, and an 18-3 record as a freshman at Arizona State in 2022 is a promising sign that she will help quite a but.
Bella Dayton, Alyssa Popelka, Katie Cimusz, Estelle Czech, and Sophia Simpson all return and give the Longhorns a strong nucleus from last year's squad, but this team will likely be looking up at the schools from Oklahoma in the Big 12 standings at season's end.
Projected Record: 42-13
Postseason Prediction: NCAA Softball Tournament Berth
4. Baylor Bears
Baylor didn't make the NCAA Softball Tournament in 2022, but they did win the National Invitational Softball Championship and closed their season out on a high note. Glenn Moore, who is entering his 22nd season as Baylor's head coach, hopes that Baylor can build off of that and return to the tournament, and the WCWS for the first time since 2017.
Aliyah Binford, who won the NISC's All-Tournament MVP, returns as the Bears' biggest weapon; a two-way star that went 13-6 with a 2.50 ERA while batting .316 with a team-high five home runs and 26 RBIs. With Binford and All-Big 12 First-Team selection McKenzie Wilson back, Baylor might be a team to watch when the Big 12 Tournament and NCAA Tournament comes around this spring.
Five new transfers will bring some new blood into the locker room, highlighted by Arizona transfer INF Amber Toven, LSU INF Presley Presleigh Pilon, and Stephen F. Austin slugger Shaylon Govan.
If there is a team in the Big 12 that can elevate in 2023, it's Baylor, and I think they do enough to get back in the tournament this season.
Projected Record: 36-17
Postseason Prediction: NCAA Softball Tournament Berth
5. Iowa State Cyclones
Iowa State was perhaps one of the hardest teams to read in the country in 2022, and their 28-27 record paints that picture accordingly. Close losses to UCLA, Washington, Texas, and Oklahoma, along with a win over Oklahoma State were joined by head-scratching blowouts at the hands of BYU, Arizona, Northern Iowa, and Texas Tech.
Karlie Charles returns in the circle for Iowa State, and is coming off a good 2022 season in which she finished 16-10 with a 3.14 ERA and a career-high 154 strikeouts in 182 2/3 innings pitched.
Mikayla Ramos, Carli Spelhaug, and Angelina Allen spearhead the key returnees as six of the Cyclones' top eight batters return in 2023.
If Iowa State can find some consistency in 2023, they could make their second appearance in the NCAA tournament in the last three seasons.
Projected Record: 33-25
Postseason Prediction: National Invitational Softball Tournament
6. Texas Tech Red Raiders
The Craig Snyder Era is set to get underway in Lubbock in just a couple of weeks, and there needs to be wholesale changes if he hopes to turn things around quickly. Texas Tech, who made three-straight NCAA Softball Tournaments from 2010-12, has spiraled out of control in recent years. In 2022, Texas Tech finished last in the Big 12 in hitting (.249 team average) and second to last in team ERA (4.58).
Now, with a new coach at the helm, the Red Raiders hope to turn a page into a brighter future. With Snyder coming in from Texas A&M, one of the top transfer players in America followed, as Makinzy Herzog will take the field for Texas Tech in 2023. Herzog, a two-time All-SEC selection, will be a huge addition for TTU in the circle and the batter's box. With a career record of 34-17 and an ERA of 2.38, she will provide a stable arm in Lubbock. The fifth-year senior has logged a .323 career batting average with 27 home runs and 113 RBIs as well.
Carson Armijo and Ellie Bailey return as two of the Red Raiders top three batters from 2022, while Olivia Rains and Kendall Fritz return in the circle.
This could be a building year for Snyder, but expect Texas Tech to be more consistent this year than they were in 2022.
Projected Record: 27-26
Postseason Prediction: Miss Postseason
7. Kansas Jayhawks
Kansas is at the bottom of my projections not because they are a bad team, but because of who they share a conference with. Kansas has a solid squad, but they play in the same conference as three of the four teams that were left at the end of the 2022 WCWS. That means KU could go undefeated in conference play outside of OU, OSU, and Texas and still have a 9-9 record in the conference. That's tough.
Olivia Bruno returns after a dynamite freshman year in which she led the Jayhawks in home runs (13) and RBIs (44), with a .353 batting average on top of those stats, and she was the only non-Oklahoma player in the top eight of the Big 12 in slugging percentage at .687 (sixth).
Kansas's offense was fourth in the Big 12 in home runs last season (55). Unfortunately, Kansas just didn't have the pitching staff to keep up with some of the offensive firepower that other teams had. This year might be more of the same, as the Jayhawks prove scrappy, but just a step behind the rest of the league.
Projected Record: 22-29
Postseason Prediction: Miss Postseason