Big 12 News
Jennie Baranczyk Explains Controversial On-Court Celebration in Stillwater: 'There Was No Disrespect'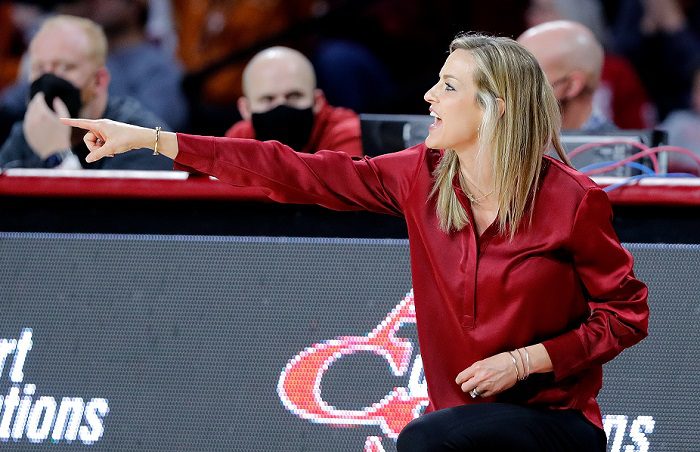 Jennie Baranczyk's Oklahoma Sooners grabbed a share of the 2023 Big 12 Championship, the program's first since 2009, with an 80-71 Bedlam victory at Oklahoma State Saturday, and immediately afterwards there was some controversy. The Cowgirls took exception to the Sooners celebrating on their court while attempting to get ready for Senior Day festivities.
"You know, trying to just get on with things," said Cowgirls head coach Jacie Hoyt. "And I can't even really tell you; I was just trying to tell her, 'Hey, let's go.' And I think she was trying to get her team out just the same. And so, I mean, it really wasn't anything more than that. And I told her congratulations. I've never been through anything like it, never been through anything like it. I've never felt that way. I didn't even know that things like that happened at this level, so just kind of at a loss for words, honestly."
In response to questions about Hoyt and the Cowgirls' sentiment, Oklahoma head coach Jennie Baranczyk emphasized that her team was simply enjoying the moment, nothing more.
"We couldn't tell. Sometimes people were booing. Sometimes people were yelling, 'Boomer!'" Baranczyk said. "So, like it's hard to [tell]. And we were trying to be as classy as you can. It's really hard when you lost somebody like Madi [Williams]. It's really hard when you just realize you won a conference championship for the first time in a long time. And so I think a lot of us were overcome by emotion. There was no disrespect in any of that, and I hope people know that. And I talked to Jacie after, and we talked it through. I think we're good. But we're excited to get back to the Lloyd Noble Center and celebrate with some fans there. And they will be yelling 'Boomer!'"
Regardless of the events following the contest and how you perceive them, the Sooners (24-5) did take care of business to grab a piece of the pie along with arch rival Texas. They came back from a small six-point deficit at halftime against the Pokes for the nine-point win and a season sweep as well.
"I'm so proud of these guys," Baranczyk said of her senior class that's facilitated this run. "They won four games their freshman year in conference. It's impressive to what are we now, 14? Fourteen, that's a really big deal. And that's not seen."
Oklahoma will now start its postseason journey in the Big 12 Tournament at 5 p.m. CT Friday. It'll take on the winner of No. 7 Kansas and No. 10 TCU, as it hopes to claim another trophy.