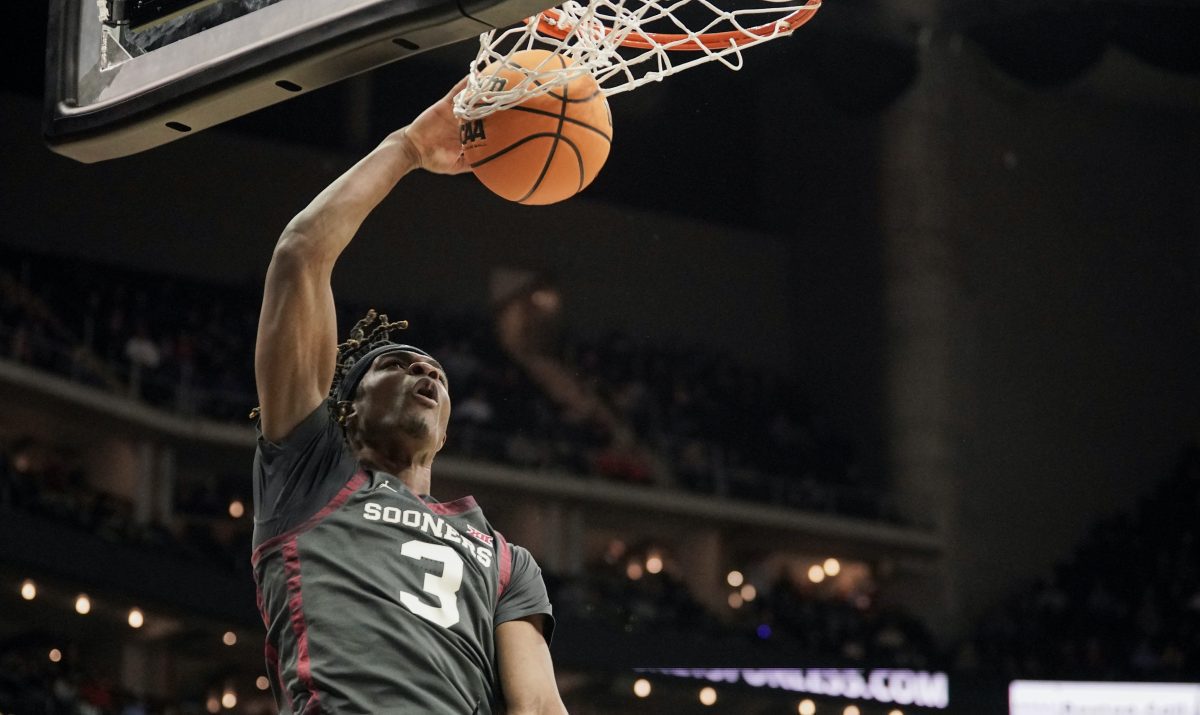 The Oklahoma Sooners finished the 2022-23 season 15-17 under second-year head coach Porter Moser. Here are five thoughts about the Sooners at the end of the season.
The Wrap
Oklahoma started the season with a head-scratching loss to Sam Houston, 52-51, at home. Sam Houston started non-conference 10-2 and went on to a top seed in the Western Athletic Conference Tournament. From that loss the Sooners rattled off six straight wins, including winning the ESPN Events Invitational in Orlando on Thanksgiving weekend.
The Sooners dropped games to Villanova and No. 9 Arkansas but wrapped up the pre-Big 12 slate with a neutral site win over Florida in the Jumpman Invitational. The Sooners may have played the most challenging non-conference schedule of any Big 12 team, facing six Power 6 teams and going 4-2 in the process.
Once the calendar turned to Big 12 play, the Sooners found it difficult to find consistency. OU won just five leagues games (5-13) and still ended up remaining above .500 until late in the season. Some thought the Sooners' blowout of Alabama in the Big 12-SEC Challenge represented a turning point. It didn't. The Sooners lost four straight after that.
Oklahoma was a good, but not great, team this year that remained competitive but lost too many opportunities that might have led them to an NCAA Tournament bid.
The Leaders
The Sooners ended the season with two fifth-year seniors averaging double figures. Guard Grant Sherfield adjusted well to life in the Big 12 and averaged 15.9 points in his only season of Big 12 action. He also had 3.3 assists. Forward Tanner Groves, in his second and final season at OU, averaged 10.2 points and 7.2 rebounds per game.
OU ended up with three other players averaging at least six points per game — forward Jalen Hill (9.7 ppg), guard Milos Uzan (7.6 ppg), forward Jacob Groves (6.8 ppg). Hill also pitched in 5.7 rebounds. Uzan was an All-Big 12 Freshman selection who also averaged 3.0 assists per game and grew into the point guard role.
The Sooners also committed playing time late to freshman Otega Oweh (4.8 points), one of their top recruits from the 2022 cycle.
Who's Leaving?
We're still in the era of dealing with COVID waivers, so it's not always clear cut who has eligibility remaining. But the Sooners have five players listed as seniors — Hill, Sherfield, Jacob Groves, Tanner Groves and Blake Seacat.
Sherfield and Tanner Groves are out of eligibility. Hill, Jacob Groves and Seacat all appear to have a COVID year they can tap into, if they choose. As of this writing, no Sooner had declared for the transfer portal since the end of the season.
Who's Staying and Coming In?
Assuming Hill, Jacob Groves and Seacat all return, the Sooners could also welcome back Uzan, Oweh, guard Benny Schroder, guard Joe Bamisile, forward Sam Godwin, forward Yaya Keita, guard Bijan Cortes, guard C.J. Noland, guard Jake Moser and center Luke Northweather. That's 13 players. Plus, the Sooners already have two recruits from the early-signing period, grabbing a pair of Top 100 national recruits, as ranked by 247Sports.com. Forward Kaden Cooper out of The Skill Factory in Atlanta, Ga., was ranked No. 40 nationally at the time of his signing. Cooper is also the first Oklahoma signee in the top half of the ESPN100 since Trae Young was ranked No. 23 in the 2017 class.
Forward Jacolb Cole, who plays at Link Academy in Branson, Mo., was No. 99. With five seniors on the roster (not counting COVID waivers), Moser might be able to bring in one or two more recruits or transfers.
Entering the offseason, despite only two players in the 2023 class, 247Spors had Moser's class at No. 35 overall.
What's Next?
Moser's challenge right now is to put together a team that can be more competitive in the Big 12 next season and in the SEC in two seasons. Thing is, he has an incredibly young team right now and he may have to lean into that youth next season.
Hill and Jacob Groves would be the leaders, assuming they return. From there, Moser has a lot of young players looking for roles. It could be untapped potential or it could be another average season. Player development will be key for the Sooners this summer.
You can find Matthew Postins on Twitter @PostinsPostcard