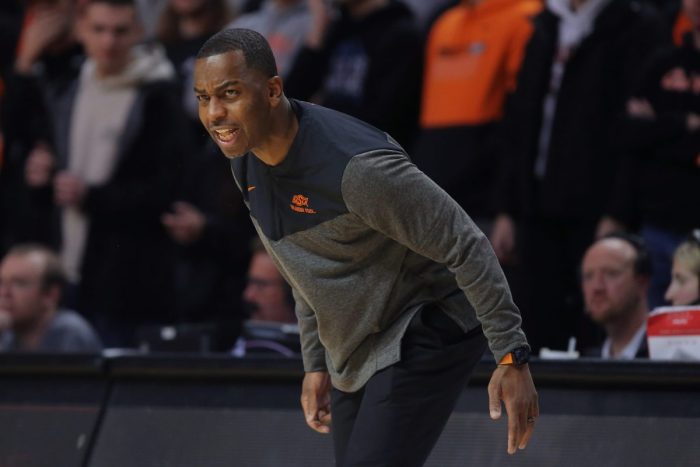 The Oklahoma State Cowboys finished the 2022-23 season 20-16 and reached the third round of the NIT. Here are five thoughts on their season.
The Wrap
The Cowboys played a compelling non-conference schedule and paid the price for it with the worst record among Big 12 teams going into league action. Among those losses were an overtime loss to future Big 12 rival UCF, a tumble against UConn in the Big 12-Big EAST Battle, and a loss to Virginia Tech on the road. The Cowboys beat one Power 6 team (DePaul).
But that loss to Southern Illinois in the season's second game hurt and it may have been the single data point that kept the Cowboys out of the NCAA Tournament.
The momentum swung mightily in Big 12 play. The Cowboys started 1-4 in league action. After that, the Cowboys won seven of their next eight games, including a victory over Ole Miss in the Big 12-SEC Challenge. The Cowboys appeared poised to make the NCAA Tournament.
But it wasn't to be. Oklahoma State lost five of its last six Big 12 regular-season games. Only a win over Oklahoma in the Big 12 Tournament first-round broke the streak. That was followed by a loss to Texas.
On Selection Sunday, Oklahoma State was the first team out and became a No. 1 seed in the NIT. The Cowboys won their first two games before falling to North Texas, 65-59.
The Leaders
Guard Bryce Thompson finished as the team's leading scorer with 11.8 points. But the leading scorer likely would have been guard Avery Anderson III, who missed the final 14 games with a wrist injury. That's part of what derailed the Cowboys in February. He finished with 11 points per game.
Forward Kalib Boone had a wild season. He averaged 10.6 points and 4.9 rebounds per game in just 21 minutes per game. At times, he was the team's most dominant presence. At other times, his game was out of tune.
Two other players averaged more than nine points per game — guard John-Michael Wright and guard Caleb Asberry. They were two of Oklahoma State's best outside shooters down the stretch.
Forward Moussa Cisse battled injuries throughout Big 12 play and averaged 6.8 points and a team-leading 8.0 rebounds. Tyreek Smith assumed a starting role late in the year alongside Cisse and averaged 5.2 points and 4.4 rebounds.
Guards Woody Newton, Quion Williams, and Chris Harris Jr. all played at least 29 games, and all, at times, played key roles for the Cowboys.
Who's Leaving?
The Cowboys listed six seniors on their roster — Anderson, Harris, Asberry, Boone, Wright, and forward Bernard Kouma.
Asberry posted on Twitter shortly after OSU's loss to North Texas that his collegiate career was over.
The other five — Anderson, Boone, Harris, Kouma, and Wright — each appears to have a COVID waiver to use. The one question mark might be Kouma, who started his career at South Plains JC in 2019-20.
Who's Staying and Who's Coming In?
First, Anderson, Boone, Harris, Kouma, and Wright have decisions to make.
Outside of that, the Cowboys expect back Cisse, Thompson, Newton, Williams, Smith, freshman guard Naz Brown, junior guard Carson Sager, sophomore guard Brooks Manzer, and junior guard Weston Church. Some of those players are walk-ons as the Cowboys are still operating under scholarship restrictions.
It has the potential to be a crowded roster. Oklahoma State head coach Mike Boynton Jr. hauled in four recruits in the early signing period. That group is led by center Brandon Garrison out of Del City High School in Oklahoma City. At the time he signed, he was a Top 40 player nationally.
The other three signees were forward Justin McBride out of Plano, Texas, guard Jamyron Keller of Killeen, Texas, and forward Connor Dow from Broken Arrow, Okla.
McBride and Keller were among the Top 200 players in the country when signed.
Right now it's hard to see Boynton having a scholarship to play with, barring transfers out.
What's Next?
There could be a lot of change on this roster before next season. There could be some heat on Boynton after the team narrowly missed the NCAA Tournament. The biggest thing the Cowboys need right now is to find a way to keep what they have, get Anderson healthy, and get Boone back in the frame of mind he was in back in January when he was one of the conference's most dominant players. Most importantly, this team needs a bucket-getter, perhaps two. Anderson can be one. Thompson needs to be the other. This elite defense needs some offense to go with it.
You can find Matthew Postins on Twitter @PostinsPostcard