featured
Three Thoughts on Bill Self's Wednesday Press Conference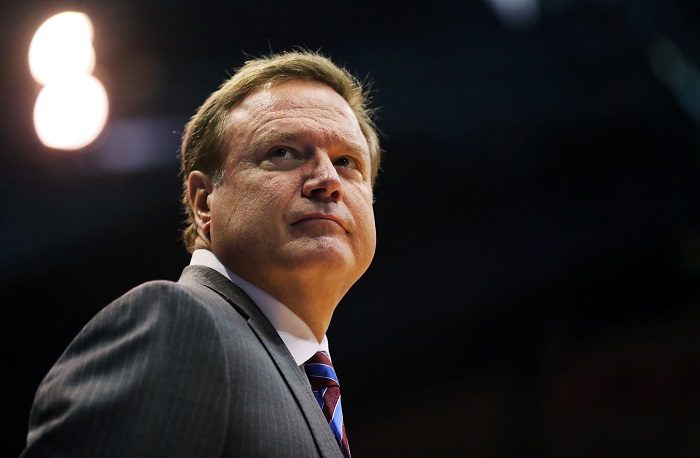 Kansas Jayhawks head coach Bill Self met with the media Wednesday for the first time since the season ended, and of course he addressed the elephant in the room: whether or not he's sticking around. He also talked about some other things, and with that in mind, here are three thoughts on what transpired.
Staying…and perhaps long term
Rock Chalk Nation can breathe a massive sigh of relief. Self isn't going anywhere in the immediate, and he might not be in the foreseeable future. Retirement is not on the table, emphasized the longtime Kansas head coach. "I am 100% positive I will be coaching this upcoming season at The University of Kansas and hopefully many beyond that," Self said during the morning press conference in Lawrence, via KU247's Michael Swain. "When I think of the end now, I think it's further away," Self added.
That's obviously huge news and maintains a wealth of stability to a program that's, well, had a ton of stability under Self over the years. He's coached the Jayhawks to a pair of national championships, in 2007-08 and 2021-22. He's also directed them to 17 Big 12 Regular Season Championships, including a string of 14 straight from 2005-2018. Self owns a 580-132 (.815) record at Kansas, part of a 787-237 (.769) all-time mark as head coach.
A new perspective
All of us presumably have this jolt at some point in our lives. For Self, it's these recent events. In early March, he went into the hospital complaining of chest tightness and balance concerns, and after an assessment, he underwent a standard heart catheterization and had two stents placed for the treatment of blocked arteries. That forced him to miss the entire Big 12 Tournament and, ultimately, the Jayhawks' only two games in the NCAA Tournament before they were ousted 72-71 by the Arkansas Razorbacks in the Round of 32. And admittedly, it forced him to change his perspective on life and his lifestyle on a daily basis.
"I'm taking it serious for the first time in my life," Self said.
As for the prognosis, it was positive at the time the Jayhawks were in the Big Dance, and he was expected to rejoin the team if it advanced to the Sweet 16. Unfortunately, that did not turn out to be the case, but he's doing well now.
"My energy level is back to where it was prior to the episode," Self said.
Hitting the portal
Along the lines of personnel, the Jayhawks have some holes to fill, and Self knows it. That's after five players have entered the transfer portal either seeking or having already found a new home, including forwards Cam Martin (Boise State) and Zach Clemence and guards Bobby Pettiford Jr., M.J. Rice and Joseph Yesufu.
"I need to be living in the portal right now and that's what I'm doing," Self said, per Swain.
The Jayhawks surely will replenish their roster with plenty of stars. Whoever joins will come in alongside 247Sports Composite Top 100 prospects Elmarko Jackson, Chris Johnson and Marcus Adams Jr. and near-Top 100 shooting guard Jamari McDowell. The cupboard obviously will be far from bare.