Cincinnati Bearcats
Scott Satterfield to Jim Rome: 'We're Getting to Play Big-Time Ball Now in the Big 12'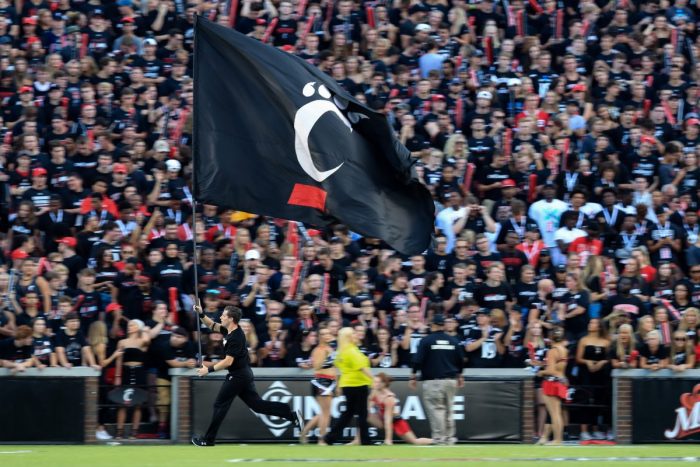 The Cincinnati Bearcats are set to join the Big 12 in very short order now, and they're ready to hit the ground running.
"Well, I think it's obviously huge," said head coach Scott Satterfield, in an interview with Jim Rome. "I think Cincinnati has obviously been playing at a high level for many, many years. We just played in the playoffs a couple years ago. [We've had] 13 players drafted in the last two years, probably gonna get three or four more drafted this year, which is number one in the Big 12 with the number of players drafted.
"So, where we sit is pretty nice. We've certainly got to continue to recruit at a high level and bring the kind of talent that they've been bringing in, in that regard. So, we're certainly going to do that. But it's exciting to be playing in Power 5 football. You know, we've got a great on- campus stadium here at Nippert Stadium that's one of the best atmospheres in college football. We are hosting Oklahoma in that stadium the first Big 12 game. So, I'm sure that's going to be standing room only."
Indeed, by the sounds of it the southwest Ohio city couldn't be more thrilled for the university's next step.
"There's just a lot of excitement going on around our town and our alumni, former players. We've got a huge golf outing on Friday with all football players. So, that's kind of been the talk of the town. We're going to play big time ball now in the Big 12.
"So, a lot of high expectations I'm sure as we head into that, but we're just taking it obviously one day at a time, trying to put the best product we can on the field and get the best players we can just to continue to play Cincinnati Bearcat football, which is get after it type football, blue collar. So, we're looking forward to it."
As Satterfield mentioned, the Bearcats debut in the Big 12 against Oklahoma on Sept. 23. They open up the 2023 season vs. Eastern Kentucky on Sept. 2.