Baylor Bears
Ranking Big 12 Football Offensive Lines Ahead of 2023 Season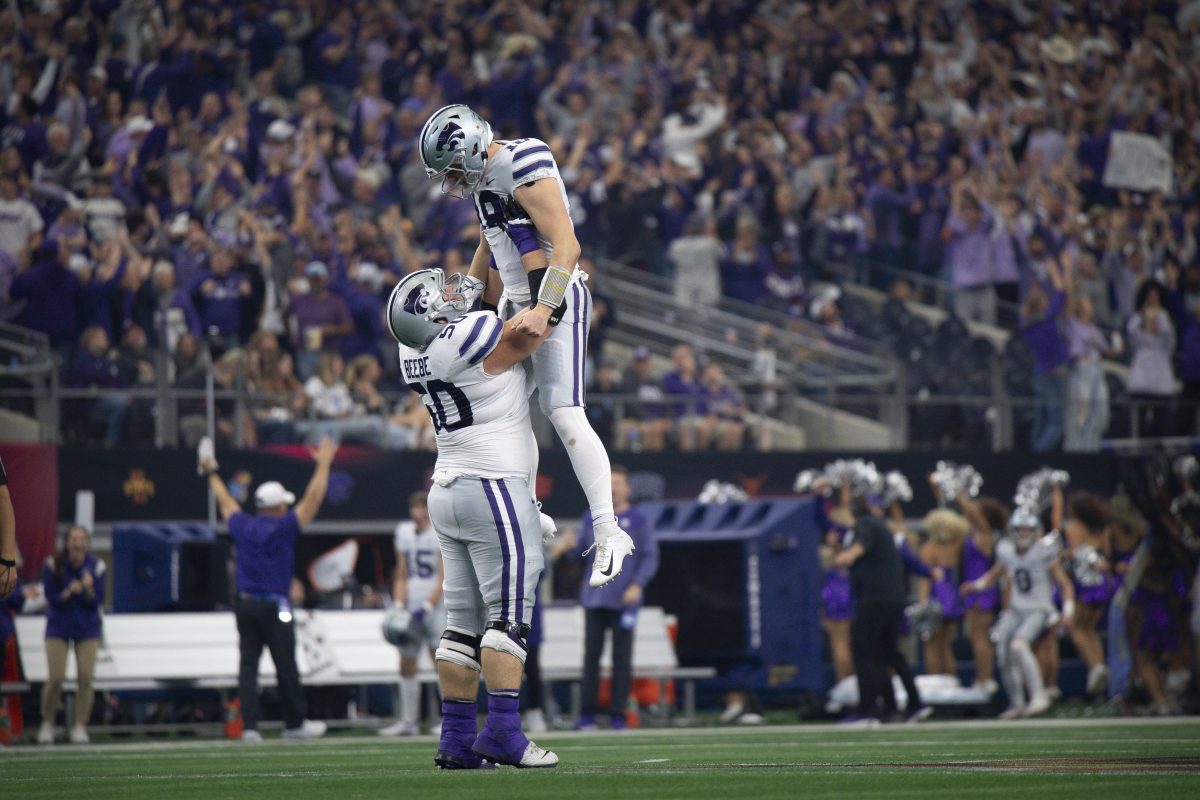 With less than six weeks left until the 2023 college football season kicks off, the time has come to start taking a serious look at the Big 12 landscape and where teams stack up against one another.
With 14 teams in the conference in 2023, there are a lot of new names and playmakers to get familiar with, but we are here to help. Leading up to the 2023 season, Heartland College Sports has taken the liberty of power ranking the position units in the Big 12 heading into the year.
Today, we continue the Power Rankings with the offensive line units from around the league. Let's take a look.
1. Kansas State
Projected Starters: LT KT Leveston, LG Cooper Beebe, C Hayden Gillum, RG Hadley Panzer, RT Christian Duffie
Deciding who to put at the top of this list was tough, but I'm going to give the edge to the Wildcats here based on what we saw a season ago. The Wildcats rushed for 208.3 yards per game last season, and return all five starters, plus their top three rotational players. 2022 Big 12 Offensive Lineman of the Year Cooper Beebe returns at left guard and is the heart of what should be the best road-grating offensive line in the Big 12.
2. Texas
Projected Starters: LT Kelvin Banks, LG Hayden Conner, C Jake Majors, RG Cole Hutson, RT Christian Jones
If it were based on talent alone, Texas would be the unquestioned No. 1 unit on this list and the argument could be made that they still belong there with returning experience factored in as well. The Longhorns return 101 career starts (K-State returns 119) and have perhaps the best young offensive lineman in the country with Kelvin Banks. This unit allowed just 19 sacks a season ago and should be even better in 2023. The scary part is, Christian Jones is the only senior in the two-deep along UT's O-Line, so the future is incredibly bright.
3. West Virginia
Projected Starters: LT Wyatt Millum, LG Tomas Rimac, C Zach Frazier, RG Brandon Yates, RT Doug Nester
If West Virginia is going to surprise some folks in 2023, it'll be because of strong play from the offensive line. The Mountaineers quietly return one of the top units in college football, with All-American center Zach Frazier leading the way for a group that returns 133 career starts. If WVU can figure it out at the skill positions, this O-Line is plenty good enough to march them up and down the field.
4. Oklahoma
Projected Starters: LT Walter Rouse, LG Savion Byrd, C Andrew Raym, RG McKade Mettauer, RT Tyler Guyton
Despite losing Anton Harrison and Wanya Morris to the NFL Draft, the Sooners look to have one of the Big 12's top O-Lines once again in 2023 under Bill Bedenbaugh. In total, OU's offensive line has 139 starts returning in 2023, with Walter Rouse (Stanford, 39 starts) and LG Caleb Shaffer (Miami OH, 36 starts) leading the way for the transfers. This unit led the Big 12 with 219.4 rushing ypg last season and should be at or near the top again.
5. Kansas
Projected Starters: LT Dominick Puni, LG Armaj Adams-Reed, C Mike Novitsky, RG Michael Ford, RT Bryce Cabeldue
Kansas had one of the most underrated O-Lines in the nation last season, averaging 184.2 yards on the ground and allowing just 12 sacks all season. In 2023, this is a Top 25 unit nationally and should be one of the better units in the Big 12 once again. Center Mike Novitsky doesn't get the credit he deserves and leads a unit that returns all but one starter from last year's squad. Plus, the Jayhawks added former five-star OT Logan Brown (Wisconsin), who will figure into the equation for KU at some point in 2023.
6. BYU
Projected Starters: LT Kingsley Suamataia, LG Connor Pay Lapuaho, C Paul Maile, RG Weylin Lapuaho, RT Caleb Etienne
Last season, BYU averaged 176.6 ypg on the ground and allowed just 22 sacks on the year. The Cougars lost a ton of experience from a season ago but did a great job addressing its needs in the transfer portal. By moving Kingsley Suamataia to LT and Connor to LG, the Cougars look to have put together a more than serviceable unit heading into 2023. Transfers Paul Maile (Utah) and Weylin Lapuaho (Utah State) will play major roles in this group, which should be physical once again under Kalani Sitake.
7. Texas Tech
Projected Starters: LT Monroe Mills, LG Cole Spencer, C Rusty Staats, RG Dennis Wilburn, RT Caleb Rogers
Last season Texas Tech averaged just 159.4 yards on the ground (8th in Big 12) and allowed 41 sacks on the year (Last in the Big 12 by 10 sacks). However, some of that could be reasonably attributed to a new offensive scheme under Zach Kittley. Heading into Year 2 of the scheme, we expect this unit to take a step forward in production. With 142 career starts up front, the experience is there to improve from a season ago.
8. TCU
Projected Starters: LT Brandon Coleman, LG Garrett Hayes, C John Lanz, RG Willis Patrick, RT Andrew Coker
TCU's offensive line paved the way for 193.3 ypg on the ground (3rd Big 12) in 2022, but loses three major pieces from that group. However, this group has excellent depth at tackle, including former five-star transfer Tommy Brockermeyer (Alabama) waiting in the winds. TCU added several pieces on the interior that should help right away and with Kendal Briles in town, there will be a lot of veer in the running game which will certainly help the OL in a new scheme.
9. UCF
Projected Starters: LT Tylan Grable, LG Drake Metcalf, C Bula Schmidt, RG Lokahi Pauole, RT Marcellus Marshall
Last season, UCF rushed for 228.4 ypg which would've led the Big 12 and ranked ninth nationally. However, that unit lost three key contributors and over 100 career starts this offseason. Gus Malzahn did a good job in the transfer portal though, adding transfers Drake Metcalf (Stanford), Amari Knight (Alabama), and Marcellus Marshall (Kent State). In total 126 starts return for the Knights, and this group could surprise some folks in Year 1 of the Big 12.
10. Houston
Projected Starters: LT Patrick Paul, LG Tyler Johnson, C Jack Freeman, RG Tank Jenkins, RT Reuben Unije
This spring, Houston saw two starters from last year's OL unit hit the transfer portal, but returns three starters in LT Patrick Paul, LG Tyler Johnson, and C Jack Freeman. UH has added Peyton Dunn (ULM), Max Banes (Akron), and Shamar Hobdy-Lee (FIU), giving the Cougars improved depth and a total of 140 career starts heading into 2023. Houston managed just 141.8 ypg on the ground a year ago, and that will be hard to improve upon in the Big 12.
11. Oklahoma State
Projected Starters: LT Dalton Cooper, LG Jason Brooks, C Joe Michalski, RG Preston Wilson, RT Jake Springfield
Last season, Oklahoma State was plagued by injuries along the offensive line, having eight different players starting games throughout the season. In 2023, they return six players who started a game a year ago and add Dalton Cooper (Texas State), who is expected to start at LT. Jake Springfield, Preston Wilson, and Joe Michalski should all benefit from another year's worth of experience. This unit managed just 125.5 ypg on the ground in 2022 (97th nationally) but should improve if they can stay healthy.
12. Iowa State
Projected Starters: LT James Neal, LG Darrell Simmons, C Brady Petersen, RG Jarrod Hufford, RT Tyler Miller
Iowa State was among the worst rushing teams in the country last season, averaging just 108.0 ypg on the ground. The offensive line returns four starters from a season ago, and the Cyclones look to have Brady Petersen and Jake Remsberg stepping into expanded roles in 2023. Matt Campbell doesn't focus much on the transfer portal, as development is key to his model. This group should improve in 2023, but the question is, how much?
13. Baylor
Projected Starters: LT Campbell Barrington, LG George Maile, C Clark Barrington, RG Tate Williams, RT Elijah Ellis
Since Jeff Grimes arrived in Waco in 2021, the Baylor rushing attack has been more than effective. Even in a down year last season, BU averaged 182.4 ypg on the ground and allowed 22 sacks on the year. However, it appears he will have his work cut out for him in 2023 with four of five starters from a season ago gone, and 139 starts with them. The projected starters for Baylor have a combined 61 starts to their credit, with 40 of those starts coming from center Clark Barrington (BYU). With virtually no other experience, the Bears OL will almost certainly regress in 2023.
14. Cincinnati
Projected Starters: LT John Williams, LG Dartanyan Tinsley, C Gavin Gerhardt, RG Luka Kandra, RT Deondre Buford
Despite being the No. 1 overall defensive line unit in our rankings, Cincinnati finds itself on the opposite end of the spectrum on this side of the LOS. Just one starter from last season returns in C Gavin Gerhardt, but the Bearcats did add Luke Kandra (Louisville), and Deondre Buford (Kentucky). Outside of Gerhardt, this OL has just seven career starts at the FBS level, which is less than ideal heading into the Big 12.