featured
Oregon and Washington are Worth the Risk for the Big 12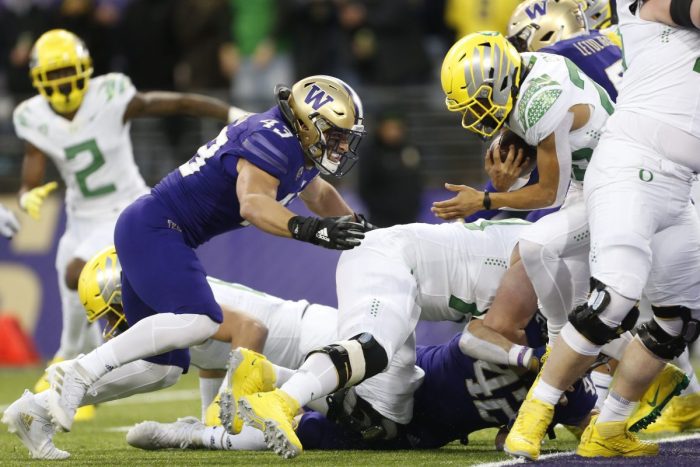 Expansion is back, baby. After Colorado made the jump to the Big 12 on Thursday, the race is on to see who might be the 14th, or 15th and 16th, teams in the conference. There's plenty of speculation that Arizona is at the top of the Big 12's list, and understandably so, but there has been less known around what is going on with Oregon and Washington.
The two Pacific Northwest schools have long believed to be very interested in the Big Ten Conference. From their perspective it makes sense. The Big Ten has a better TV contract than the Big 12, while adding those two schools would create natural West Coast travel partners for USC and UCLA, who right now are 1,500 miles away from their current closest Big Ten member (Nebraska).
However, since Kevin Warren left the Big Ten earlier this year for a job with the Chicago Bears, there has been much less interest from the conference in expanding, despite plenty of overtures from various athletic programs, including Oregon and Washington.
So in the meantime, what about the Big 12?
The Big 12 Fit?
The Big 12 should not be afraid of being viewed at as the back-up option for Oregon and Washington. In the end, who cares? How many of us were back-up options for our spouses? As someone who has outkicked my coverage, I'm happy to admit I probably was, but my wife is too nice to admit it. (That's just part of why she's a keeper).
Back to the conference realignment picture, though.
For the Big 12 Conference, if you add Washington and Oregon now, you will completely destroy the Pac-12 Conference. The college sports landscape will officially be down to a Power 4. In the zero-sum game of college athletics, that's a win for the Big 12 (and the SEC, Big Ten and ACC). Some might claim that the Big 12 will be to blame for the Pac-12's demise, but that will be a false narrative. It will always be the fault of the Big Ten and USC/UCLA.
Now, if Oregon and Washington do join the Big 12, they may still one day end up eyeing an invite from the Big Ten Conference. It could be in 2030-ish, when the next batch of TV contracts (and potential realignment) would be set to take place, or it could be another TV contract after that. Who knows? Maybe the two programs and universities end up loving the Big 12 and all that it has to offer, while also helping the league close the monetary gap with the Big Ten and SEC. They may end up with a little bit more clout in the Big 12 than being with Michigan, Ohio State, Nebraska and others, or LSU, Alabama, Georgia, Texas, etc.
All of this is pure speculation, but to make another dating analogy, you don't turn down the opportunity to take out a "10" on a date because you might eventually get dumped. You take them out when they say "yes" and then do your best to work your magic and try to prove yourself (just don't be a weirdo).
And for the Big 12, it gets even better, because if Oregon and Washington were to make the move to the Big 12, and then if they still felt the need to one day go to the Big Ten, there would theoretically be a sizable buyout attached to the deal.
Imagine taking out a "10", you have a great time together but eventually get dumped in a couple years. The kicker: you get a massive payout for your troubles. Almost like a divorce check, but much less messy. How many of you would sign up for that? No brainer.
So now we wait. But for Brett Yormark and the Big 12, there's no reason to put off by Oregon and Washington because they aren't your first choice. In the end, that won't matter for the Big 12. Right now, it's all about survival to the 2030's, and adding Oregon and Washington accomplish exactly that.