Trending Now
Mack Brown: I've Lost 'All Faith' in NCAA's 'Ability to Lead and Govern Our Sport'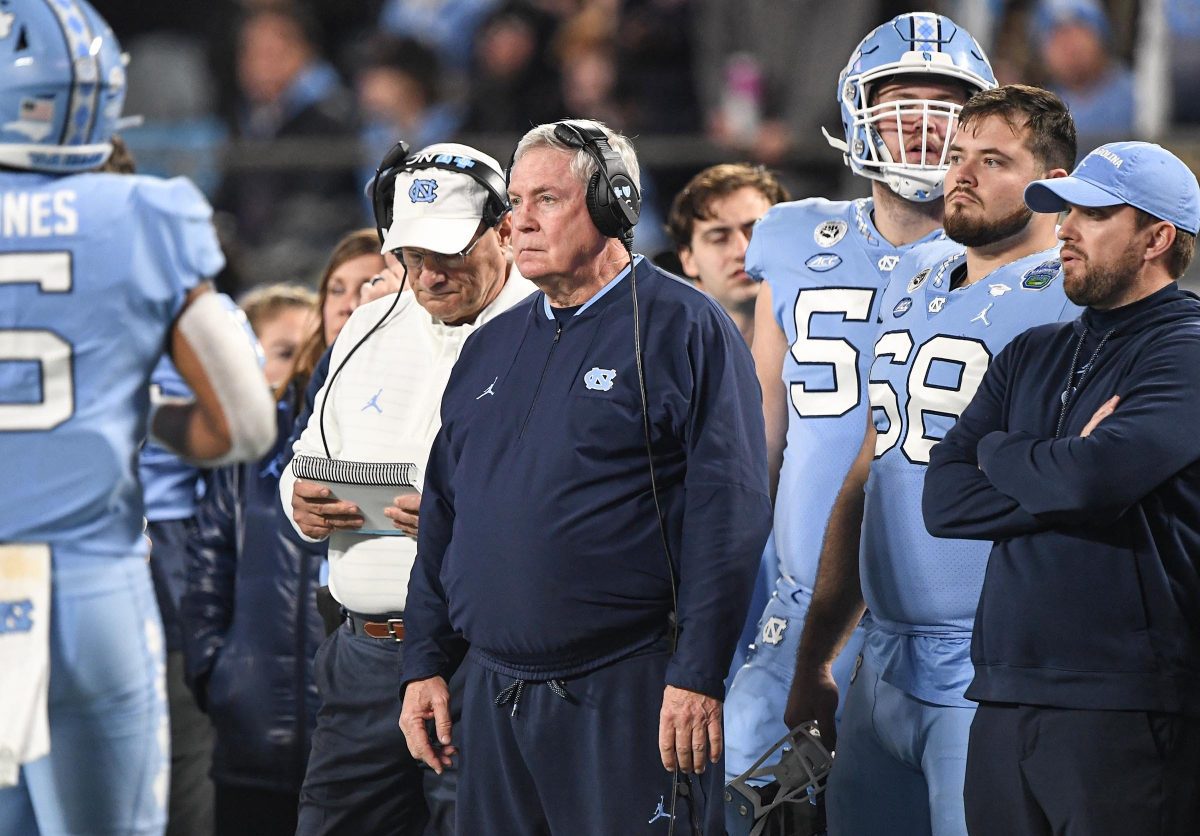 North Carolina Head Coach Mack Brown was once one of the biggest names in college football, especially during his time as the head football coach at Texas.
While he may not be at the center of the college football spotlight anymore, his words still carry plenty of weight. Brown has been around the sport for more than 20 years and has seen the landscape change in more ways than one.
However, it seems that the one constant in his time as a head coach at the FBS level has been the NCAA, and its inability to correctly govern college football. Whether its the transfer portal, NIL, or the obvious lack of competent leadership, the NCAA has found ways to fumble almost every aspect of the way college football has been shaped over the last two decades.
A perfect example of their inability to handle issues in a proper and timely manner is the Tez Walker situation. Walker, who earned first-team All-MAC honors at Kent State in 2022, announced his decision to transfer to North Carolina on December 20, 2022, fulfilling a lifelong dream to play for the Tar Heels. However, on Thursday, the NCAA denied Walker eligibility for the 2023 season.
Adam Smith of Inside Carolina does a fantastic job of giving a synopsis of Walker's journey to UNC.
"His journey from West Charlotte High School has been winding, but his case is straightforward enough, Smith writes. "After his enrollment at East Tennessee State was deferred due to a knee injury in 2019, he took a gap year and enrolled at NC Central in 2020. Then, though, FCS programs had their 2020 seasons canceled by the pandemic, prompting Walker to transfer to Kent State without having played a game for NC Central. He played 20 games at Kent State across the 2021 and 2022 seasons, and arrived at UNC with two years of college eligibility remaining."
When Walker announced his commitment to UNC last December, the NCAA hadn't yet finalized its guidelines on players seeking to transfer multiple times. However, the Tar Heels felt good about their chances to secure a waiver at the time.
Now, Walker will officially sit out for the 2023 season, making next year his final remaining year of eligibility.
Obviously, Coach Brown was not happy with the NCAA's decision on this matter, and said as much in a statement to the NCAA on Thursday.
"We're absolutely crushed to learn that Tez Walker's eligibility has been denied for this season and he won't be able to play," Brown says in the statement. "I don't know that I've ever been more disappointed in a person, a group of people, or an institution than I am with the NCAA right now. It's clear that the NCAA is about process and it couldn't care less about the young people it's supposed to be supporting. Plain and simple, the NCAA has failed Tez and his family and I've lost all faith in its ability to lead and govern our sport. They've messed so many things up as it relates to college football, and now their failures have negatively impacted the life of one of our own.
"Just imagine what it is like for Tez to be so excited to come home and have a chance to fulfill his childhood dream of playing for North Carolina in front of all of his family and friends, only to have it taken away despite doing nothing wrong. I can't begin to understand how this has happened. The decision makers at the NCAA and on the committee should be ashamed of themselves for doing this to a young man. As has been clearly documented, Tez should be eligible for a number of reasons, not the least of which is the mental health issues he's faced during his time in college. 
"And with this decision, the NCAA has placed an unnecessary burden on him. He's had a rough go of it and this will surely only make it worse. How dare they ever speak about mental health and student-athlete welfare again. We've got complete rosters overhauled through the transfer portal, players playing in their 8th year of college, players playing at their fourth school, and the list goes on. Yet, Tez Walker, who has only played football at one school, isn't eligible. It makes no sense and it never will.
"Moving forward, our Carolina family is strong and we need to wrap our arms around Tez, lift him up, and make sure we continue to do all we can to support him. He's continued to work, on the field and off, and remained an amazing member of our program throughout this ordeal. I know that will continue to happen because that's the kind of person he is. Despite this setback, Tez's future remains bright and we'll continue to do everything we can to help him fulfill all of his dreams.
"Shame on you, NCAA. SHAME ON YOU!